Steven Scragg used to be a prolific reader, but then he started to write again. It was a bit of a culture shock, yet he took time away from the keyboard to take a look at Rafael Honigstein's book, Klopp: Bring the Noise.
I used to read quite a lot of books, but the general rule was that I would only read books which offered a defined ending.
Blockbuster football best-sellers, which concerned a work in progress, proved of little interest to me.
So, it was with a degree of trepidation that I agreed to read Honigstein's book, Klopp: Bring the Noise.
A trepidation which was accentuated by a friend, who had offered the opinion that it was a bit of a difficult read.
Having completed the book, I can see where he was coming from, to be fair.
Honigstein's book is a good one though. It just depends upon which trajectory you arrive at it from. If you have a familiarity with German football, and the country of Jurgen Klopp's birth in general, then you will glide through the chapters very easily.
In this respect, with a long-standing love of the Bundesliga, I was onto a winner, and found the book flowed in a manner I didn't expect.

Unsurprisingly, from childhood to adulthood, Klopp's competitive streak runs throughout; from his desire to win a family game of football while on a beach holiday to his bloody-mindedness in successfully carving himself a career in football ahead of his more talented friend, who instead fell away, lacking the internal drive Klopp is blessed with.
I would suggest this is a book which could easily disorientate the reader with a sense of imbalance, especially to someone who doesn't harbour an interest in the German game. This would only be added to by the back-and-forth nature of the narrative.
The running theme tends to be the distinct timeline he had with each individual club.
For instance, you get to read about his early coaching influences, how he was asked to take the helm at FSV Mainz 05, and his subsequent early days in charge of the club—only to then find the story leap to the challenge of taking over at Borussia Dortmund, where he had to win over an initially sceptical set of supporters.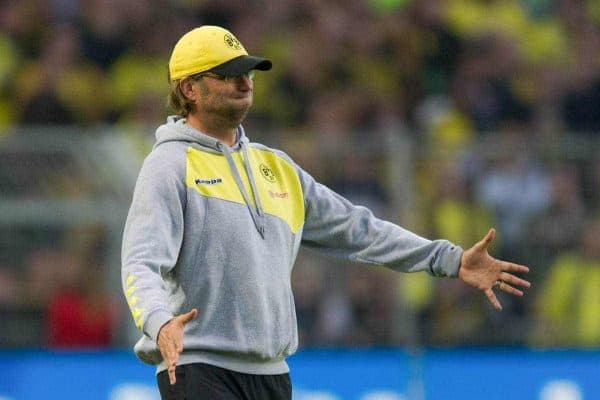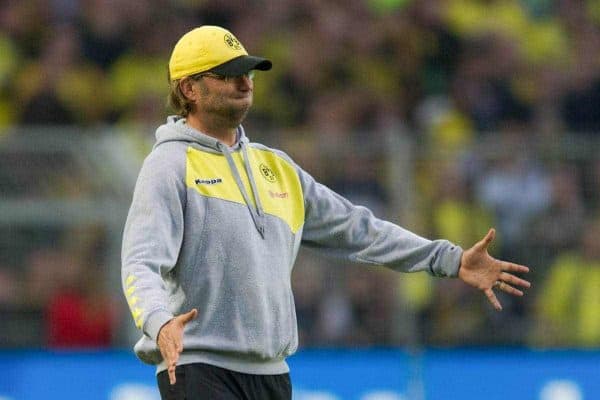 There is a sense of leapfrog about it all, skipping forward to his arrival at Liverpool, before heading back to Mainz again, beginning the cycle of clubs once more.
Avoiding a traditional chronological layout, Honigstein is quite clever in his compare and contrast of respective timescales at each club.
The stand-out concept is always how his human side constantly shines through, from running Mainz as a collective of sorts, to promoting a still financially vulnerable Dortmund in a near-PT Barnum manner during his early days at the Westfalenstadion, and onward to attempting to create a family feel behind the scenes at Anfield.
A very real socialism is at play, and if you are a hard-bitten cynic when it comes to football, and Liverpool FC in particular, then Honigstein's is a book which has the power to regenerate your belief that Klopp is the right man to lead this club of ours.
Klopp: Bring the Noise is certainly worth putting on your wanted list. Get it on Amazon here.