Liverpool retained their position as the ninth highest-earning club in world football for the 2016/17 season, as part of Deloitte's Football Money League study.
The Reds finished fourth in the Premier League last term, as well as reaching the semi-finals of the League Cup where they were eventually knocked out by Southampton.
Securing a place in the Champions League for the current campaign, it marked a significant step forward for Jurgen Klopp's side on the pitch.
Off the field, they have remained consistent, with their overall revenue increasing from £302 million to £364.5 million, ensuring they remain the ninth highest-earning club in the world.
Chelsea, Paris Saint-Germain, Arsenal, Man City, Bayern Munich, Barcelona, Real Madrid and Man United are above the Reds, with Juventus taking the final spot in the top 10:
10 Highest-Earning Clubs in World Football, 2016/17
2. Real Madrid – £579.7 million (+1)
3. Barcelona – £557.1 million (-1)
4. Bayern Munich – £505.1 million (-)
7. PSG – £417.8 million (-1)
9. Liverpool – £364.5 million (-)
10. Juventus – £348.6 million (-)
---
Along with Juventus, this puts Liverpool ahead of the likes of Tottenham (£305.6m), Borussia Dortmund (£285.8m), Atletico Madrid (£234.2m) and 2015/16 champions Leicester City (£233m).
Interestingly, Deloitte's breakdown of the Reds' income highlighted a £6.4 million increase in matchday revenue from the previous campaign, owing to the redevelopment of Anfield's Main Stand: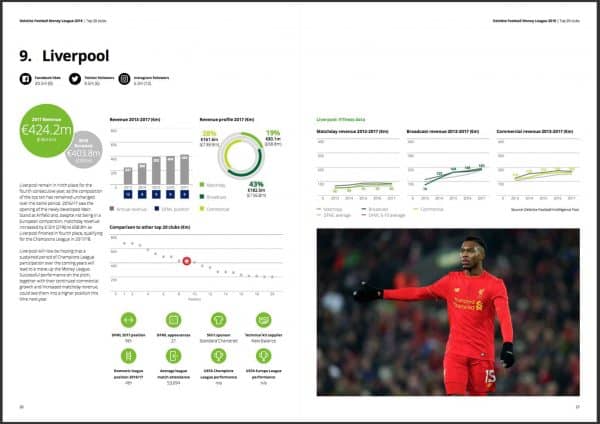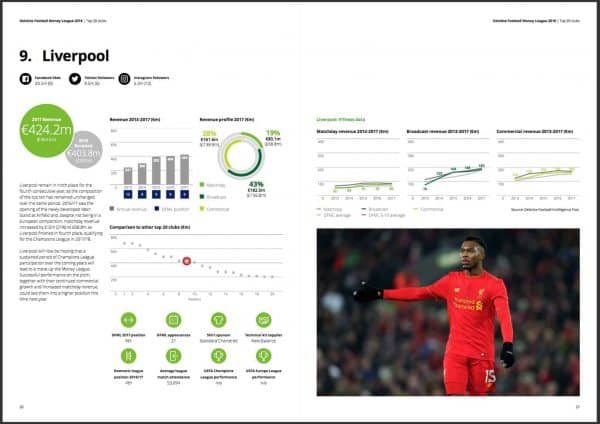 According to sport business expert Dave Phillips, this equates to an increase of around £1 million per game since the stadium's capacity was increased to 54,074 last year.
That Liverpool maintained their position in the table in a season without European football, with the rest of the top 10 competing in either the Champions League or the Europa League, is a positive.
With the Reds now established in Europe's elite again, and a last-16 meeting with Porto to come, the hope will be this growth continues.
It would mean little if Klopp's side don't develop further on the pitch, though, and sustained investment is required to ensure this is the case.
The acquisition of Virgil van Dijk for a club-record £75 million fee this month is another step forward in that regard, though that was offset by the £142 million received for Philippe Coutinho.