Liverpool and Man City meet in a vital Premier League clash on Sunday afternoon, but where will the battle be won and lost?
For the neutral, this is just about the best fixture you could ask for.
The two most entertaining teams in England go head to head at Anfield this weekend, in what promises to be a thrilling clash.
City are cruising towards a third Premier League crown, leading Man United by 15 points, while the Reds sit fourth in the table, right in the battle for Champions League football.
Sunday's game will see various key battles takes place across the pitch, and the victor of each individual tussle could have a major bearing on the eventual outcome.
Here are three that stand out.
Emre Can vs. Kevin De Bruyne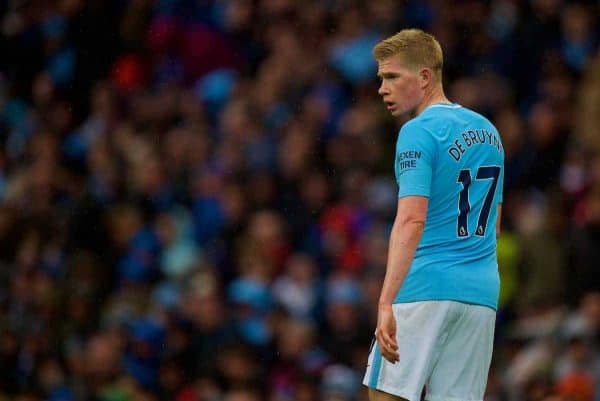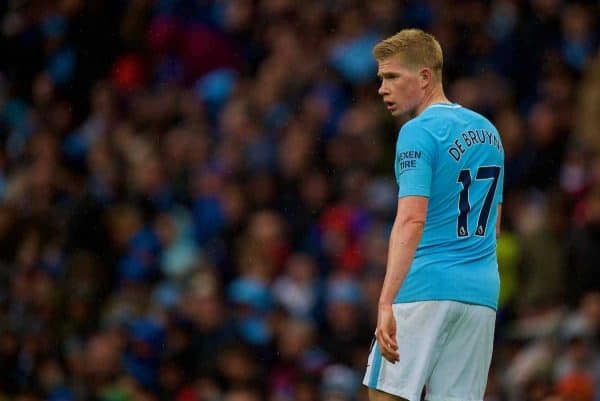 Even the biggest Mohamed Salah fan would begrudgingly admit that Kevin De Bruyne has been the best player in England this season, with the Liverpool man a more than worthy runner-up.
The Belgian has taken his game to new heights this season, with eight goals and 12 assists to his name, and few footballers are as influential to their team on current form.
De Bruyne's world-class end product and ability to dictate games makes him City's most potent weapon, and if he is allowed to run the show, Liverpool will really struggle.
There is where Emre Can comes to the fore, with the combative midfielder someone who usually ups his game in the more high-profile matches.
Despite certain faults in his play, Can never shies away from a battle, and he will be well aware that stopping De Bruyne will be one of his primary tasks at Anfield.
City's star man doesn't always flourish when a physical challenge comes his way, and if Can gets on top of him early, it could take an edge off his game.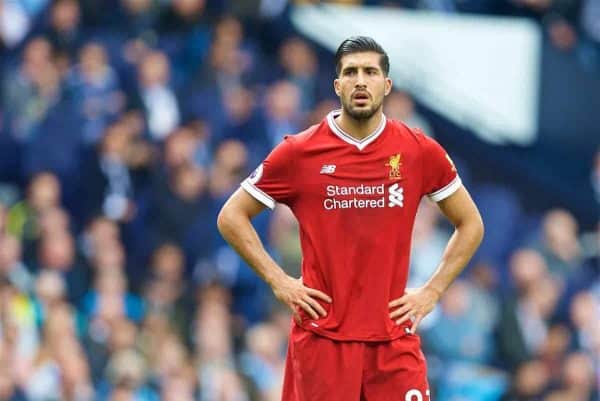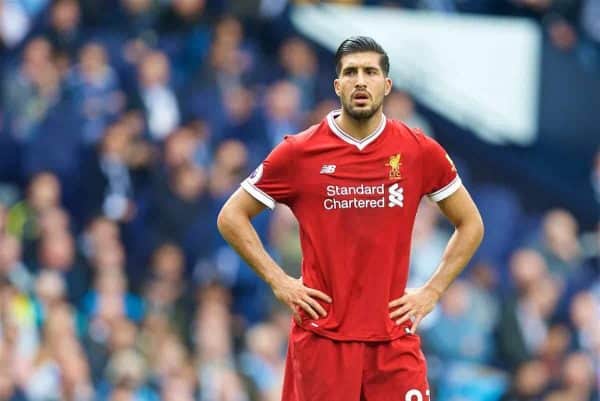 Liverpool's talented middle man has averaged 2.7 tackles per game in the league this season, and his timing of them needs to be immaculate on Sunday.
David Silva is another major threat, of course, dovetailing beautifully with De Bruyne ahead of Fernandinho, and Gini Wijnaldum must help Can in keeping the pair quiet.
It is the German who will adopt the most defence-minded midfield role, though, and his all-round discipline there is essential, against one of the world's best players.
Some trademark bursts from the 23-year-old certainly wouldn't go amiss, testing De Bruyne's own defensive qualities in the process.
Jurgen Klopp encourages his midfielders to play with more freedom than your more traditional No.6, and Can can be more than useful in the final third.
You always notice him, which can be both a positive and a negative, and Liverpool need a huge performance from him.
Sadio Mane vs. Kyle Walker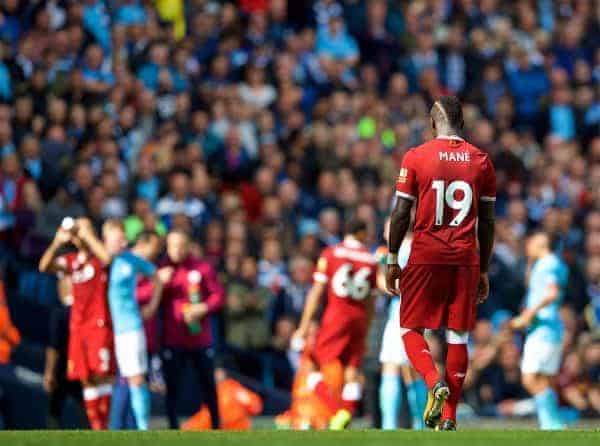 Back in September, This is Anfield highlighted the duel between Sadio Mane and Kyle Walker as one of the key battles at the Etihad.
Unfortunately, that only lasted 37 minutes, with Mane unfortunately, but arguably fairly, sent-off after colliding with City goalkeeper Ederson, and Liverpool losing 5-0.
It was such a shame that the Senegalese didn't get to properly test Walker, but hopefully, he will make up for lost time this weekend.
Liverpool's reigning Player of the Year has rarely been at his best since that moment four months ago, with injury hampering him and his touch evading him too often.
There have been signs of his top-level returning in the last couple of games, however, and Klopp needs him at his unplayable best against the soon-to-be champions.
The 25-year-old's searing pace, perfectly-timed movement and unpredictable nature can be a nightmare for anyone, even the in-form Walker.
England's first-choice right-back has been magnificent since arriving from Tottenham last summer, and there are few better in his position in Europe at the moment.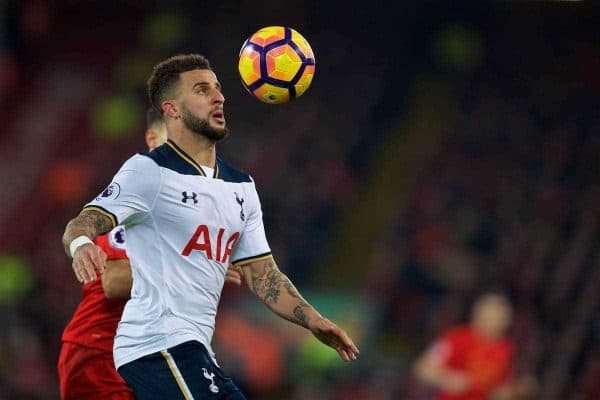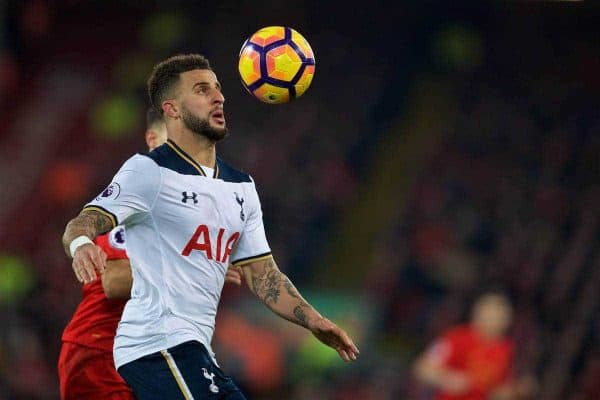 Sometimes, English players are underrated, and if Walker was a summer arrival from France, for example, the plaudits heading in his direction would be endless.
His attacking quality gives an already vibrant City outfit an added dimension, and he is also much improved in a defensive sense.
The fact that he has not scored any only registered one assist is worth noting, but his game is about so much more than that.
He averages 72.5 passes per game in the league – Joe Gomez averages 53.7 as a comparison, which shows how involved he is in everything City do.
Mane doesn't always track back, whether or not that is a command from Klopp, but allowing the City man to fly forward unopposed would be criminal on Sunday.
This feels like a really crucial tussle, and if Mane manages to give Walker his toughest afternoon of the season, Liverpool will have a great chance of ending their opponents' unbeaten league run in 2017/18.
Andrew Robertson vs. Raheem Sterling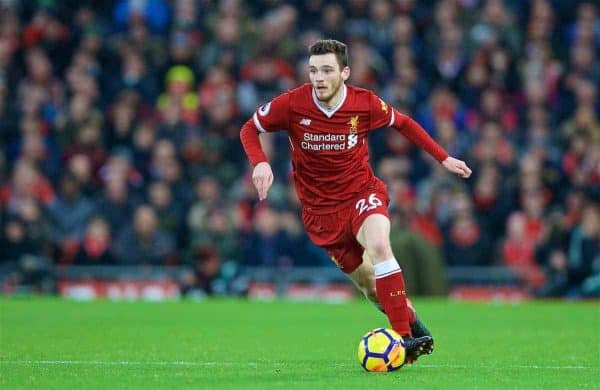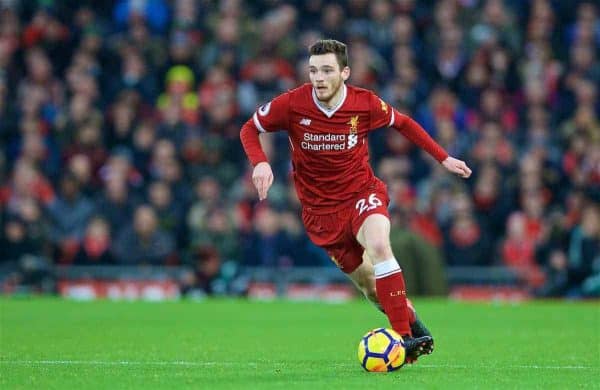 As Liverpool left-back performances go, Andrew Robertson's against Everton in the FA Cup last Friday was one of the best in quite some time.
The Scot was a revelation all evening, keeping the dangerous Yannick Bolasie quiet, making five tackles and offering endless energy down the left flank, almost scoring in the second-half.
On top of that, there was needle about his game all night, and it was a display that seemed to suggest he 'gets' what playing for the Reds means.
Another massive challenge will come his way this weekend, as a former favourite and current foe, Raheem Sterling, returns to Anfield.
The 23-year-old has shrunk in both matches there since leaving Liverpool in 2015, but this is now a player fully realising his potential.
Despite all the magnificent talent at City's disposal, Sterling is their top scorer this season with 18 goals in 28 appearances, and he has fired home four winners after the 80-minute mark (two in stoppage time).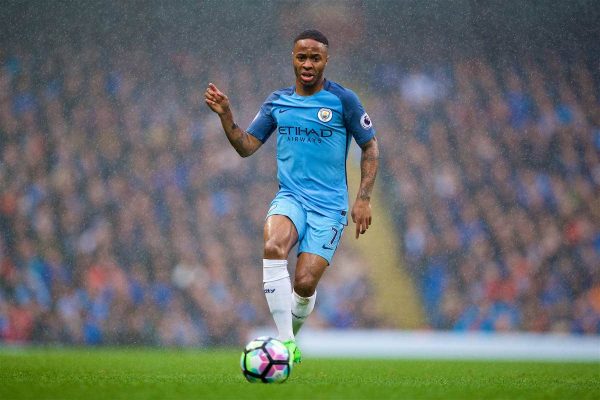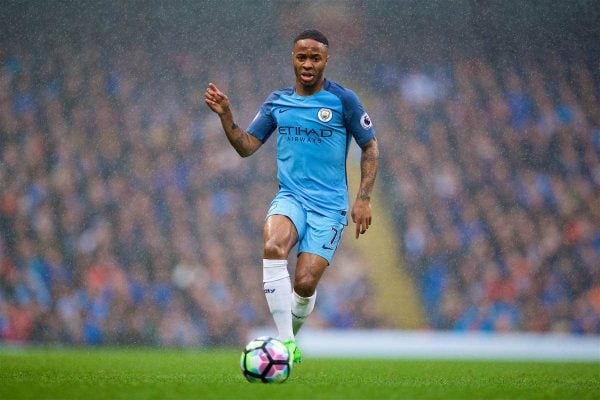 This is unlikely to be the player who allowed Jon Flanagan to bully him back in 2015/16, and he arrives on Merseyside as one of the biggest threats on the pitch.
Assuming he adopts a right-sided role, which has generally been the norm, he and Robertson look set to partake in a real ding-dong battle.
Sterling's pace is clearly one of his greatest weapons, but his intelligence is his most underrated attribute, and Robertson must be switched on at all times.
He has proven to be a more reliable defender than Alberto Moreno, despite the Spaniard's good form prior to injury, and he will be all over Sterling like a rash.
Robertson has shown how effective he can be going forward, too, and with Sterling not always the world's greatest defender, Klopp may feel Robertson and Mane can double up on Walker on occasions.
The young ex-Red will be desperate to silence the haters inside Anfield, and given his scintillating form this season, you wouldn't bet against him playing a pivotal role.