The media were in awe of Liverpool's gegenpressing display and Jurgen Klopp's tactical performance in the incredible 4-3 win over Man City.
What was billed as the 'game of the season' certainly delivered as the sensational Reds inflicted a first league defeat this season on Pep Guardiola's side.
Seven different players scored, but Mohamed Salah's stunning 45-yard strike ensured Leroy Sane, Bernardo Silva and Ilkay Gundogan didn't cancel out Alex Oxlade-Chamberlain, Roberto Firmino and Sadio Mane's efforts.
It was a monstrous result for the Reds, who delivered a superb collective performance, and sends a real statement that this developing, exciting team will only continue to march on.
Klopp will be absolutely over the moon with his fully-committed squad, and here's how the media assessed a sensational afternoon at Anfield.
The watching journalists waxed lyrical over Liverpool's performance…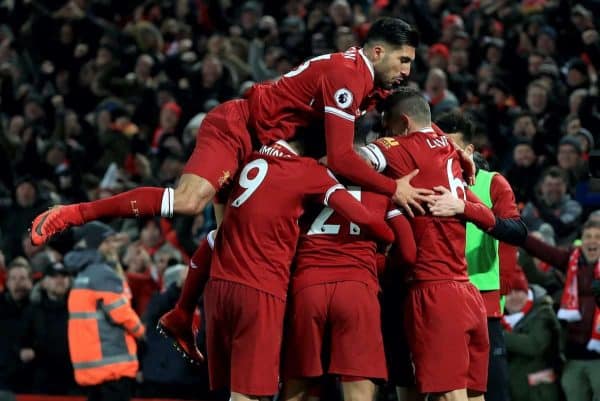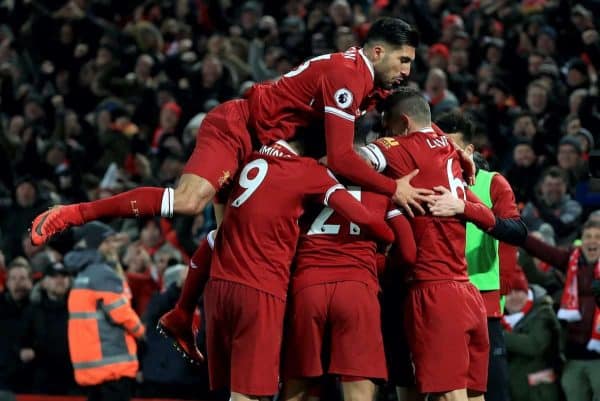 The Mail's Dominic King labelled it "the finest performance Liverpool have produced in the Premier League under Klopp":
This, without question, was the finest performance Liverpool have produced in the Premier League under Klopp – the 4-3 scoreline did not do justice to the brilliance of their attacking play – and went some way to avenging the 5-0 reverse they suffered at The Etihad Stadium on September 9.
The Guardian's Barney Ronay thought Liverpool's plan and the execution of it "reached a rare pitch of perfection":
It was always likely to take something like this to throw City out of their stride, a performance where every part thunked into place, where both the plan and the execution reached a rare pitch of perfection.
The Telegraph's Jason Burt assessed it as a win 'built in Klopp's image':
But such is Jurgen Klopp; such is his way; such is the pulsating, open football he demands. This was a win in his image; a win full of heart and absolutism – and a little vulnerability.
The Mail's Martin Samuel believes Liverpool have provided the rest of the league with the method for how to beat City, and thinks the Reds' puts rivals' efforts to shame:
It is no exaggeration to say they showed the rest of the league how to do it. Manchester United, Chelsea, all those teams that have been made to look second best by City should be a little red-faced on Monday morning. Why couldn't they do this; even a semblance of it?
The Liverpool Echo's James Pearce assessed the display as one which showed "the Klopp blueprint in all its glory":
Here was the Klopp blueprint in all its glory. There was energy, hunger and desire in abundance – relentless gegenpressing coupled with a fearless commitment to attack the best team in the country.
The Guardian's Daniel Taylor was among numerous journalists to praise the Reds for delivering such a performance after the departure of Philippe Coutinho:
This was Liverpool's first game since Philippe Coutinho's move to Barcelona and it was some response from Klopp's players bearing in mind the obvious questions about how it would affect the team.
Chris Bascombe, of the Telegraph, praised the remaining "fab three" for stepping up, and believes their presence ensures Coutinho's exit won't prove as derailing as previous star departures:
The break-up of the fab four has been traumatic at Anfield, but it is not too shabby when the three left behind are in the process of being superstars in their own right.

Roberto Firmino, Mohamed Salah and Sadio Mane demonstrated why the pain of losing the Brazilian is not comparable to when the club sell some of its other modern greats. They humbled City with their pace and skill.
Reporters offered thoughts on the key features of play which inspired the victory…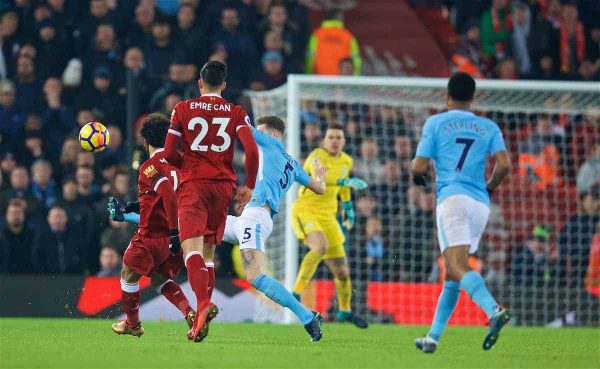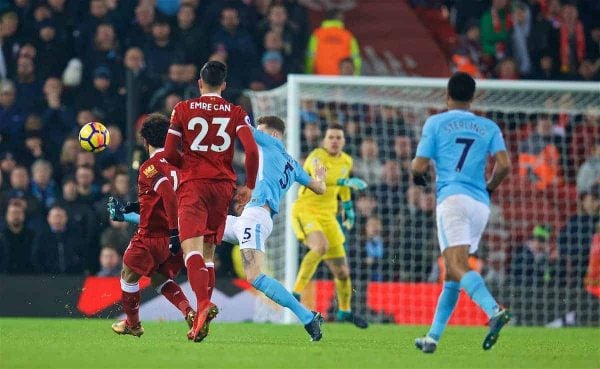 Melissa Reddy, for Goal.com, assessed that the Reds' collective effort was the greatest strength:
For all the talk of the individual who is no longer at Anfield, it was the strength of Liverpool's collective that finally proved City are fallible.
Richard Jolly, for The National, noted how Liverpool cleverly isolated City's defenders, which ensured the electric front three could wreak havoc:
Liverpool looked for space between and behind City's back four, trying to find gaps and isolate defenders in races the Anfield attackers usually won.
The Independent's Miguel Delaney felt just the threat of the Reds' pace forced City to play a way they ultimately couldn't:
It wasn't just the pace of Mohamed Salah and Sadio Mane that was disrupting the leaders playing out from the back, but also the threat of it.

It said a lot when the normally-so-assured Ederson opted to hit the ball long for kick-outs, rather than risk spreading out to very withdrawn full-backs who looked susceptible to being pounced upon.
The Mirror's David Anderson was among numerous reporters who felt, crucially, Liverpool won the midfield battle:
Liverpool's midfield three of Alex Oxlade-Chamberlain, Gino Wijnaldum and Emre Can won the battle in the middle of the park.
Meanwhile, Samuel was in awe of the speed of the Reds' transitions and felt City couldn't cope with this:
Jurgen Klopp's Liverpool are absolutely the best at this. The high press. Denying defenders the time or comfort of playing out the back. The sheer urgency of their transition play. Remember Claudio Ranieri's Leicester, at their peak? There is no higher compliment than to say Liverpool reminded of that, but perhaps with greater finesse.
Reporters were full of praise for Klopp and discussed how the German provided a tactical master-class…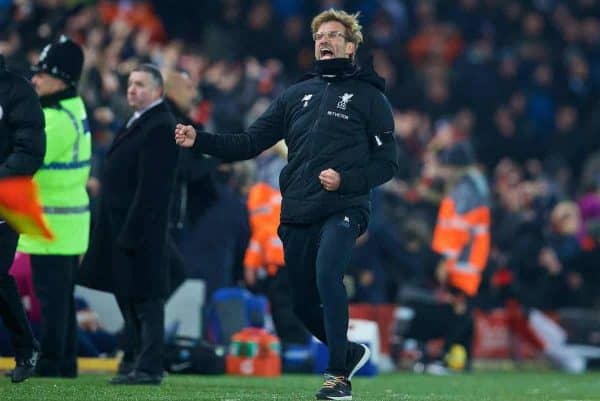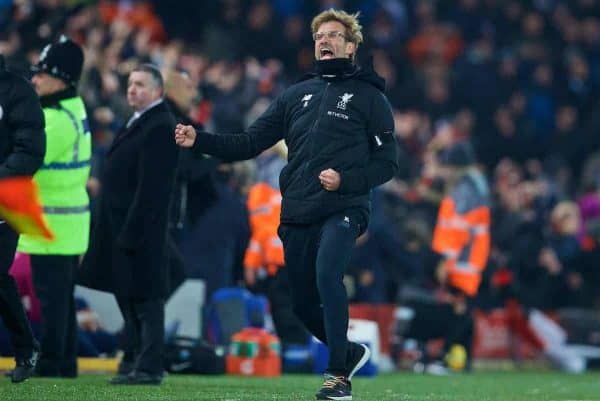 Mark Ogden, for ESPN, felt Liverpool were too energetic and shrewd for City, and labelled Klopp's work a "tactical masterclass":
In what was a tactical master-class by Liverpool manager Jurgen Klopp, the home side out-ran and out-thought City, pressing Guardiola's men high up the pitch.
Also for ESPN, Dave Usher thought Klopp was rewarded for his bravery in taking the game to City and praised the "inspired" selection of Oxlade-Chamberlain over Adam Lallana:
Jurgen Klopp's decision to go with Oxlade-Chamberlain over Adam Lallana proved inspired, as the former Arsenal man opened the scoring with a terrific solo goal and then turned provider to create the second for Roberto Firmino.

Klopp took the game to his opposite number Pep Guardiola and was rewarded for his bravery and his tactical approach.
For Football365, Matt Stead noted how Klopp showed his underrated tactical acumen, explaining how the boss shrewdly turned City's biggest strength – distribution from the back – into a weakness:
Klopp deserves great credit. His tactical acumen is often overlooked; he is more a spontaneous manager than a thinker.

[…]

Instead of accepting this and attempting to stifle City's approach, Klopp turned the tables. The German's teams have always pressed relentlessly but this was a concentrated and concerted team effort as opposed to a rabble of individuals chasing the ball. It disrupted a defence that grew more panicked with each slightly over or under-hit pass. Channels from goalkeeper to full-back were cut off, and City's positional play was targeted. Klopp turned their strength into a weakness.
Reporters felt the result proved the Reds are becoming a serious force and will be a title contender in the not too distant future…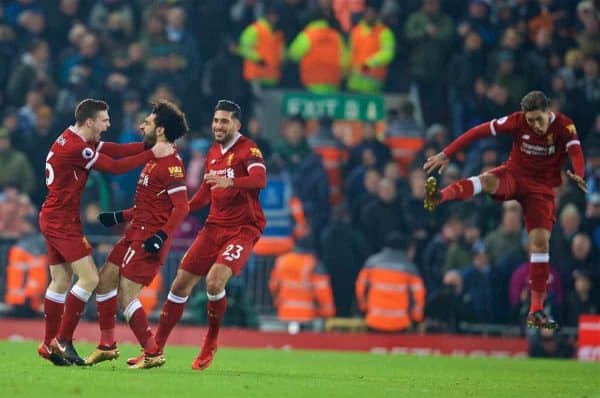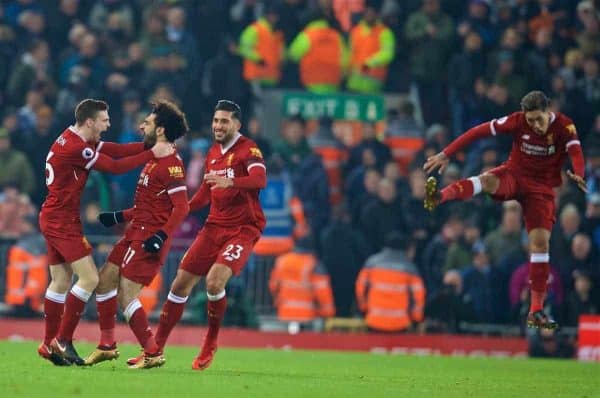 Bascombe believes the win showed Liverpool's progress and believes the next challenge is to show such form more consistently:
If Klopp is to get the better of City in more one-off meetings this excellence has to be sustained over the course of a season. But Liverpool's flaws – while still obvious – become less undermining by the week.
Pearce thought the win put down a marker and showed Liverpool can launch a genuine title charge next season:
This was a booming statement of intent from his Liverpool side.

[…]

This was about putting down a marker for next season – issuing a warning to Pep Guardiola that Liverpool are a genuine force to be reckoned with and City won't be granted another procession to the title.
The Mail's Ian Ladyman challenged the Reds to go on and secure second place as a signal of intent for next season's ambitions:
What his team must do now is finish second in the Premier League. Ahead of next season, that would deliver a much firmer message in terms of Liverpool's real prospects.
Paul Hayward, of the Telegraph, felt Liverpool's "ambition and tenacity" vindicated Klopp's decision to allow Coutinho to go:
The ambition and tenacity displayed by Klopp's side vindicated the manager's willingness to let Coutinho go, or at least not stand in his way.

It was the best possible riposte.
And the Liverpool Echo's Andy Kelly felt that the display without key figures will give Klopp confidence that he can take time to reinvest:
That they still delivered so emphatically gives strength to the manager's conviction that he will spend his money wisely rather than quickly in this window.
Countless Reds were praised for sublime individual performances…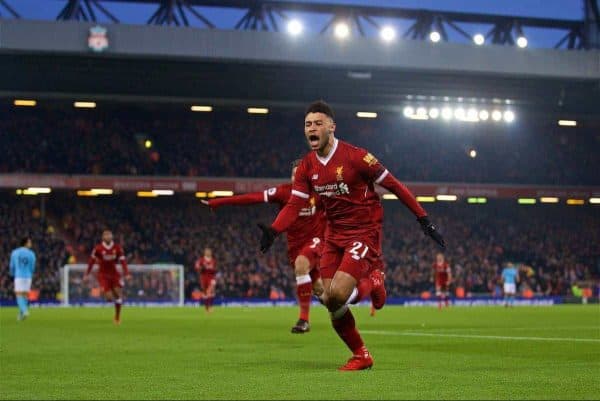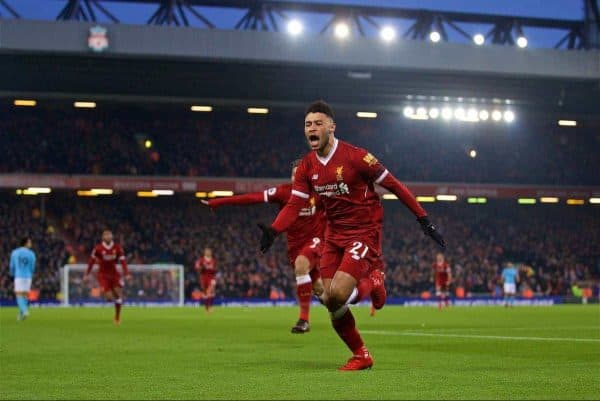 Reddy led the plaudits for Oxlade-Chamberlain, highlighting how his display showed why he is so suited for Klopp's system, before alluding to his developing importance to the side:
It was yet another example of Oxlade-Chamberlain's strengths marrying far better with Liverpool's fighting football blueprint than it ever did with Arsenal's short-passing template.

And with RB Leipzig announcing just hours before kick off that they will not sanction Naby Keita's early release, his dynamism in the middle was doubly important.
The Guardian's Barney Ronay heaped praise on Roberto Firmino for a "performance of thrillingly sustained energy and skill":
Jürgen Klopp's side were led here by Roberto Firmino, who produced another performance of thrillingly sustained energy and skill, terrorising City's backline at times in the second half, and embodying the pure exhilaration of Klopp's high-craft power-chord football.
And Ronay wrote a comical line on how Andy Robertson kept Raheem Sterling in his pocket on another miserable Anfield return:
As he brushes his teeth this evening Sterling will no doubt find himself taking a sneaky look up in the mirror just to check that shape lurking by the bathroom door isn't Andrew Robertson steaming out of the airing cupboard to make another sniping, raking challenge at his heels.
Finally, after suggesting Loris Karius showed he isn't good enough, Ogden suggested three potential goalkeepers for Klopp to target:
Liverpool are now sitting on a huge transfer kitty following the sale of Coutinho to Barcelona, so reinvesting that in a keeper like Kasper Schmeichel, Jack Butland or Jan Oblak would surely be sensible decision.