The media were critical of Liverpool's baffling drop off in performance and felt the 1-0 loss at Swansea showed the need for attacking reinforcements.
The Reds' 18-game unbeaten run came to an embarrassing end after bottom-of-the-table Swans took three points from Klopp's side for the second season running.
Alfie Mawson's snap shot after Liverpool failed to clear a corner five minutes before half-time proved enough to decide a game.
It was a classic case of after-the-Lord-Mayor's show as the Reds well and truly wasted a glorious chance to move into a commanding position in the top-four race with a terrible performance.
Here's how the media assessed a dire result in south Wales.
Reporters reflected on a damaging defeat as Liverpool wasted a big chance to open space in the top-four race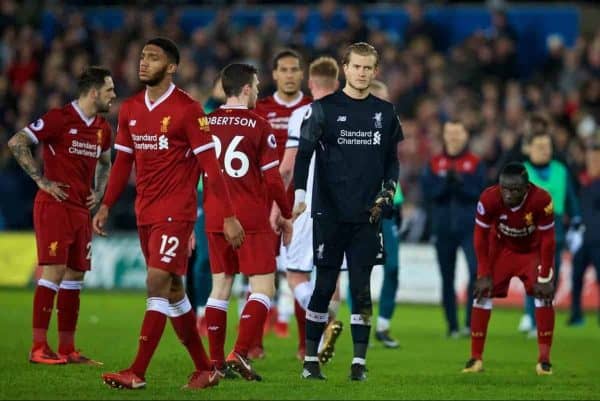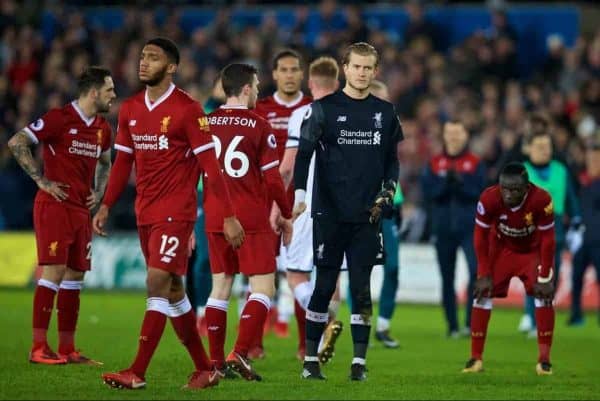 Writing for ESPN, Dave Usher succinctly summed it up:
Beat the best and lose to the worst — typical Liverpool.
The Mirror's John Cross assessed the loss as a "serious set-back" and believes all the old doubts surrounding the Reds have resurfaced:
Hard to fathom, impossible to understand and a serious setback for Liverpool as all the old doubts will come back to haunt them.
Ben Fisher, for the Guardian, assessed that is this very inconsistency that continues to prevent the Reds becoming serious contenders:
For Liverpool, it is jarring inconsistencies like this that have blighted Jürgen Klopp's attempt to transition his side into title contenders.
Reporters were baffled by witnessing such a poor performance just a week after the display of the season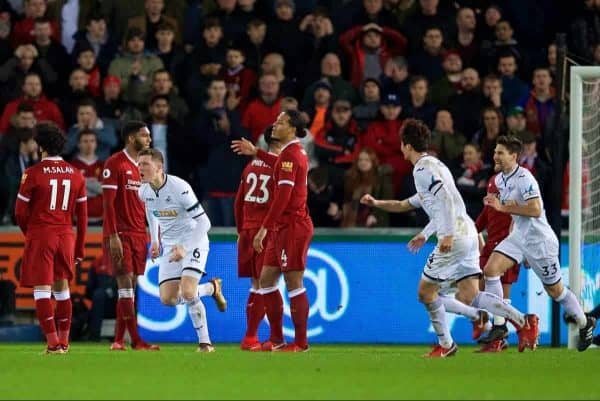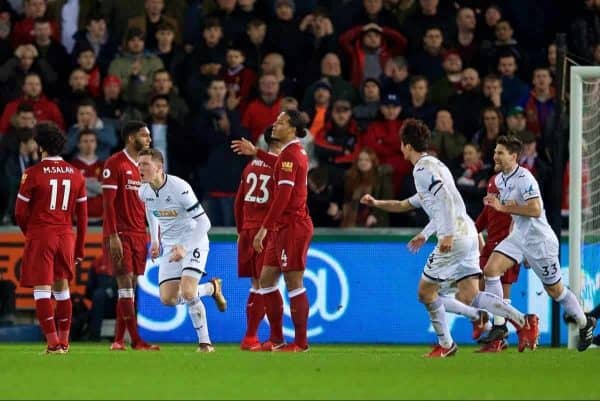 This Is Anfield's Chris Williams felt the players let Klopp down with a "cowardly performance":
Short of coming on the pitch and playing the last 10 minutes himself he exhausted all his managerial opportunities. Let down by a cowardly performance on the whole.
The Liverpool Echo's James Pearce labelled the loss "a throwback to the dark days" and assessed the performance lacked "all of the qualities" shown in the Man City win:
Liverpool only had themselves to blame after serving up a dire performance devoid of all the qualities which saw them lauded for proving that Manchester City aren't invincible a week earlier.

[…]

This was a throwback to dark days Kopites hoped they had seen the back of.
Echo colleague Ian Doyle was puzzled by Liverpool's lack of energy and pace given the extended break enjoyed after the monstrous effort against City:
Never mind being devoid of creativity, Klopp's side were lacking in energy and pace, so curious given their extended break after beating City.
Cross couldn't understand how the Reds suddenly became so disjointed in their attacking play:
It seems crazy that Liverpool – and in fairness the 18 game unbeaten run suggests they are more consistent these days – can go from playing with such pace and intensity against City to being so slow and disjointed against Swansea.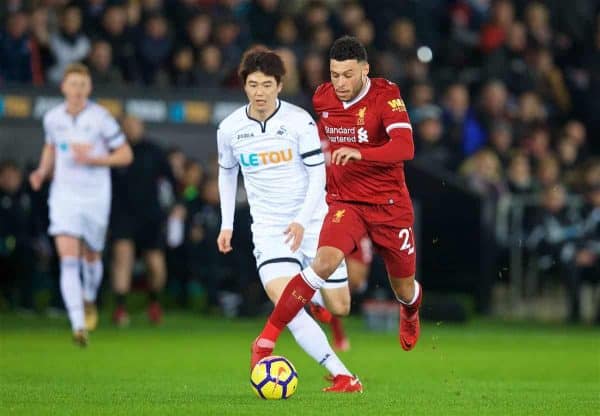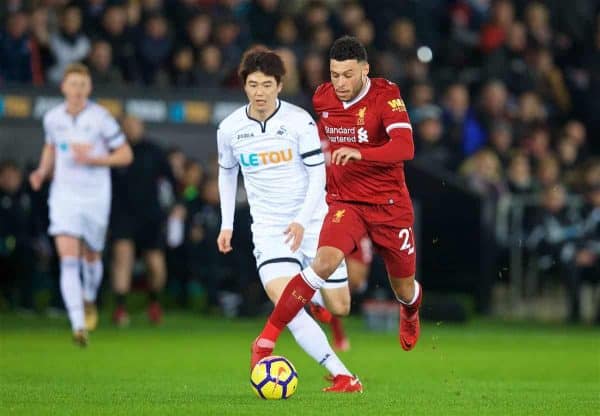 Writing for Goal.com, Melissa Reddy felt Liverpool's lack of creativity was the biggest issue:
The manager will know his charges are countless levels above the display delivered in Wales, but it has to be concerning that they were so devoid of ideas against the kind of obstructive approach they will face ad nauseam until the end of the campaign.
This Is Anfield's Henry Jackson criticised Klopp's side for a lack of composure and professionalism when required to chase the game, in particular the constant "erratic" pot-shots:
Rather than play with patience as the minutes ticked down, a complete lack of composure was on display, with erratic shooting and needless fouls both deeply infuriating.

[…]

At no point did this have the feel of Liverpool producing a spirited late comeback, and too many players lost their heads.
Looking ahead, Doyle challenged the Reds to react similarly strongly to the last defeat suffered:
Liverpool must use their reaction to their Wembley humbling back in October – their most recent previous defeat – as the example.

No dwelling on this loss, no moping, no feeling sorry for themselves. As Liverpool demonstrated last week, even the best teams are beatable. Get over it. And fast.
Certain journalists offered alternative thoughts on the performance and result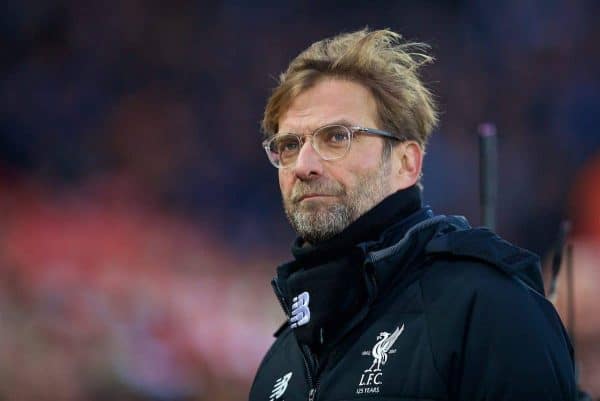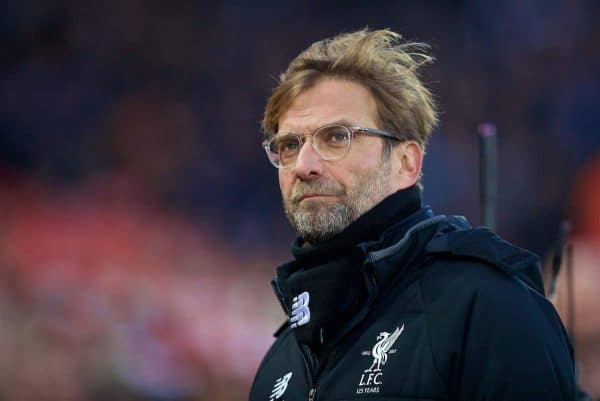 Usher was critical of Klopp, assessing the boss made a mistake not starting Adam Lallana and took too long to make changes:
These are the games when Adam Lallana has to play and Klopp compounded that error by waiting far too long to change things. He had the opportunity to fix things at half-time but the second-half performance was no better than the first.
Jackson bemoaned the lack of proven game-changing quality available and believes it is essential new signings arrive or the season could quickly unravel:
Teams who consistently win trophies don't rely on 13 or 14 players to get you through a whole season—they have 17 or 18 reliable figures with experience and ability in their locker.

[…]

All this result has done is highlight the need for January business, and as mentioned, no new players this month would be negligent from Klopp.
Reddy was critical of the midfield trio and felt they failed to take the initiative in breaking Swansea down:
Liverpool's midfield three of Emre Can, Gini Wijnaldum and Alex Oxlade-Chamberlain thrived in the intense battle against the leaders, but with 72% possession and tasked with taking all the initiative against their hosts on Monday, they were defective.
Meanwhile, Doyle felt van Dijk showed the different tactical dimension he can bring through the way his presence can inspire confidence in defensive colleagues:
That allowed centre-back partner Joel Matip – Dejan Lovren's illness spared Klopp a decision over who to go with alongside the new boy – the licence to go wandering.

From the opening moments it was clear Matip's confidence in Van Dijk meant he could often leave his post and go wandering into midfield.
The media delivered some harsh words on certain individual performances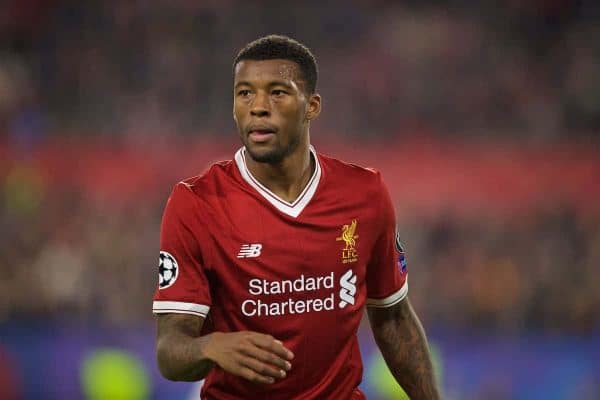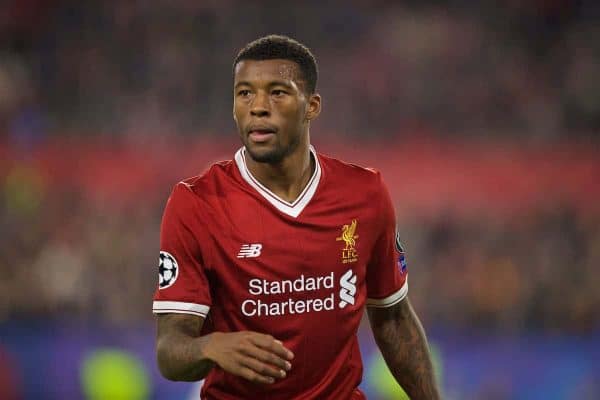 Williams was among numerous journalists who pulled no punches on Gini Wijnaldum's "genuinely awful" performance:
Got off the team bus, got back on it. Not sure what happened in between. Looked like a child lost in a theme park, didn't act like one though as they often talk to someone, even if it's to ask where their mummy is.

[…]

Genuinely awful and it was incredible he wasn't subbed earlier.
The Mail's Dominic King labelled this the most "ineffective" performance produced by Salah, Mane and Firmino this season:
This, arguably, was as ineffective as Mo Salah, Roberto Firmino and Sadio Mane have been all season.
On a more positive note, ESPN's Glenn Price saw signs of van Dijk becoming Liverpool's leader:
Van Dijk is already proving to be the leader of this Liverpool team and, during lulls at the Liberty Stadium, his verbal instructions could easily be heard.

His poor header for Swansea's goal will be given greater prominence because of his price tag, but Liverpool and Klopp appear to have been spot-on in biding their time for the centre-half and, overall, Van Dijk is currently strutting around and playing like a £75 million defender.
Finally, Usher assessed Joel Matip as the "only player who performed to an acceptable level":
The only player who performed at an acceptable level. It was not a game in which he was required to defend so he tried to help out in attack and made numerous crisply hit passes into the feet of his forward players, as well as one or two surging runs into the box.