Jeff Goulding travels and transcends time and imagines what might have been had there been harmony at Anfield in 1892.
The "many-worlds theory" suggests that all possible past and future events exist, in an alternative universe somewhere in an infinite cosmos.
That means somewhere out there is a world in which Bruce Grobbelaar saved Michael Thomas' late effort in 1989 at Anfield, and Liverpool won another double.
Maybe there's even a planet where Jurgen Klopp's Reds hung on against Sevilla to win the Europa League in 2016. Maybe.
Even stranger would be a world in which Chelsea, cheered on by passionate supporters, mounted a heroic comeback to beat Inter Milan, and lift the European Cup in 2005.
Apparently though, the maths needed to prove that one is so complex, even Stephen Hawking's beautiful mind couldn't make it work.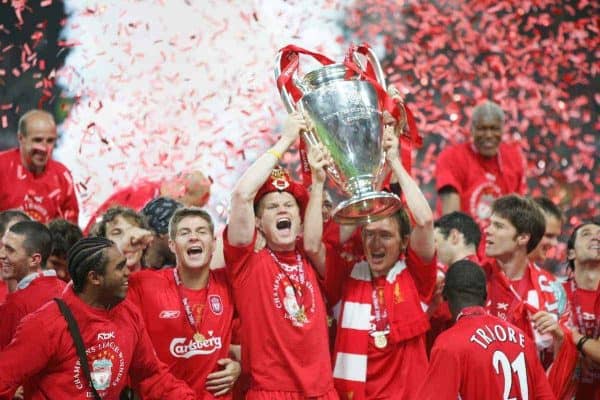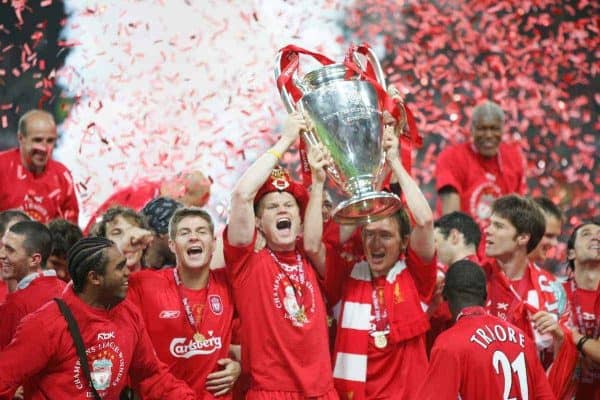 Imagine, then, an alternate reality in which the boardroom split of 1892 never happened.
Instead, John Houlding and George Mahon remained friends and eventually changed the name of Everton to Liverpool. Together they created an unimaginable force, a bastion of invincibility, if you will.
Soon Bootle F.C. and Higher Walton crumbled and fell away, leaving one team to represent the hopes and dreams of a great city.
Years later, the local council passed an historic decree, stating that only those born in the city and its environs are able represent the mighty Liverpool.
A legend is born
A team full of grit, skill, passion and sheer bloody-mindedness rises from the shores of the Mersey and conquers all of Europe.
After crushing Barcelona in the 2017 Champions League Final, a game where even a Philippe Coutinho goal couldn't rescue the Catalan giants from defeat, the Reds faced Lucas Leiva's Gremio in the World Club Championship.
Ten times-European champions Liverpool make the journey to Rome, hoping to conquer the bloody world.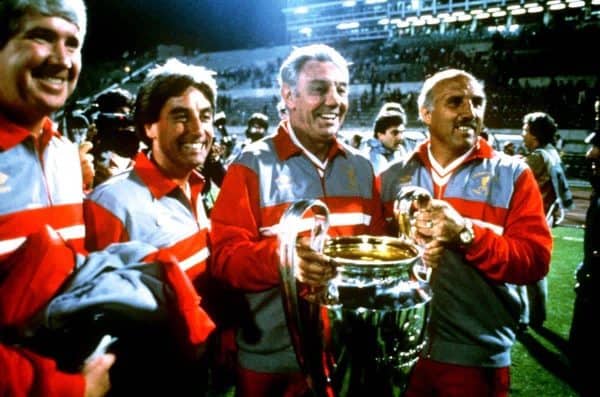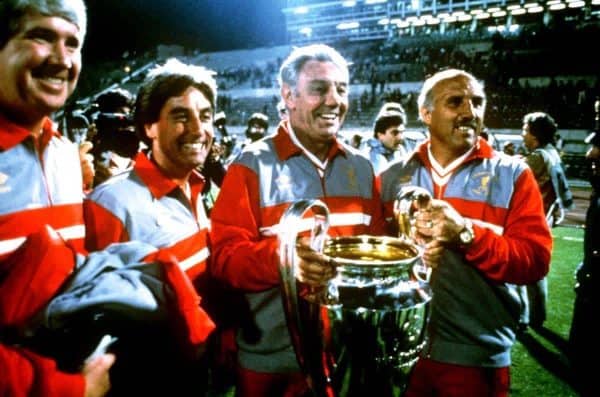 Back home the streets are empty, shops have closed. One hundred thousand Scousers have made the journey to the eternal city.
Those left behind are glued to television sets at home, or in pubs. A whole city waits and watches, with hope in its hearts, and dreams and songs to sing.
Far away, in the bowels of the Olympic Stadium, Reds manager Joe Fagan prowls the Liverpool dressing room, as his charges get changed into their kits of all red.
His face a picture of grim determination and frustration at the fact that Terry McDermott and Jimmy Case are missing, through suspension.
In the corridor outside, Wayne Rooney is sulking, after getting wind that he'll be on the bench, again.
Ronnie Moran chastises him for his lack of team spirit, before entering the crowded dressing room to read the riot act to anyone who isn't 100% up for it.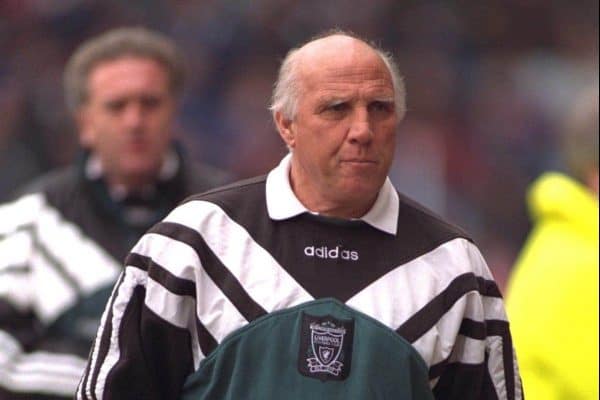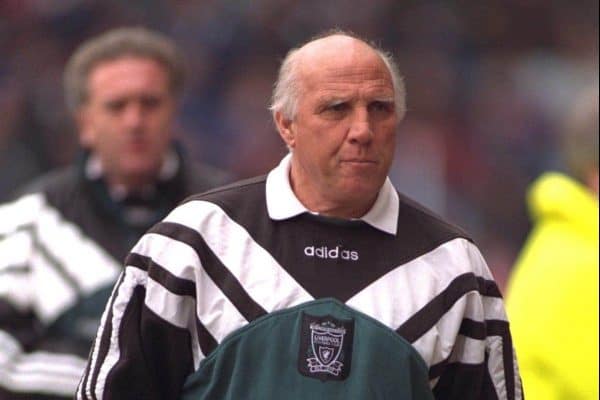 Liverpool's assistant coaches, Roy Evans, Phil Thompson and Joe Royle, are hunched over their tactical plans, busily plotting the team's route to victory.
In the corner, suited and booted, are Steve Heighway, Sammy Lee, Gerry Byrne and Dixie Dean. They lament the injuries that have kept them out of the team.
It's now just one hour to kick-off
Joe puts a halt to his deliberations, turns and prepares to read out the team sheet. The dressing room falls silent, as he recites each name.

Goalkeeper: Albert Dunlop
The city of Liverpool has not produced many great goalkeepers down the years.
Instead, both teams have recruited their stoppers from all four corners of the United Kingdom and the world.
However, a search of the archives reveals one title-winning Scouser who plied his trade between the sticks, and whose life was story of both success and tragedy.
Dunlop was an ever present in goal for Everton from 1956-1963.
He joined the club in 1950 and waited six years for his debut, which was a thumping 5-2 victory over the reigning champions, Manchester United, ending their unbeaten run of 26 games.
Albert would be the last line of defence, in the 1962/63 Everton side that went on to win the club's fifth league title. In total he made 231 appearances, before leaving for Wrexham in 1965.
Tragically, Dunlop's career was marred by drug and alcohol addiction. The Sunday People newspaper ran a story, in the wake of the '63 title win, claiming that the Everton team had used performance enhancing drugs, known as 'purple hearts,' throughout the campaign.
The club denied it, and the board issued a statement refuting the story. There were claims that Dunlop, who had come forward to admit drug taking, had been bought by the tabloid.
However, he would later battle with drug and alcohol addiction, before passing away at the tragically young age of 57, in 1990.
Despite the controversy surrounding his career, Albert was a Scouser born and bred, and his title win in 1963 still stands. If the tabloid tales were true, Dunlop won't have been the first or the last player to battle such demons, and so he proudly takes his place in goal for Fagan's all-Scouse team.

Right-back: Chris Lawler
Lawler notched up 549 appearances for Liverpool between 1960 and 1975. With 61 goals to his name, he is the Reds highest-scoring full-back of all time.
His goal scoring exploits are even more impressive, given the fact that he didn't take penalties and wasn't known as a dead-ball specialist.
Chris, along with Tommy Smith, had been scouted by Matt Busby, and almost left the club. However, after a conversation with Bill Shankly, both were assured of their futures and never looked back.
Lawler went on to win two league titles, two FA Cups and a UEFA Cup, before going on to become the club's reserve team coach from 1982-86. He brings game intelligence, guile and goals to this all-Scouse team.

Centre-back: Tommy Smith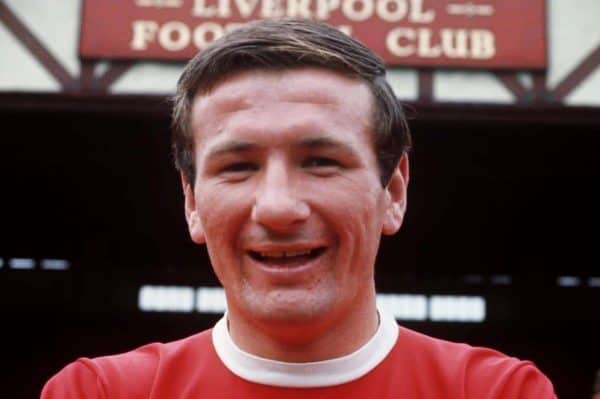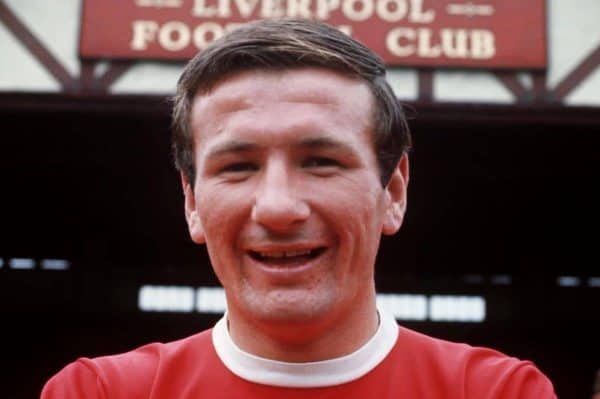 "Tommy Smith wasn't born, he was quarried," said Bill Shankly, suggesting his centre-back was made of pure granite.
The Kop thought he was forged of iron. Either way Smith was as hard as nails, and his tough-tackling, no-nonsense style terrified opposition strikers.
He was more than that though, and became the mainstay of a Liverpool side that went on to dominate all of Europe.
Smith played 638 time for Liverpool, scoring 48 goals. His medal list would be the envy of any modern day star: four league titles, two FA Cups, two UEFA Cups and one European Cup.
His last game for the club came in the 1977 European Cup Final, against Borussia Monchegladbach. Smith made a significant contribution to securing Liverpool's first European Cup, with a 64th minute headed goal.
He brings defensive solidity and a set-piece threat to Joe's team.

Centre-back: Brian Labone
Labone was born in Liverpool in 1940. He adds a little pace to our back-line, but is also good in the air and fierce in the tackle.
Brian will have angered Reds by once declaring that one Evertonian is worth 20 Liverpudlians, but that's exactly the type of passion, commitment and loyalty to the cause this team needs.
Labone played 451 league games for the Blues and was capped 26 times for England. Despite his reputation as a tough tackler, he was only booked twice in his career.
He won two league titles and played in two FA Cup Finals, emerging as a winner in one of them.

Left-back: Alan Harper
Born in 1960 in Liverpool, Harper, a utility player rose to prominence in Everton's championship-winning side of the 1980s.
His preferred position was right-back, but he could play all across the back four. His versatility makes him an asset to this Scouse team.
Alan started his footballing career in Liverpool's youth set up, but after failing to make a single appearance in the first team, moved to Everton in 1983 for £100,000.
He remained there until '88, and although a squad player, he secured a league championship, FA Cup and UEFA Cup Winners Cup winners medal.

Right Midfield: Ian Callaghan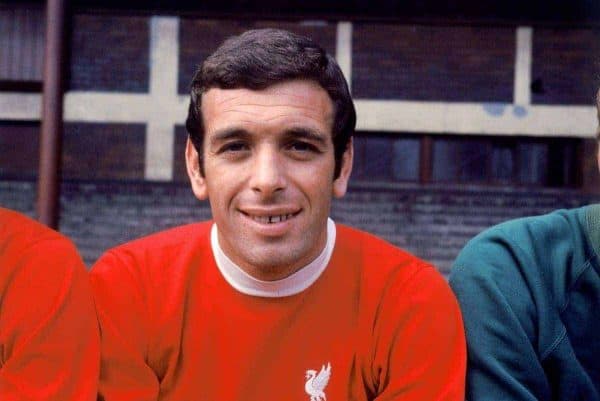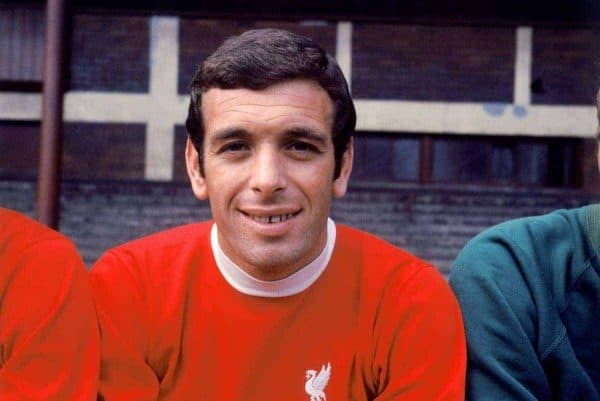 Toxteth-born Ian Callaghan is Liverpool's all time appearance record holder.
Having turned out for the Reds on 857 occasions, scoring 68 times, his achievement will surely never be surpassed. A true gentleman of the game, 'Cally' was only ever booked once.
He made his debut in a 4-0 thrashing of Bristol Rovers in the second division, in 1960, and played his last against Borussia Monchegladbach, in a European Cup semi-final in '78.
During his time, Liverpool rose from mediocrity and became European royalty. Callaghan was one of the lynchpins of that journey.
With five league titles, two FA Cups, two European Cups and two UEFA Cups to his name, Ian Callaghan is the consummate sportsman and a natural-born winner.
Little wonder he was named Football Writer's Association Footballer of the Year in 1974.

Centre Midfield: Steven Gerrard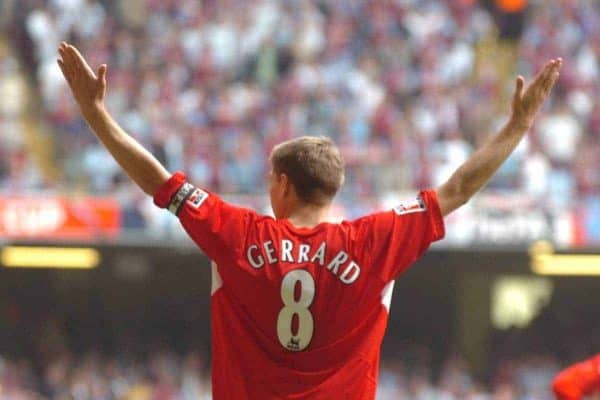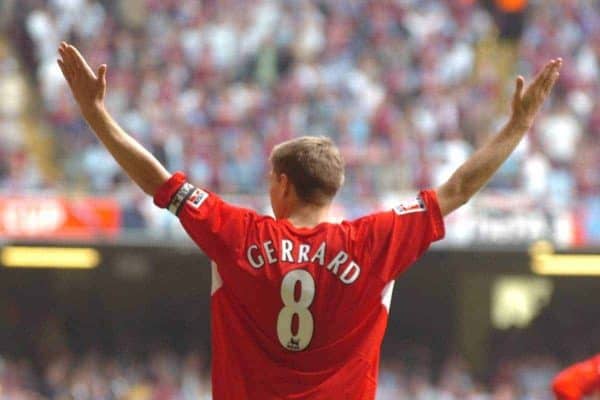 Steven is undoubtedly Liverpool's, and indeed Mersyeside's, greatest player.
Having grown up supporting the Reds as a boy in Huyton, Gerrard went on to captain his childhood team.
His debut came in a 2-0 win over Blackburn Rovers, in 1998, and he would go on to make 710 appearances, scoring 186 goals.
This is an astonishing achievement, given that Steven was often the centre-piece of teams that rarely matched his talent.
Despite this, he amassed an impressive trophy haul, winning two FA Cups, three League Cups, one UEFA Cup, one European Cup, and two European Super Cups.
Gerrard was the complete midfielder, but could arguably operate all over the field.
At his peak Steven was wanted by every top club in Europe and came close to joining Jose Mourinho's Chelsea in 2005.
He would eventually reject the move, after stating that winning a league title at Chelsea could never mean as much as any medal won at Liverpool.

Centre Midfield: Peter Reid
Peter Reid was also born in Huyton.
This diminutive Scouser adds defensive strength to Gerrard's attacking verve. Cast as the midfield general in Howard Kendall's title winning side of the 1980s, Reid actually grew up supporting the Reds.
However, he went on to make 159 appearances for the Blues, between '82 and '89, scoring eight times. His time at Everton was arguably the club's most successful period, and he would leave with two league winners medals, an FA Cup and a European Cup Winner's Cup medal.
Sharing Gerrard's immense pride in his Scouse roots, Reid completes a central midfield pairing of steel, purpose and a winning mentality.
His game intelligence and tough tackling makes the duo a formidable proposition for any side.

Left Midfield: Steve McManaman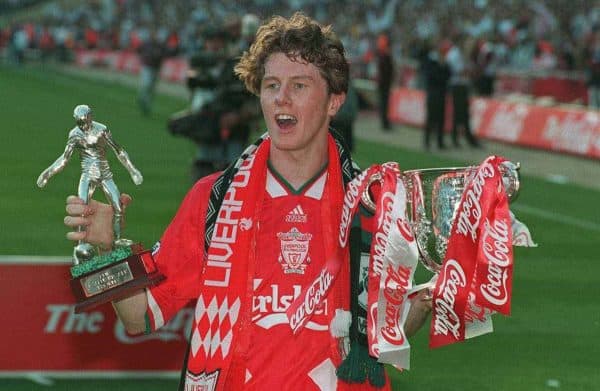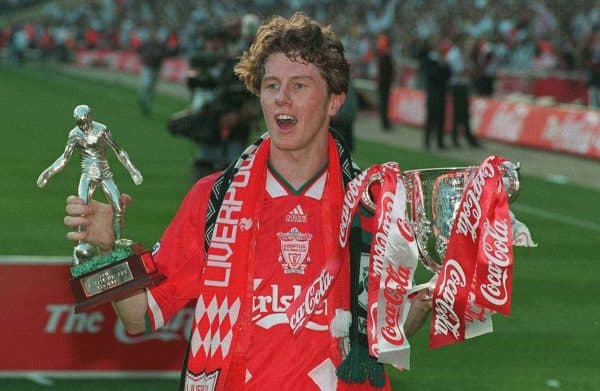 McManaman was a supreme dribbler of the ball. Born in Kirkdale, Liverpool, in 1972, he would eventually find the success his talent deserved in Madrid, but between 1990 and 1999 he lit up Anfield.
The highlight of his Reds career came in the 1995 League Cup Final, in which he scored both goals and drew comparisons with the legendary Stanley Matthews, with the legend himself left drooling over the Scouser's silky skills.
McManaman was also an FA Cup winner, in Graeme Souness' 1992 side, but his ability should have yielded more silverware at Anfield.
In all he made 364 appearances for Liverpool, scoring 66 times. With Steve in the side, this Scouse 11 has the ability to unlock even the tightest defence.

Striker: John Aldridge
Born in Garston, Liverpool, in 1958, John Aldridge must rank as one of Merseyside's most prolific goalscorers.
Signed from Oxford United in '87, Aldridge scored 63 goals in just 104 appearances, and boasted a goals to games ratio of 1:1.65.
Who knows what he may have gone on to achieve, had he been allowed to stay at his beloved club, but there is no doubting his impact of Kenny Dalglish's all-conquering team of the 1980s.
'Aldo' would win a league title and FA Cup, before leaving for Real Sociedad in 1989.
Aldridge's instinct for a goal and sublime finishing ability gives this team a chance against anyone in world football. His commitment to the cause and Scouse pride is worth an extra 10% in a tight game.

Striker: Robbie Fowler

Fowler, another tearaway from the Toxteth area of the city, is arguably the most natural goalscorer the city of Liverpool has ever produced.
His impudence and supreme confidence in front of goal bagged him 189 goals in 369 appearances for the Reds.
Fowler also hold the record for the fastest hat-trick in Liverpool Football Club history, with his astonishing three goals in four-and-a-half minutes against Arsenal in 1994.
It had stood as a League record for over 20 years, before Sadio Mane's 97-second blast for Southampton surpassed it in 2015.
Fagan may have struggled to leave out Birkenhead born Dixie Dean for this game, but the legend had pulled up with an injury in training.
So, Fowler, a born winner with a personal medal haul of two League Cups, an FA Cup and a UEFA Cup, gets his chance to impress.

Substitutes:Tony Warner; David Fairclough; Jamie Carragher; Steve McMahon; Howard Gayle; Wayne Rooney; Leighton Baines.
Manager: Joe Fagan.
Assistant Coaches: Roy Evans; Phil Thompson; Ronnie Moran; Joe Royle.