Liverpool's emphatic 4-1 victory at home to West Ham on Saturday showcased a side built to perform for the enjoyment of their supporters.
4-1 and it should have been more. Yet we never left third gear. This sort of performance has a retro feeling to it.
During the 1980s we used to win like this most weekends. Opposing teams demoralised, and Liverpool easing off during the last half-hour or so; Reds supporters in attendance nodding their approval and clapping politely.
If we produced a win like this under Brendan Rodgers four years or so ago then it would have been embraced rapturously, within a plume of red pyro smoke.
We'd have headed into town in celebration, and not rolled home until daylight had broken.
While we're not in danger of becoming blase about winning with comfort and ease, we are becoming accustomed to it.
Will We Really Miss Emre Can?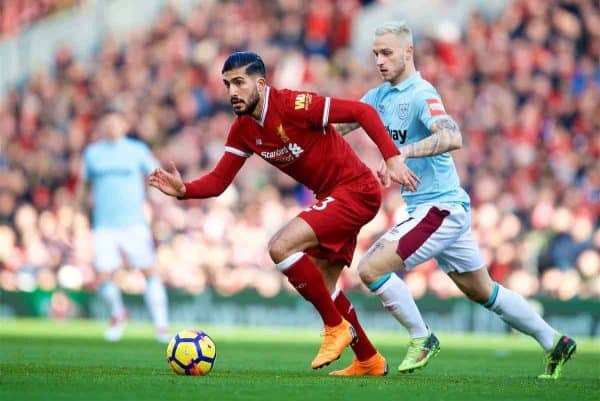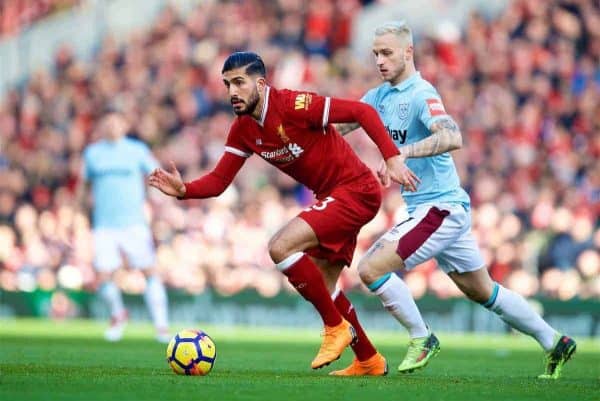 Scorer of the first goal, but guilty of some careless passing and switching off at times. He's not going to be a Liverpool player next season, and how damaging or not will that be?
You don't want to lose good players, definitely not for free, and at 24, Can has many big years ahead of himself.
But by now Can should have cast off some of the remaining rougher edges of his game.
He's neither the raw and jagged potential he was when he first arrived at Anfield or the finished article yet, but he leaves you with the feeling that he should be closer to being the finished article by now than he is.
This one game encapsulated perfectly the Can conundrum: some good stuff, and some not so good.
He will simultaneously leave a big gap in the midfield to be filled and provide an exciting chance for us to remodel the position.
In comparison, Alex Oxlade-Chamberlain gives you exactly what he's steadily taught you to expect. His movement creates so many of the openings that Mohamed Salah, Roberto Firmino and Sadio Mane dance through.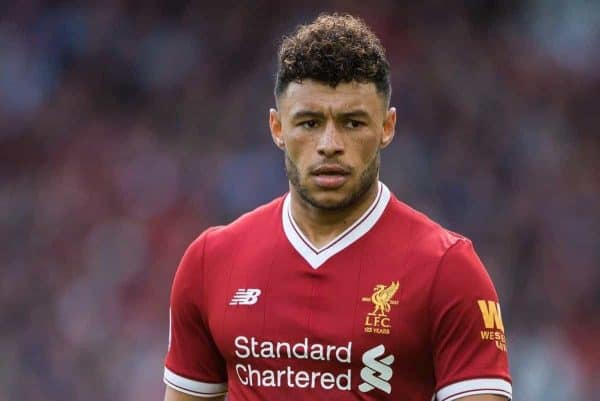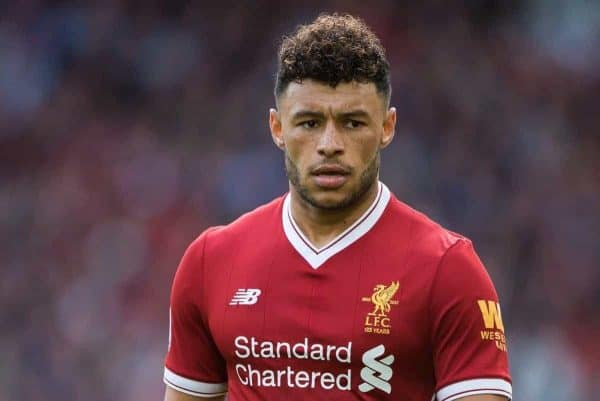 The prospect of Oxlade-Chamberlain alongside Naby Keita is a smile-inducing one.
How would Can fit into that dynamic next season? We're unlikely to ever know. Into the mix of this, we are still meant to identify a successor to Philippe Coutinho.
Beyond all of this the James Milner renaissance continues apace, as he made himself awkward to play against. He put himself into some painful situations, and this kind of commitment will help us to our targets over the next couple of months.
Meanwhile, Jordan Henderson watched on from the sidelines.
Andrew Robertson is Brilliant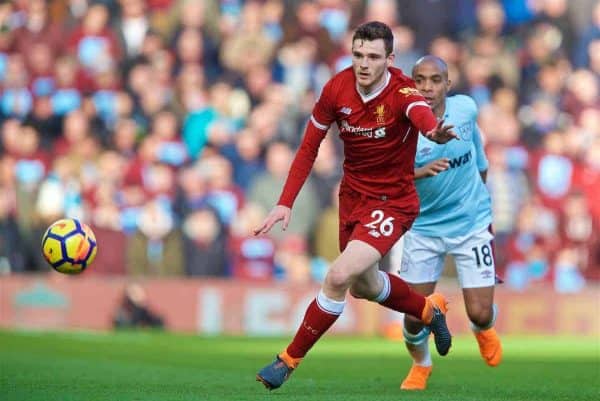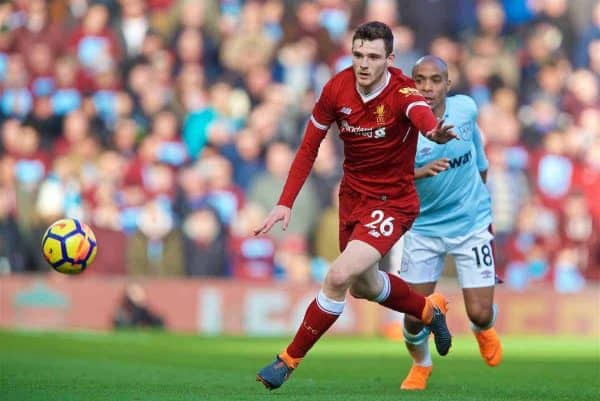 One glaring moment where he overran the play aside, Robertson was once again outstanding.
He really is shaping up to be the left-back of our dreams: determined, fast, perceptive, capable of popping up anywhere.
He will eventually add goals to this repertoire. A Scottish Paul Breitner in the making.
Ask your dad, kids.
Just a couple of months younger than Can, fitness permitting Robertson will be our left-back for many years to come. Finally after three decades, since the days of Jim Beglin, the left-back position appears to be in safe hands.
Between Beglin and Robertson our best left-backs have been makeshift ones. When you get into this pattern it detracts from somewhere else on the pitch.
When you relocate a Steve Nicol or a Rob Jones from their natural position it weakens a different part of the defence.
If we finally crack the code, and our defence becomes watertight all of a sudden, it will be as much down to Robertson conquering the left-back problem as it will be the vast amount of money we spent on the hypnotic Virgil van Dijk.
The Holy Trinity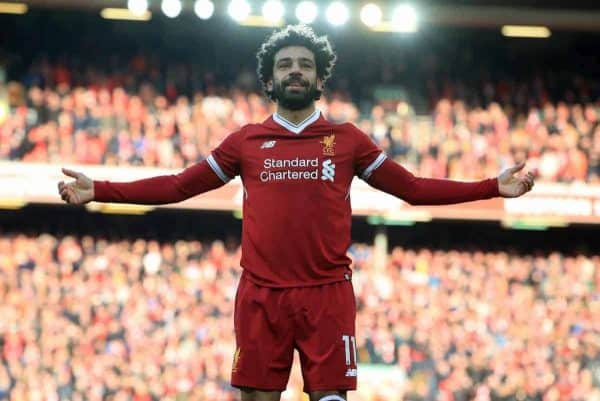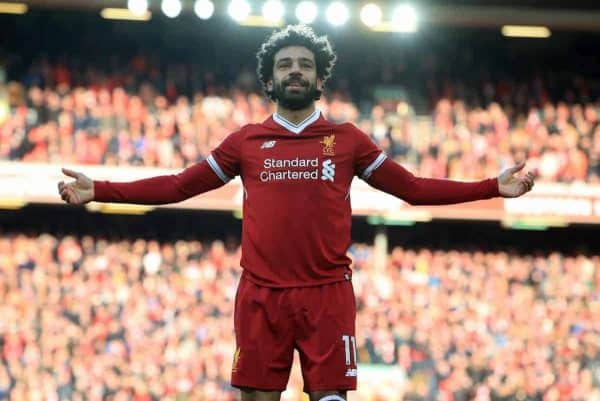 An Evertonian of a certain age I know spluttered into his pint when he found out that someone on Radio 5 Live had referred to Salah, Firmino and Mane as 'The Holy Trinity'.
This was a name bestowed upon the late 1960s and early '70s Everton midfield of Alan Ball, Colin Harvey and Howard Kendall.
He'll still be muttering about it now.
Without Coutinho, there is a reasonable passing thought that fatigue could well catch up with our stylistic front three.
Expected to play every game, it is a big ask for them to maintain the high level of their performances.
There is no sign of that at the moment however.
Mane continues to show signs that his form is gradually rising. Salah is almost in a resting mode, catching his breath after a phenomenal winter, switching on intermittently to score a goal here and there before hitting the snooze button again, while Firmino is arguably the man carrying the baton as chief tormentor of our opponents.
A goal from each of them. Never take them for granted; we are truly blessed to have them.
West Ham Fans All Dream of a Team of Tomas Repkas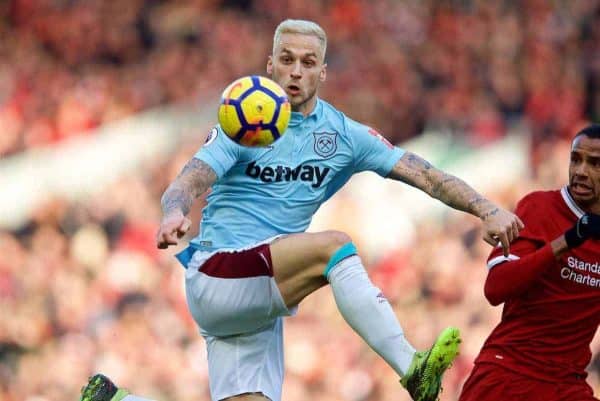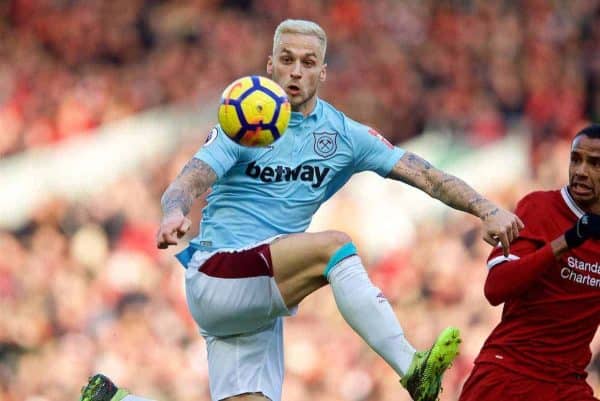 You're a long way up in the upper tier of the Main Stand. I'm also colour-blind.
I didn't realise until I watched the highlights on Match of the Day that West Ham were wearing light-blue shirts. I thought they were in all-white.
During the first half, I didn't realise that Marko Arnautovic was sporting peroxide blonde hair. I thought he had a shaved head.
Combined to the appearances of James Collins and Pablo Zabaleta, I kept on thinking that both were being caught massively out of position, high up the pitch. I must have fallen for it at least half a dozen times.
David Moyes has never won at Anfield.
One day, he will roll into to Anfield in charge of Carlisle United, for an early round League Cup tie against a weakened Liverpool lineup, and his side will win on penalties.
It will be the pinnacle of his totally peculiar managerial career.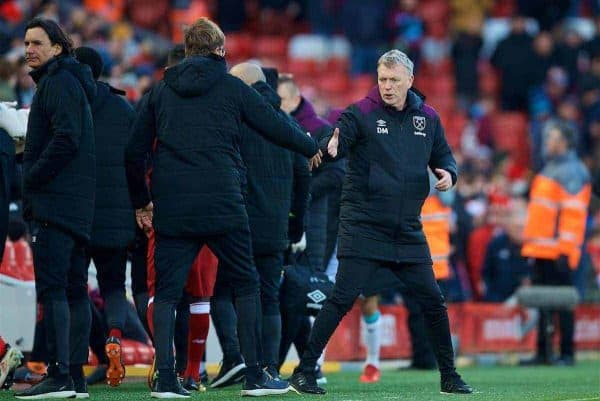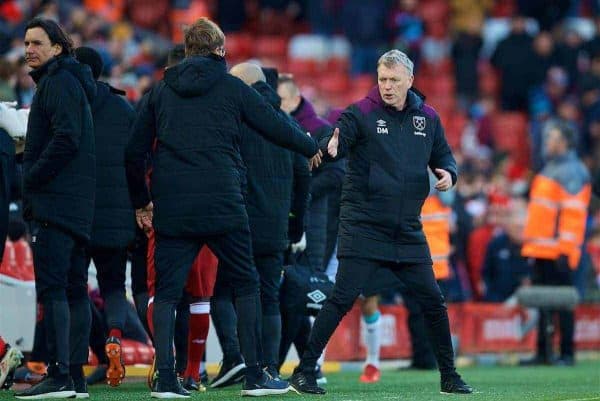 The way he's going, we're only a season or two from that scenario having very real potential.
It is down to the likes of Moyes, Alan Pardew, Sam Allardyce and Roy Hodgson that so much of English football remains largely unwatchable.
Unfortunately, or fortunately as the case may be based on beating West Ham, we still have Hodgson, Allardyce and Pardew to face before this season draws to a close.
More high-scoring performances in third gear please.
Next Up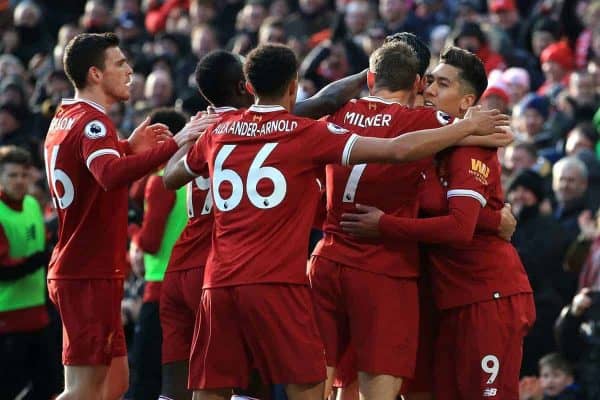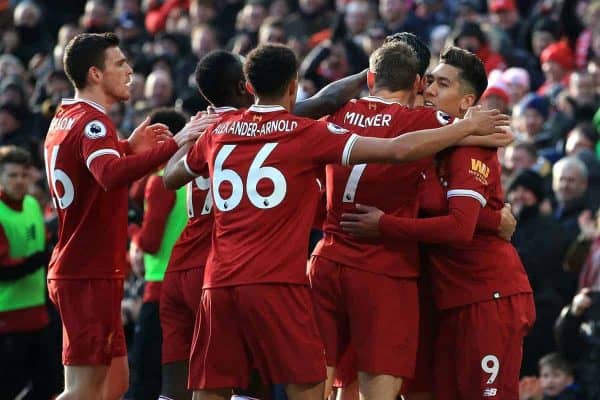 The sedate month of February is over, and March will be that little bit sharper.
Rafa is coming home, and we will be making the trip to the wrong end of the East Lancashire Road.
Porto should be navigated without any major worries, while there are points to collect from Watford and Crystal Palace as long as we remain ruthless and focused.
Beyond March lies the Champions League quarter-finals, and a huge test of where we really find ourselves to be.
If you can't enjoy this, then there really is no hope for you.