Referee Jon Moss has been backed by referee outfit PGMOL, stating he was correct to award Tottenham's first penalty against Liverpool.
A dramatic Sunday afternoon at Anfield saw the Reds draw 2-2 with Spurs, with late goals and plenty of controversy making it a memorable occasion.
Mohamed Salah put Jurgen Klopp's team ahead early on, before Victor Wanyama levelled with a rocket from range.
The latter stages of the game then went into overdrive, as Spurs were awarded a contentious penalty, saw it saved by Loris Karius, conceded a second Salah goal and then snatched a draw with a second spot kick in the 95th minute.
Both Spurs penalty incidents were hotly contested by Liverpool players at the time, while Klopp was also adamant they should not have been given after the match.
And there was further annoyance that ref Moss asked fourth official Martin Atkinson for guidance from television replays.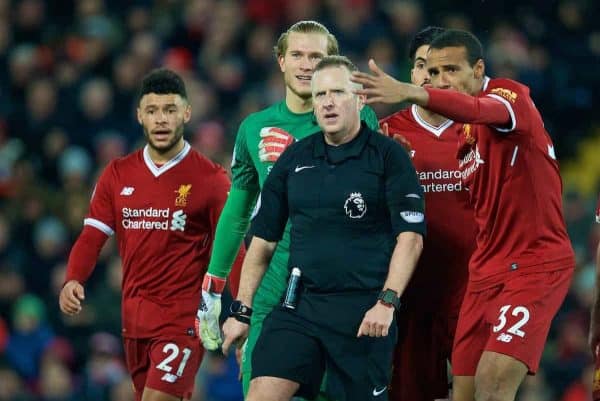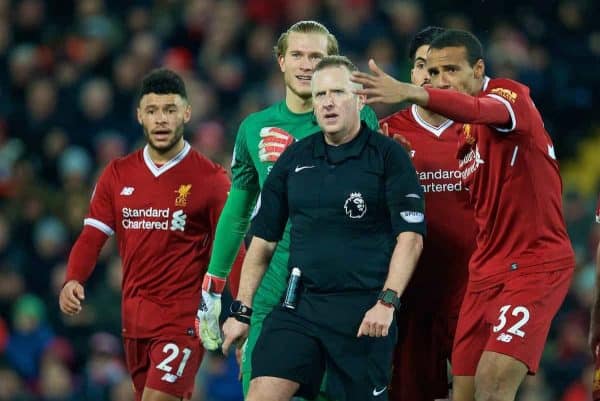 However, Professional Game Match Officials Limited have released a statement backing the outcome and Moss' work.
The statement read:
Jon Moss was in a good position to see that a Liverpool player deliberately played the ball before it fell to Harry Kane. He then correctly judged that Kane was fouled by Lorius Karius.

(Assistant) Eddie Smart correctly sought clarification on whether Dejan Lovren had deliberately played the ball. His question created some momentary confusion when Eddie asked if 'Lovren' had touched the ball.

Moss knew a Liverpool player had touched the ball but not that it was Lovren.

He then asked a question to his fourth official Martin Atkinson and acknowledges that referencing 'TV' was misguided. Atkinson did not reply to the question and so had no involvement in the decision.

Having properly reflected on the questions asked, Jon knew that a Liverpool player, now identified as Lovren, had played the ball and that no offside offence had occurred. He then awarded the penalty.

For the avoidance of doubt, Atkinson did not view a television monitor and did not relay any information to the on-field officials.
The statement is unlikely to leave Reds fans any happier on the matter as it fails to note that an offside Kane affected play by forcing Lovren's initial involvement.
It further avoids significantly answering the question over why Moss asked the question about using the TV at all.
Finally, no mention was made of the last-minute penalty incident, Virgil van Dijk fouling Erik Lamela, which some fans also felt was a harsh call.