It may be 'typical Liverpool' to beat Man City one week then lose at Swansea the next, but such instances skew the perception of how Liverpool perform against the top clubs vs. against the rest of the league.
In September 2017 I wrote an article for This Is Anfield on why it's tough to play for Liverpool, commenting how new signings can be written off far too quickly by fans if they don't hit the ground running.
It's interesting that the article mentioned Loris Karius; now he has been given a decent run in the team he is performing to a much higher standard.
None of which is to say the German should definitely be Liverpool's goalkeeper next season, but when given a chance he is at least looking like perhaps he could be. Whatever his flaws, weren't many supporters too quick to write him off?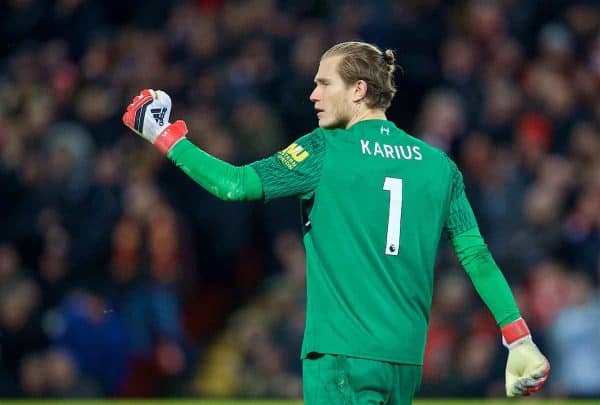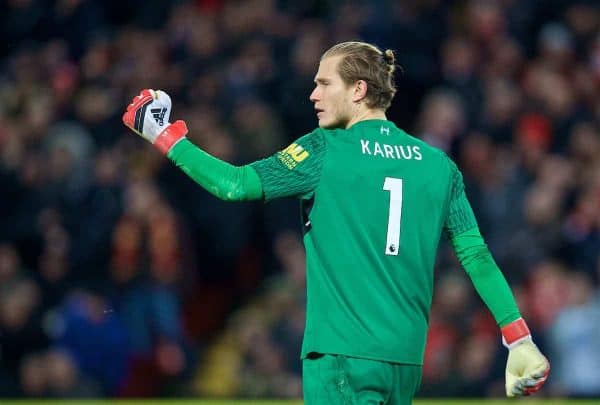 But then Liverpool fans are a pessimistic bunch. I'd say 'don't @ me' on Twitter, but plenty do already, as you'll see shortly. I can, however, understand some negativity towards the club. The Reds have only won one trophy in the last 12 years, and have lost their last three finals (which have been across three different competitions).
They came agonisingly close to ending the long wait for a league title in 2013/14, and can often go from the sublime to the ridiculous within matches, never mind from week-to-week. Just last month they became only the third team in Premier League history to beat the leaders one week and lose to the bottom side the next.
It was no surprise to see the phrase 'Typical Liverpool' trending on Twitter in the UK shortly after that Swansea defeat. The 'pool make a habit of disappointing their fans all too often.
And yet, there are many reasons to be positive at the moment.
Liverpool are third in the Premier League, with their joint-third highest points tally at this point of a season since Premier League football began in 1992. They are all but through to the quarter-finals of the Champions League, and have scored 99 goals in all competitions by mid-February.
So shouldn't the occasional setback matter to fans far less than it seems to? After all, Liverpool are having their most consistent two season spell of winning matches since the heyday of Rafa Benitez.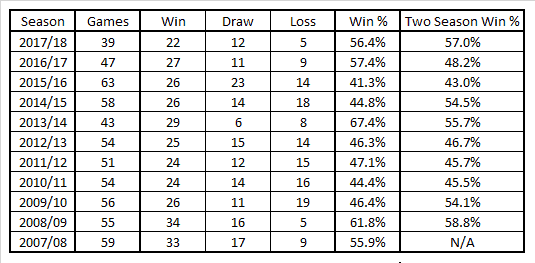 Psychology of fans
Of course, the Reds will always fail to win some of their matches, but it's happening less often than it has for about a decade. This feeds in to the psychology of football fans, which is something which has fascinated me for a long time.
Maybe it's all part of the groupthink element of social media? Paul Tomkins has written about this in far more depth (here), and noted studies have shown people are more likely to panic if close to someone who is panicking. Welcome to Twitter.
Speaking of which, after each Liverpool match I share a table of stats called 'race for the top four'. It shows how many points each team needs to reach 76 points (as no team has ever got that many and finished fifth or lower), what results they need to get there, and how many 'big six' matches they have left. Exhibit A: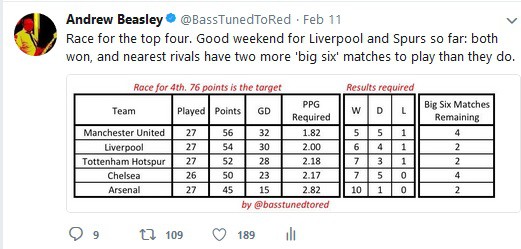 I'm an optimist by nature, and to my eyes the above table looks incredibly positive. Liverpool have averaged the form they need throughout this season, and they have fewer big matches left to play than both Manchester United and Chelsea have.
This is where the confusing psychology comes in. Many Liverpool fans believe it's better for their team to have more big matches, as that is where they thrive. Here's a sample of replies my table has received in the past.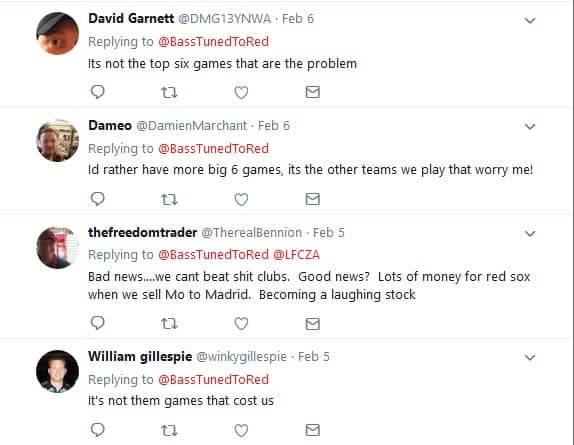 You get the idea. In fairness, when you look at Liverpool's record over the past three seasons in the matches between the big boys, it's understandable that Kopites generally enjoy those games.



That's not a bad points haul, is it? And crucially, it's better than that of the Reds' immediate rivals. But for all that it is an impressive return in the context of the other teams, it still only amounts to 1.57 points per game.
So how have the Reds done against the other 14 teams in the division? In 2015/16 Liverpool averaged 1.77 points per game. This rose to two per game last season, and Jurgen Klopp's team have taken 2.32 points per match in 2017/18. The pessimism about these games should be waning, and yet in certain corners of the Liverpool fanbase, it seems as potent as ever.
Bear in mind that in 2016/17, when Liverpool were unbeaten in matches between the big six teams, they still earned 'just' two points per game. It was always going to be nigh on impossible to repeat this season, and so it has proved. Fans still think Liverpool do better in these matches, though.
Ah, but then the Reds lost at Swansea and only drew 0-0 at home with West Bromwich Albion in the league. The other big teams must be doing better than Liverpool against the dross, right?


Nope, Liverpool are a shade above average and even the seemingly unstoppable Manchester City haven't got a flawless record in these matches. The Reds clearly take more points from these games, so the fans should want more of these matches, not fewer. Why do Liverpool fans dread such games so much?
Remembering the bad
Simply put, (and again, tip of the hat to Paul Tomkins), humans are programmed to remember bad things. As human beings evolved at a time when so many things could kill them, they grew to be wary of threats and terrified of things that were bad. It's hard wired into every single one of us.
Which is why it's not just small teams which terrify Liverpool fans, but also set pieces.
However, only five teams have conceded fewer set piece goals than the Reds in the Premier League this season, and the likes of Manchester United and Tottenham have let in more (albeit only by one).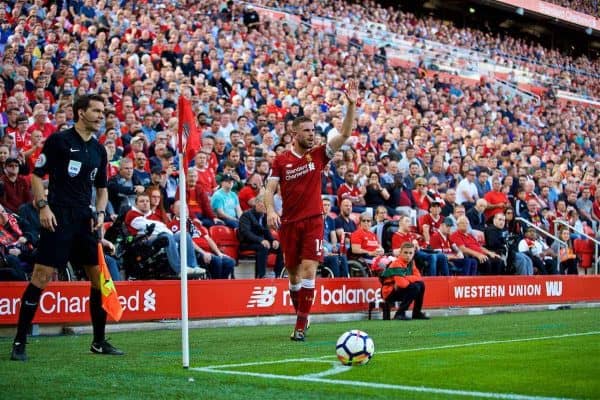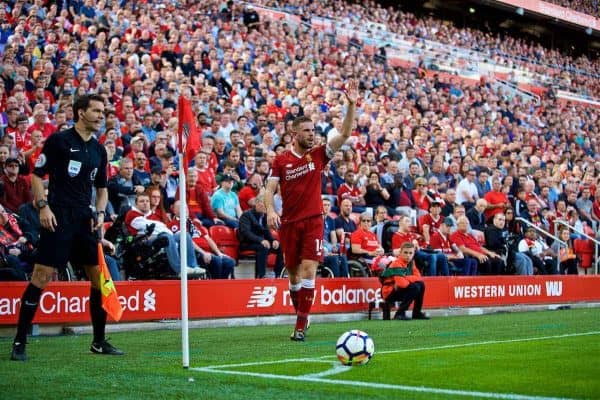 Not all goals are equal, though, and you naturally remember the bad ones. With Liverpool, this perhaps applies more to set pieces than to any other type of goal.
Watford's opener and last-gasp equaliser on the opening weekend? Corners. Tottenham going 3-1 up just before halftime at Wembley? Free-kick. Swansea's winner? Corner again. Just because you remember bad goals, it doesn't mean Liverpool have a horrendous record with dead ball situations.
Of course, I've focussed on the Premier League as that is where the stats are most readily available, and where every team plays each other which aids fair comparisons. Liverpool have conceded set-piece goals in Champions League draws with Spartak Moscow and Sevilla and lost at home to West Brom in the FA Cup.
I'm not asking you to ignore those facts, and Liverpool will undoubtedly drop points in a match they should win before the season is out. Based on the last few years, though, they'll win more than they lose, and do better against the minnows than against the big boys.
The threat of embarrassment from your peers may be real, but there's plenty of points to be won against the struggling teams, and Liverpool are very good at doing it. Klopp may be over two years into his time at Anfield, but there's still plenty of doubters who need to become believers.