Alex Oxlade-Chamberlain picked up his sixth assist of the season, laying on the opening goal for Mohamed Salah in the Reds' 2-0 win against Newcastle on Saturday night.
Oxlade-Chamberlain was named BT Sport's man of the match and he spoke post-match about the Reds' gameplan to break down an organised opponent – something that Liverpool appear to have improved on in recent months.
"We knew that Rafa Benitez's sides are always well organised and we'd been expecting that," explained the former Arsenal midfielder.
"We've been working all week on different ways to break them down and we had a few different game plans.
"It was getting a little bit frustrating in the first half, I think they did really well to stop us and didn't let us get too many chances.
"In the end I found a little bit of space and managed to get in behind, and Mo or one of these three up there are always lurking for the goals. Easy finish for Mo in the end."
It was the seventh consecutive game that Salah had found the back of the net, matching a record set by Daniel Sturridge in 2014, but Oxlade-Chamerblain – who increasing comes across well in these interviews – pointed to all the front three.
"Mo's on fire, he's been doing it all season. [But] it's not just Mo, it's Sadio as well and Bobby does a lot of amazing work up there which maybe goes a bit unnoticed when Mo's scoring two or three a game!
"At the back aswell the boys did really well, kept a high line and set us up for the game."
The 24-year-old, who will be hoping his recent performances in his preferred centre-midfield role will have caught the eye of England boss Gareth Southgate ahead of the summer's World Cup, spoke about the big week ahead for the club.
"We're in a good moment," he said. "We spoke before the game about momentum, we need to create that and work hard and earn the right to go and play.
"If we can keep our attitude at 100 percent we know we have the quality to go and hurt teams."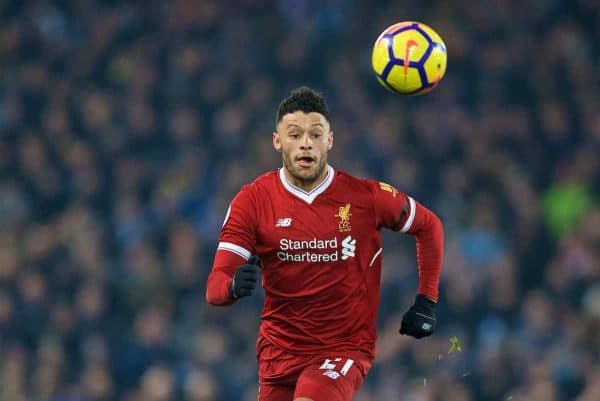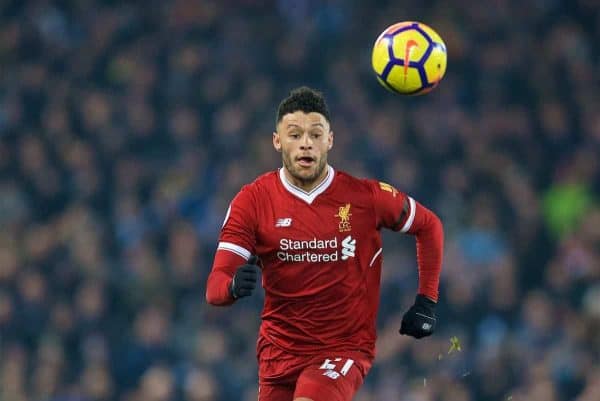 There were some raised eyebrows when Liverpool opted to pay a reported £35 million despite Oxlade-Chamberlain only having a year left on his contract at Arsenal, but Klopp has cleverly managed his role in the side and he's now looking a fantastic option in midfield.
Having been used in the front three early on, Klopp now trusts him to play centrally, where he offers more of a threat to break the lines, run at defenders and play in the front three.
Not only is he shining on the pitch, he also comes across really well off it and is endearing himself to the fanbase.