10 wins in the last 13 games in all competitions – this is a Liverpool team finding consistency and quality.
Goals from Mohamed Salah – his 32nd of the season – and Sadio Mane gave Jurgen Klopp's side a comfortable, solid 2-0 win over Rafa Benitez's Newcastle side on Saturday evening at Anfield.
It was a result that moves the Reds back up to second in the table, until at least Monday night when Man United play at Crystal Palace.
Our post-match debates look at the good and bad from every game, but it's becoming increasingly more difficult to find any bad in this side's performances.
This Is Anfield's Matt Ladson spoke to Henry Jackson and Neil Poole about their thoughts on a cold night at Anfield.
The good…
HENRY: The professionalism of the win stood out more than anything. It wasn't a classic performance, but was the kind of victory really good teams produce at home to weaker opponents. This is a really good Liverpool side – don't take them for granted.
Loris Karius' save was another big moment in his ever-improving Reds career; Virgil van Dijk was supreme at the back; Jordan Henderson and Emre Can dominated the midfield impressively, and the front-three again showed why they are the most exciting and cohesive attacking unit in Europe right now.
The Kop was in good voice, with Rafa Benitez getting a much-deserved song at the end, and I managed to avoid a trip to the toilet throughout the entire 90 minutes, despite the pre-match pints. There's a first for everything.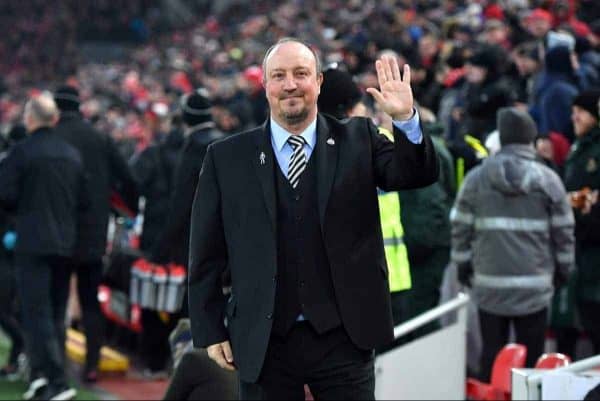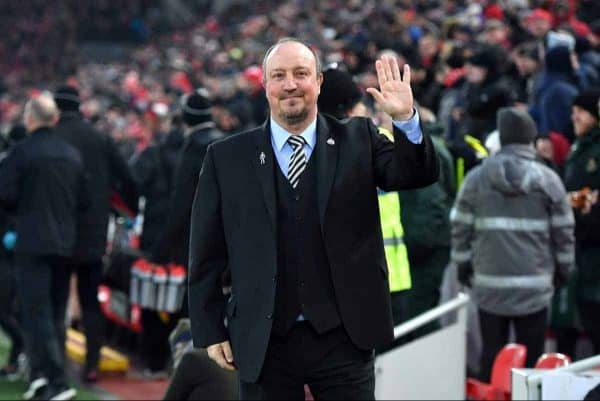 NEIL: Watching the game back – and despite BT Sport's irrational 'glass half empty' commentary which seems to lurch into panic mode if Liverpool haven't scored three goals in the first twenty minutes – there was a lot of good to take out of this game.
Firstly, and credit where credit is due, the Karius save at the end of the first half was both excellent and very important. I don't think he's really been given enough credit for it. That ball was hit with some welly from only 18 yards out and was moving a fair bit.
We've seen them shots fly in, accompanied with a requisite 'there's not much the goalie could do about that.' An equaliser just before half time would have given Newcastle something to protect and a bit of belief and it would have been a much more tricky and nervous second half. I still want a new goalie though!
Secondly, I very much enjoyed the second goal: rapid, decisive and slick. It was the type of goal where half way through the build-up you're already thinking if goes in it will be a hell of a goal. And it was.
Finally, it was Chamberlain's second good game on the trot after a dip in recent form. We'll have more of these stubborn games and it's imperative that someone in the midfield three, whoever that is, continues to provide the service to my very special mates up front.
MATT: Completely agree with Neil about the second goal – which was all about Firmino. He wins it back, plays it off, finds space between the lines, then plays a perfectly timed and weighted pass for Mane.
It must be a joy to play alongside him as a forward, and it must be a joy for midfielders to have somebody with his workrate in front of them, winning balls in midfield too.
Aside from Firmino, the patience, controlled approach was, like Henry says, very professional. We're finally showing signs of being a 'proper' team. It's enjoyable times.
The bad…
HENRY: There really wasn't anything to feel unhappy about, barring some more very questionable officiating. How wasn't that a foul on Mo Salah at the end?
Every player performed on the day, and you couldn't fault Jurgen Klopp's tactics in the slightest.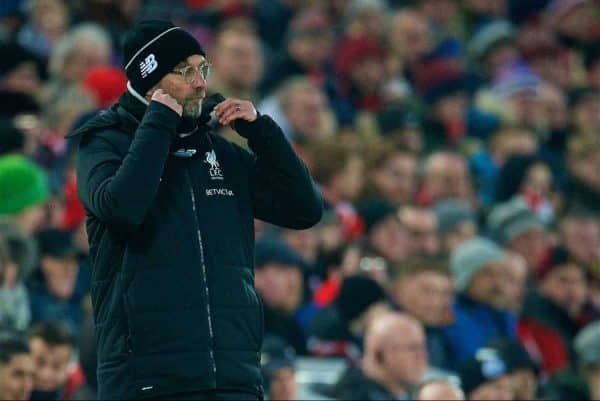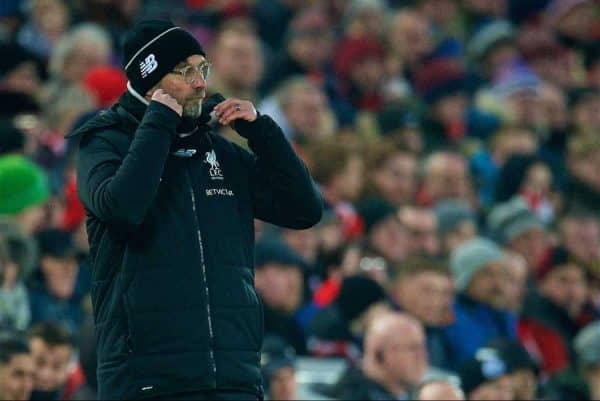 It was absolutely freezing, though, which for a southern softy like myself almost reduced me to tears. The fella next to me had also clearly eaten about five doner kebabs on Friday night, judging by the odours being released from his body.
They were the only negatives.
NEIL: There wasn't too much that was 'bad'. If I was being picky Trent was a bit sloppy in possession at times. I'm ok with this though as he's only 19 and inconsistency is part and parcel of a young footballer's make-up, and his delivery is still always a threat even when he's not playing at his best. I can feel it in my loins that he'll have another belter against Man Utd, just like last season.
Related to the aforementioned Karius save, we do need to react quicker to second balls on the edge of our own box and our deeper lying midfielders in particular need to wake up a bit in these instances. We do well at limiting opposition's chances, but this is a blindspot. We paid for it against Spurs a few weeks ago and we nearly paid for it this weekend. However, I'm picking bad for the sake of bad really; I was very much satisfied with our performance.
MATT: Not much! The weather was baltic but at least it was better than the last few days, and my 16 layers worked a treat.
I genuinely can't think of any bad, other than the referee. He seemed to avoid any decisions all game and that one at the end was incredible, he just didn't want to have to send someone off in the final seconds.
The week ahead…
HENRY: Changes: I'd switch things up massively, with the tie all but done and dusted. If a second string team can't get though, Liverpool don't deserve to progress.
I'd stick with Karius, Lovren and Van Dijk, in order for them to keep getting used to playing alongside one another, but change the rest.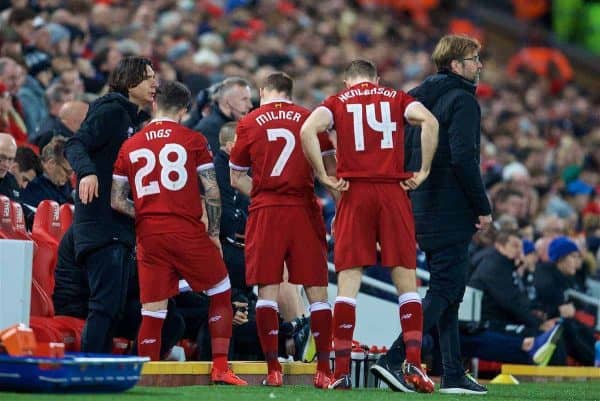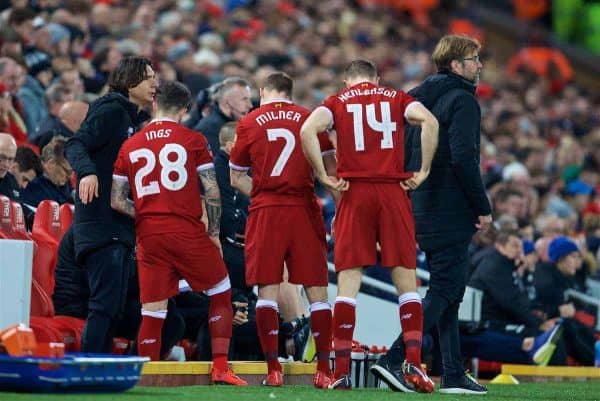 Joe Gomez, Alberto Moreno, Gini Wijnaldum, James Milner, Adam Lallana, Danny Ings and Dominic Solanke should all start – maybe even Ben Woodburn, too.
I'd go for eight changes in total, with key men on the bench in case it goes tits up.
Liverpool need to be as fresh as possible against United, especially the front three.
NEIL: Am I the only one think we could possibly still mess this up? I'd like one more goal before we put our slippers on! I know, I know…
I'd wrap the front three up in cotton wool for this game. They're the difference between qualifying and not qualifying for next year's competition, and doing something special in it this year. I'd leave them out completely.
Give Lallana and Gomez a game to get their match legs. Other than that I'd keep it the same, giving more time for Karius and the defensive partnership of VVD and Lovren to build understanding with hopefully limited pressure. If everything is ok by halftime then we can start introducing the Klavans. Morenos and Matips of this world.
MATT: Yes, Neil, you are!
I'd go with Henry's eight or so changes. We're a bit thin for options to rest all the front three so perhaps a planned sub so none of the trio play more than 45 will be needed.
Give me a team such as: Karius, Gomez, Matip, Klavan, Moreno, Henderson, Milner, Oxlade-Chamberlain, Lallana, Solanke, Ings.