Hailing the importance of Roberto Firmino's all-round game Joe Gomez was effusive in his praise of the Liverpool striker, and how hard he is to mark.
Firmino has established himself as one of the most accomplished No. 9s in European football since taking up his new role under Jurgen Klopp.
Previously a hardworking, ghosting No. 10, Firmino was described by the New York Times' Rory Smith on Monday as "the most-complete modern centre-forward in the world."
This season he has added more goals to his game, with the Brazilian scoring 23 and laying on a further 13 in 42 games in all competitions.
Gomez is relieved he is more often than not on the same side, as describing Firmino's approach to LiverpoolFC.com the defender highlighted his touch and tenacity as key assets.
"He never has a bad touch, the ball always sticks to him however you ping it at him," he explained.
"It's nice when you're playing the pass but when you're defending against him and he doesn't give you even half a yard to get there, it makes it hard."
On Firmino's relentless off-ball work, and how to counter it, Gomez simply said "the only thing you can do is hope you get a foul."
"Bobby keeps going and keeps going throughout the game. He loses it and will track back deep into our half to get it back," he added.
"It shows his desire to try and win the ball back and defend for the team."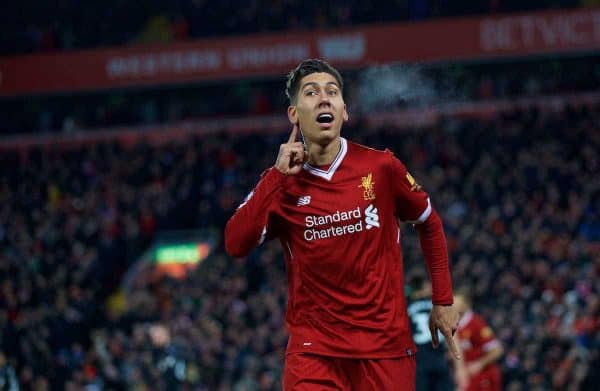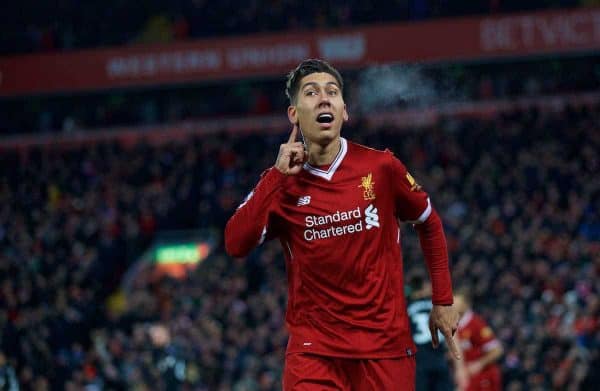 Gomez also revealed how the Liverpool squad "embrace his creativity," despite the risk of his no-look finishes, and highlighted him as one of the most popular players at the club.
"He works so hard for the team as well, everyone knows that and it's why he's liked by so many people—because of the effort he puts in. Regardless of the game, he always gives 100 percent," he continued.
"Even if he didn't score as many, his contribution to the team brings the rest of our attacking players into positions where they can score.
"Everyone is happy for him because he's showing he can do it all, and he's not losing the other parts of what he does. It's nice to be on a team with someone with so much quality."
Smith's suggestion that if Robert Lewandowski were to head to Real Madrid this summer Bayern Munich would be interested in Firmino sparked fear among Liverpool supporters.
But there should no cause for concern, with Firmino settled on Merseyside and flourishing in his focal role under Klopp, terrorising Premier League defences.