Jurgen Klopp claimed Mohamed Salah would not like the comparison – but the Liverpool manager agrees the Egyptian bears similarities to Lionel Messi.
Liverpool forward Salah was likened to the Barcelona star as he struck four goals in 5-0 thrashing on Watford on Saturday.
Salah also created another goal for Roberto Firmino in a devastating display amid snow flurries and freezing conditions at Anfield.
Asked in his post-match press conference if Salah could be mentioned in the same sentence as five-time world player of the year Messi, Reds boss Klopp said: "I think Mo is on the way.
"I don't think Mo or anybody else wants to be compared with Lionel Messi – he is the one who has been doing what he's been doing for what feels like 20 years or so. The last player I know who had the same influence on a team performance was Diego Maradona.
"But Mo is in a fantastic way, that's for sure. As it always is in life, if you have to have the skills you have to show that constantly and consistently, and he is very good. He helps us a lot.
"The boys love playing together with him, he loves playing with them so it's good.
"He gave us a good four goals. I think that's quite exceptional and another good performance.
"We had to cope and deal with difficult conditions tonight. It was slippery. Everybody suffered but not Mo in that situation. That is really special."
Watford offered little aside from a dipping free-kick from Roberto Pereyra when they were already 3-0 down. The result never seemed in doubt after Salah opened the scoring in the fourth minute.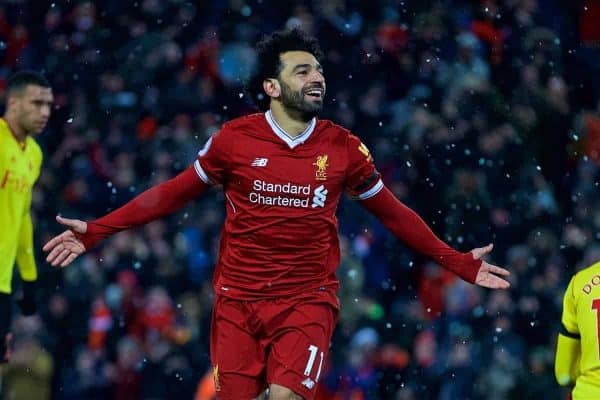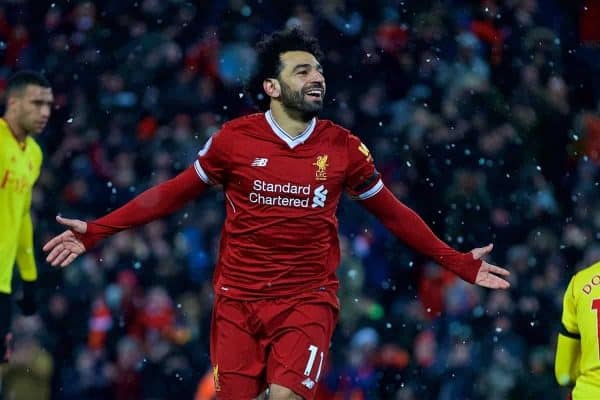 Klopp said: "I'm really happy about the result and the performance in very difficult circumstances."
Watford manager Javi Gracia, whose side lost 3-0 at Arsenal last weekend, admitted his side had been outplayed.
Gracia said: "We knew we had a tough game. We conceded an early goal and then it was very difficult.
"We know we were playing against one of the best teams in Europe at this moment and they were much better than us.
"We tried to play like a team, we tried to find the best option but we need to compete with the best level we can and it was not the best performance for us today."
Gracia felt his team maybe lacked spirit.
He said: "Before the match I felt it but after conceding five goals, after the match, I'm not sure. We need to improve and now we have time – two weeks – to prepare for our next match."
Liverpool midfielder Adam Lallana was not included in the matchday squad but Klopp said he would be "100 per cent fit" to link up with England.