The media felt Jurgen Klopp's back three switch was key to Liverpool slipping to a frustrating but far from disastrous 2-2 draw at West Brom.
Klopp's side were held to a disappointing but not calamitous stalemate against the all-but-relegated Baggies.
Danny Ings gave the Reds an early lead with his first goal for 930 days, and it seemed all three points would be brought back to Anfield when Mohamed Salah made it 2-0 with 18 minutes left.
But late goals from Jake Livermore and Salomon Rondon earned the Baggies a point and denied Klopp's men an ideal victory ahead of Tuesday's Champions League semi-final first leg with Roma.
It was a frustrating result but the Reds still hold a strong position in the top four—eight points ahead of fifth-placed Chelsea—and here's how the media assessed events at the Hawthorns.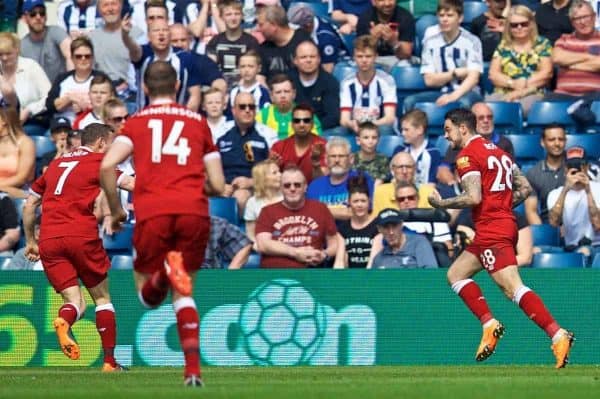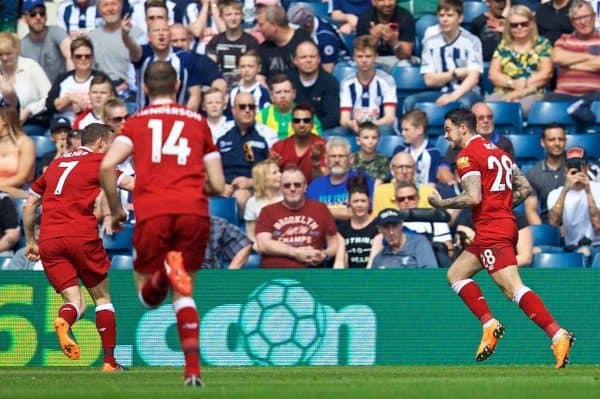 Pleasingly, reporters took objective views of the significance and relevance of the draw…
Our man Karl Matchett rightly assessed that the draw was frustrating but nothing too troubling in the grand scheme of things:
"All told, the draw was frustrating but shouldn't be too relevant in the wider scheme of Liverpool's season."
The Liverpool Echo's Ian Doyle took a positive outlook, noting that the Reds moved a point closer to a top-four finish with an under-strength team and a sub-par performance:
"Liverpool rarely ventured out of second gear while edging a point nearer securing a top-four berth."
For Goal, Neil Jones explained that the outcome result and particularly the manner of it could prove "a useful warning" ahead of the real important games:
"Jurgen Klopp and his side may have bigger fish to fry than West Bromwich Albion, but their sloppiness at The Hawthorns was an unwelcome reminder of what can happen when the Reds take their eye off the ball.

"Ahead of Tuesday's Champions League semi-final with Roma, this 2-2 draw may serve as a useful warning."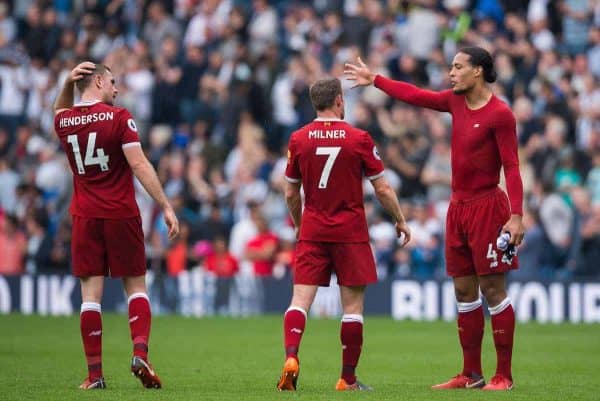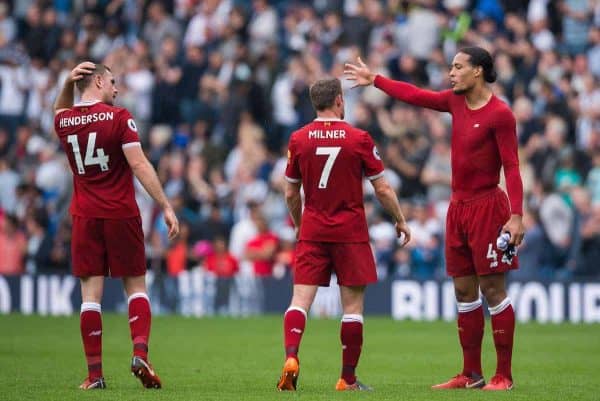 Reporters were more mixed in their views on the late collapse but felt it highlighted Liverpool's improvemen…
The Telegraph's Chris Bascombe believes the Reds won't win over those who doubt their title credentials until such collapses are fully wiped out, but noted they are increasingly rare:
"Until such daft and inexplicable calamities are completely eradicated, Liverpool will not convince every doubter.

"In fairness, anomalies like this are getting rarer. Liverpool have been beaten just four times in the Premier League this season. They are yet to lose at all in the Champions League."
Jones thinks Roma will have taken encouragement from Liverpool's struggles to deal with long balls and crosses ahead of Tuesday's showdown:
"But Roma, you can bet, will have noted the trouble West Brom caused with crosses and long balls.

"Liverpool have defended superbly in recent weeks, keeping nine clean sheets in 14 games prior to this but—the regal Virgil van Dijk aside—they looked shaky when put under pressure. Edin Dzeko, you can bet, will be ready."
The Liverpool Echo's James Pearce was quick to play down sensationalist views of Liverpool's previous failing returning to haunt them again:
"Frustrating? Yes. Sloppy? Unquestionably. Reason to panic? Behave."
And Jones followed that by backing the full-strength Reds to respond positively against Roma at Anfield:
"Tuesday will be different. It has to be. The Champions League does something to Anfield, and to the Reds. Standards will be raised, no question.

"Liverpool have come too far to let their old insecurities halt them now."
On a different note, Doyle felt Klopp showed good management in blaming everything but his players after the game, allowing the squad to turn focus on the first leg without extra scrutiny:
"Klopp raised eyebrows with his post-match protestations about the pitch at The Hawthorns, but it was perhaps good man-management.

[…]

"By making the post-match patter about him, he's allowing his players to turn their attentions on the coming days."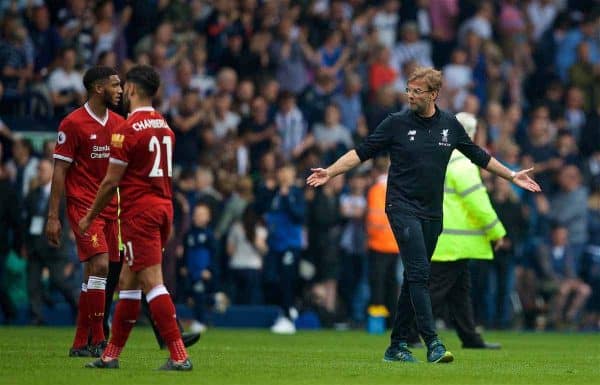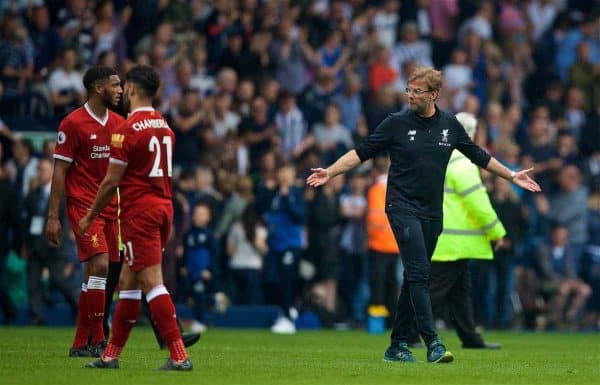 Reporters discussed Klopp's late switch to a back three and some felt this was key to the collapse…
This is Anfield's James Nalton was among those who thought Klopp made an error making the switch as it invited pressure and limited the threat to kill the game off:
"Klopp, though, arguably undid all this by switching to a back three late in the game, and the defence looked uncertain from then on.

"They were made to absorb pressure rather than creating it themselves, and this ultimately encouraged the opposition to attack. Despite this the defence still should have done better."
ESPN's Dave Usher felt the decision to withdraw Salah was particularly costly as it took away any counter-attacking threat:
"Withdrawing Mohamed Salah for the closing stages proved costly too as it allowed West Brom to throw men forward without the worry of being caught on the counter."
The Mirror's Alex Richards provided a worrying stat on the impact of the Reds' struggles to see games out at times throughout the season:
"Those goals ensured Liverpool have now dropped 14 points from winning positions this season, with 10 of those dropped points coming in the last 10 minutes of matches."
Looking at ways such collapses can be prevented, TIA editor Matt Ladson thinks adding more quality attacking options will help as moving to an unnatural defensive style can then be avoided:
"Up front, more is required so that Mo Salah and Sadio Mane can be rested and rotated.

[…]

"Maybe then we can keep the pressure on rather than reverting to a back five in the closing stages, which the team rarely looks comfortable when doing. It's a cliche, but it's not in this side's DNA to play a defensive game."
Meanwhile, Usher felt Klopp's decision to make so many changes to the lineup did nothing to help the general performance:
"Jurgen Klopp made more changes than expected and while that wasn't the only reason for the lacklustre performance it probably didn't help."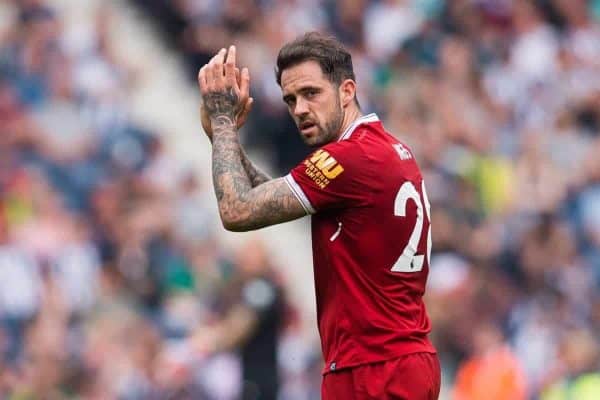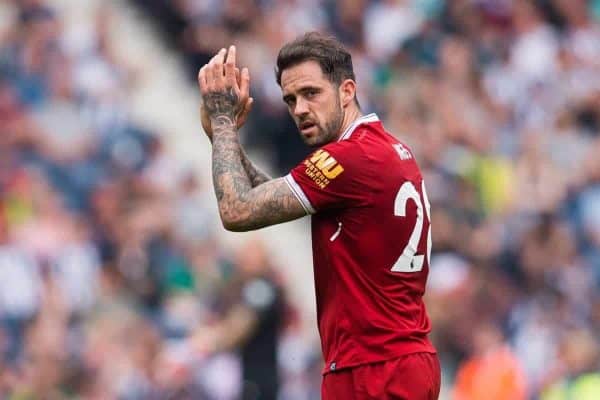 Certain journalists praised Danny Ings who finally ended his torrid injury run with a goal…
Richard Jolly, writing for ESPN, felt Ings' display showed he may be the best option currently on Liverpool's books to be backup to Roberto Firmino:
"Ings brings some of the same characteristics—relentless movement, a willingness to press—if not the same quality or a similar goalscoring return.

"Nevertheless, the forward requires a reliable deputy and, if Liverpool do not enter the transfer market for a striker this summer, this performance helped suggest Ings, rather than Sturridge, the exiled Divock Origi or the perennial substitute Dominic Solanke, may be the best candidate."
Matchett thought Ings's goal and "good showing overall" was important as the striker needed to prove his worth in his natural position after some stuttering comeback outings:
"It was important for Ings, of course, to show he could offer something to the team, particularly given his central role for this game after an ineffective showing out wide against Everton.

[…]

"A good showing overall, and a confidence booster in front of goal which could yet come in handy in the final weeks of the season."
Elsewhere, the Independent's Lawrence Ostlere believes Alex Oxlade-Chamberlain has found his ideal position and his impressive cameo will have caught Gareth Southgate's attention:
"It is that he has found his place on the pitch, in that central right channel, barrelling past defenders, constantly on the most direct route to goal.

"It was his pass which released Mohamed Salah for Liverpool's second goal, and while most people's attention would understandably have been on the Egyptian claiming his 31st strike of the season, one suspects Gareth Southgate will have taken note of the assist with a smile."