Liverpool and Man City held their pre-match press conferences on Tuesday, ahead of Wednesday's Champions League quarter-final first leg at Anfield.
In each press conference, there were questions from the assembled media on the expected greeting of the team buses along Anfield Road pre-match – something that has been organically done in the past for big games at Anfield.
Most memorably, Reds' fans provided the welcome for their team ahead of big games against Man City and Chelsea in 2013/14, and then against Borussia Dortmund and Villarreal en-route to the Europa League final.
There were also similar occasions against Sunderland and Tottenham in the past.
The aim of these is for Liverpool fans to show their support for their team, but bizarrely – after an anonymous Twitter account posted an image promoting a welcome ahead of Wednesday's game – it's seen reports from Manchester-based media over safety concerns.
It's all pretty laughable, especially considering Pep Guardiola has been involved in games between Barcelona and Real Madrid, and plenty of City's players in South American matches.
For us, the focus is on what effect it can have on the Liverpool players. In the past, players have spoken about the positive impact it's had, and some have shared incredible videos from inside the team bus.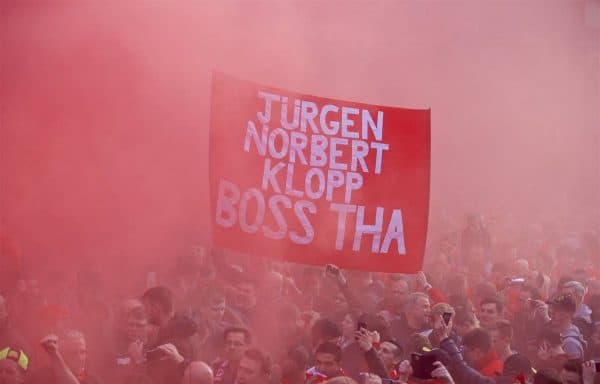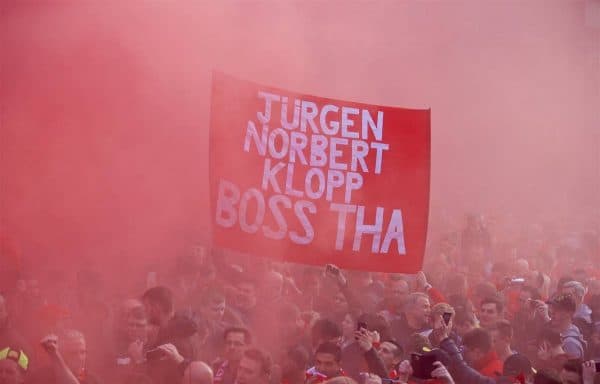 Asked about the reception, Klopp said: [I have] no clue what it does to opposition, [but] for us it's wonderful, it's great, it shows everything. It shows the passion.
"As long as it happens in a legal way, I like it. I didn't organise it, I had nothing to do with that, but for the team – it's a welcome for my team – it's brilliant."
Defender Andy Robertson said: "Everyone knows that Liverpool fans take to the Champions League very well, it's always well supported and that's when they create the most famous atmospheres.
"[In the] Premier League, week in, week out, they're brilliant – but for Champions League, they take it up a level.
"I'm sure that will be the case tomorrow night and they will create an atmosphere that helps us, that we can use to our advantage and we can give them things to cheer about."
Kevin De Bruyne was also asked about the potentially hostile reception for his side, saying: "I expect nothing less. This is the way it goes. I like to play in stadiums in big crowds. It's what it's all about, there's a lot of passion in football."
And the same question was then put to Pep Guardiola, with the City boss similary not so bothered by it. Guardiola said: "We come here to play football. Hopefully everybody, our fans and Liverpool fans, can be correct and polite. It is a game, a sport. We cannot forget that, as good as the rivalry is.
"Liverpool fans will put a lot of pressure on the players but in good terms. That is what it is but it is a nice place to play football."

Speaking to Liverpoolfc.com, Klopp added: "I don't think I have to say something. What I feel and am aware of is that the excitement in the city is really big. Everybody knows what they have to do.
"But if you think you did your best job already – I don't know which game, maybe Dortmund, maybe Villarreal or any other game at Anfield – come on, bring yourself to the next level!
"That's what I really expect and what we need. It's the strongest opponent we could get but I know City respect us a lot – they don't think they are already through. So it will be good.
"If we can make an advantage with the atmosphere, then try it."