The media were in awe of Liverpool's attacking display and Mohamed Salah after the Reds took a commanding 5-2 first-leg lead over Roma.
The Reds took a big step towards reaching the Champions League final in Kyiv with a stunning performance and result at Anfield.
After a slow start a breathtaking 60-minute display saw the Reds storm into a 5-0 lead with braces apiece from the sensational Salah and fabulous Roberto Firmino and Sadio Mane's tap-in.
But just when it seemed Liverpool would cruise to victory Roma hit two late goals through Edin Dzeko and Diego Perotti to earn a glimmer of hope for the second leg.
Despite the late collapse it was an excellent performance and result, and with a three-goal lead the Reds should have full confidence in seeing the job through in Rome next Wednesday.
Before attentions turn to that tie, here's how the media assessed a crazy but special night at Anfield.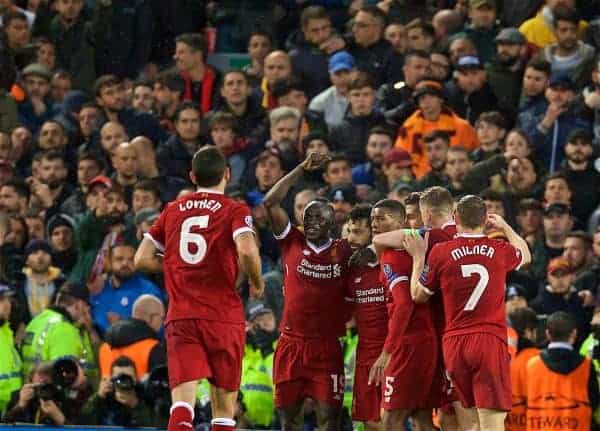 Most of the media felt the performance and result outweighed frustrations with the late goals conceded…
Our man Karl Matchett rightly insisted that the result is far better than it feels:
"It feels worse than it really is: Liverpool have, after all, just won a Champions League semi-final by a 5-2 scoreline.

"They've put five past one of the last four sides in Europe. They could have scored eight."
The Liverpool Echo's James Pearce labelled the display an "attacking masterclass" and felt it overshadowed disappointment with the defensive sloppiness:
"But this wasn't a night for regrets after Liverpool produced one of the most sensational performances in the club's illustrious European history.

"How can you criticise a team who delivered such a spellbinding attacking masterclass when the stakes were so high?"
Summarising the performance, the Mail's Ian Ladyman felt Roma got lost in the emotion of Anfield and likened their display to a boxer walking onto a combination of knockout punches:
"At Anfield, things can get away from you very quickly indeed. The only sporting analogy that seems anywhere near appropriate is that it must be like walking onto a flurry of heavyweight punches. One moment you are in the fight and the next minute the lights have gone out."
And Matchett praised Liverpool's ruthlessness in going for the kill to build a dominant and commanding lead:
"We've seen it before, but in a game of such magnitude, it was especially pleasing to see. Liverpool sensed their moment and went for the kill, splitting Roma apart time and time again, hungry for goal after goal after goal.

"The Reds have the players to make the most of such occasions and given the tie is a two-legged affair, it was imperative they made the most of the momentum they gained."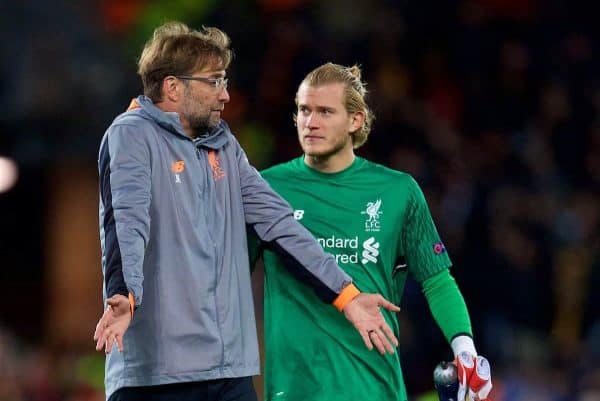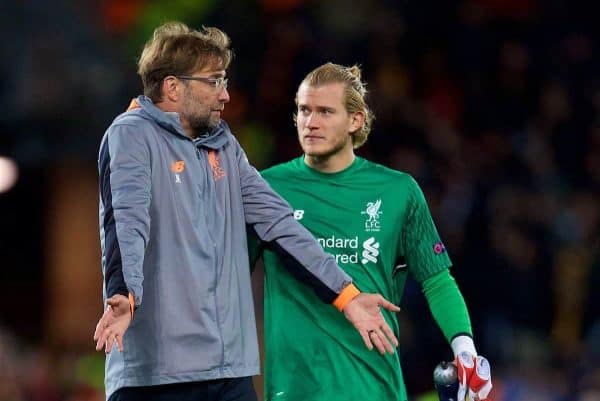 But some reporters were frustrated with the goals conceded…
For JOE.co.uk, Dion Fanning felt the ease at which the Reds were creating and scoring played a part in the conceding as Klopp's side chased more goals rather than manage the game:
"Liverpool had closed down the first leg against Manchester City in the second half, but this maybe seemed too easy.

[…]

"Maybe Liverpool had failed in game management as some suggested or maybe they had felt supremely confident in their ability to continue scoring."
The Guardian's Daniel Taylor thought Klopp made an error substituting Salah as it withdrew the main threat:
"Perhaps the manager made a mistake of his own by withdrawing Mohamed Salah, who had scored two and set up another couple."
ESPN's Dave Usher thinks another show of late sloppiness means it must be treated as more than an isolated incident before it becomes something more serious:
"Beyond that, the worrying drop-off after 80 minutes should be a concern as it is not an isolated incident. Everton, Bournemouth and West Brom have all put Liverpool under pressure in the final 10 minutes of recent games too."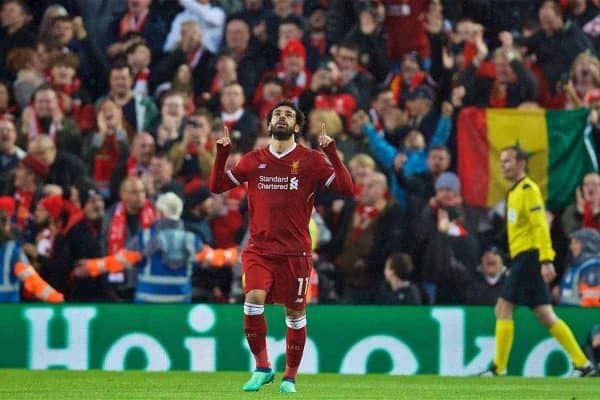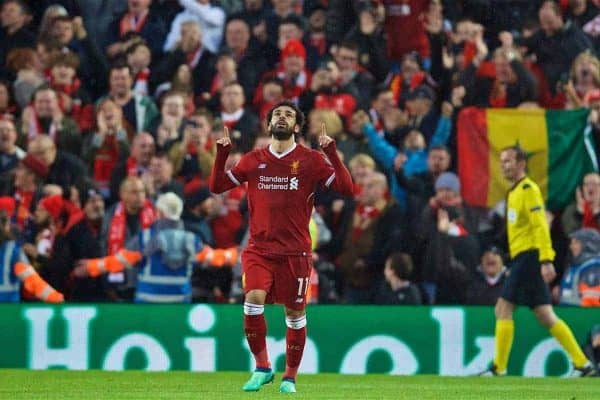 A certain Red was lauded in post-match reports for a breathtaking performance…
James Nalton, for the Sportsman, said Salah's performance on the night—and in previous games in the competition—will go down in Anfield history:
"Salah's performances will become part of this history whether Liverpool reach the final or not, but if their No. 11 plays like this in the second leg then they will definitely be going to Kiev at the end of May."
The Mail's Dominic King believes the Egyptian King is a genuine contender for the Ballon d'Or:
"Never mind being the PFA Player of the Year, this was a performance that stamped out as a genuine Ballon d'Or contender."
Pearce says Salah is undoubtedly the best player in the world right now:
"On current form there is no better player on the planet."
The Telegraph's Paul Hayward believes Salah is already on the way to becoming a Reds legend and has no limits on how good he can become:
"With Salah's two first-half goals against a Roma side whose prior knowledge of him was no use whatsoever, you could feel the PFA Player of the Year easing into the company of Kenny Dalglish and Steven Gerrard.

"He would need to stick around a while and maintain these standards to become true Anfield royalty, but his form this year has been spectacular, and his first-half brace spoke of a player without limits at this level."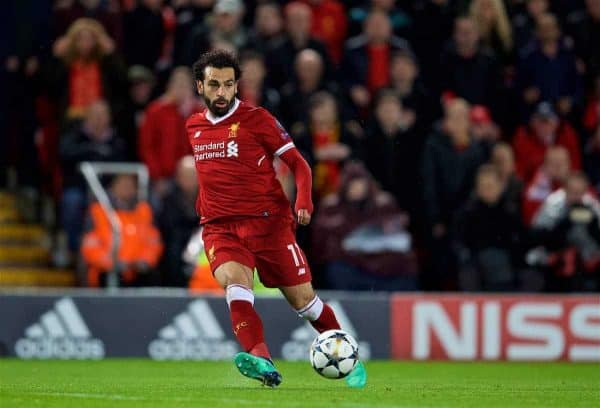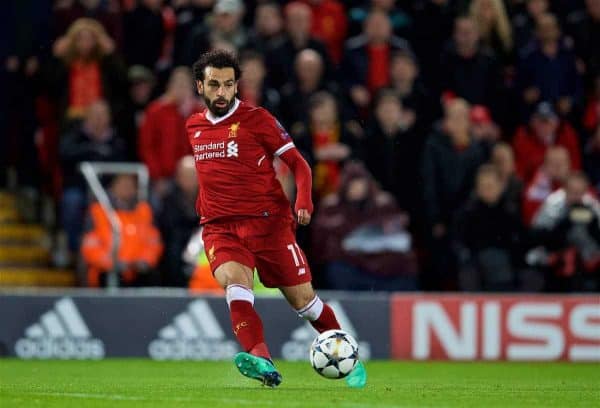 ESPN's Mark Ogden reckons Salah alone gives Liverpool a chance of winning European Cup No. 6:
"Salah has been in majestic form for months and if he stays fit, Liverpool will have a fantastic chance of winning a sixth European Cup against either Bayern Munich or Real Madrid in Kiev next month if they can see the result out next week."
The Mirror's Alex Richards noted how Liverpool have adapted the system to get the best from Salah:
"Gradually the side has developed around Salah as the season has progressed, pushing him closer to goal and with less responsibility defensively. It may just be on the verge of firing them to European glory."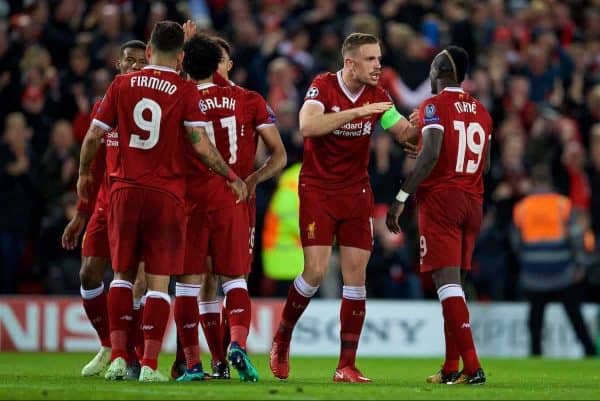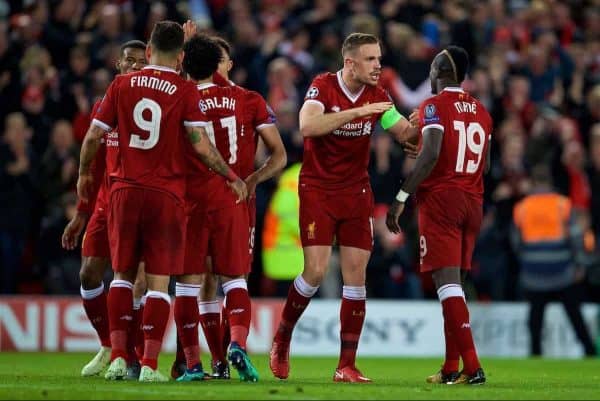 The collective and individual performances on and off the pitch were praised…
Firstly, the Mirror's Andy Dunn believes Klopp has proved himself one of the best in the business in this European run, lauding the German's man-management skills:
"This remarkable Champions League form is showing him to be a coach of many facets, a man-manager supreme. Tactically, think of the job he has done with the remarkable Salah, the way he has deployed him in this fluid three-man attack."
The Telegraph's Chris Bascombe was in awe of James Milner's performance, labelling the vice-captain Liverpool's "most complete central midfielder":
"He has always been more than people perceive, but the added component of experience has made him indispensible. Having started the season wondering if he would be continuing as a makeshift left-back like last year, he is now arguably the most complete central midfielder at the club."
Matchett praised Gini Wijnaldum for taking his chance to impress and felt the Dutchman played an "integral" role giving the Reds in control:
"The Dutchman was integral in the Reds' improved fortunes from the half-hour mark onward, harassing and challenging high upfield and surging down the channels to keep Roma pegged back."
And discussing the midfield as a collective, Bascombe believes the balance of the Reds' engine room has been aided by Philippe Coutinho's departure:
"Since Coutinho's January sale the structure of Liverpool's midfield has been altered with positive consequence."
Richards praised Firmino, and believes the Brazilian is helping to bring the best out of Salah:
"But Firmino continues to mature and grow into one of the very best centre-forwards anywhere.

"The Brazilian's perpetual motion, intelligence and ability to both score and make goals has made him the perfect focal point to this Reds side. Salah is thriving from playing with him and vice versa."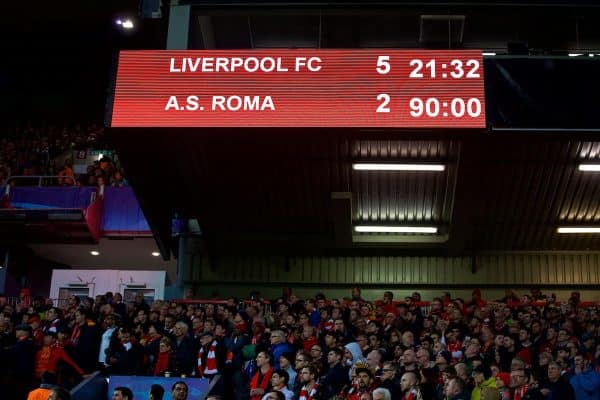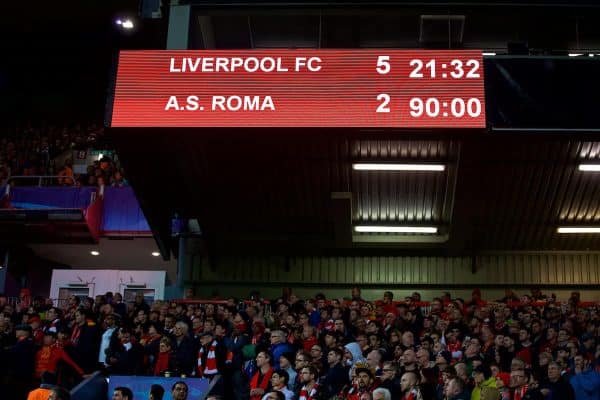 Reporters turned attention to the second leg—with most feeling the Reds have enough to complete the job…
Matchett assessed that it is essential Liverpool show "control and a strong mentality" in Rome:
"The Stadio Olimpico should hold no fears for the Reds; control and a strong mentality are a must, but as they showed at the Etihad Stadium, they do have both in abundance."
Seemingly forgetting the Reds' resolute second leg at Man City, Ladyman questioned Liverpool's ability to produce one in Rome:
"Liverpool must go away from home and take the life out of the game. It is not something they are used to, it does not come naturally to them and is not something they are particularly good at. It will present Klopp with a challenge and what will be just as crucial will be the way Roma play."
The Independent's Miguel Delaney thinks Roma will have a tougher job trying to stop Salah than they did having to stop Barcelona in the last round:
"It's going to take more than Roma repeating what they did against Barcelona. It's going to take preventing Salah doing this."
And colleague Jack Austin believes Liverpool will reach the final—and thinks the Reds will go into it as favourites because of their attacking prowess:
"Real Madrid or Bayern Munich await in the final, neither of whom have a reputation for an especially strong defence. Liverpool could well go to the final as favourites."