Some Man City supporters are doing their best to play down the Anfield atmosphere, but its influence is unrivalled in English football, and they will find that out on Wednesday.
Complaints at the idea of the visitors being 'welcomed' by vociferous home support outside the ground has been a talking point in the lead up to Wednesday's quarter-final first leg.
Ever since the two sides were pitted against one another in the last-eight, words have been written and spoken about how overrated Anfield is on a European night.
Those City fans are about to be rudely awoken, though, and made to look foolish in their views that it will make little difference to the occasion.
Bias will forever exist with football supporters, but anybody playing down the influence of the Liverpool crowd on a Champions League evening couldn't be more wrong.
Unrivalled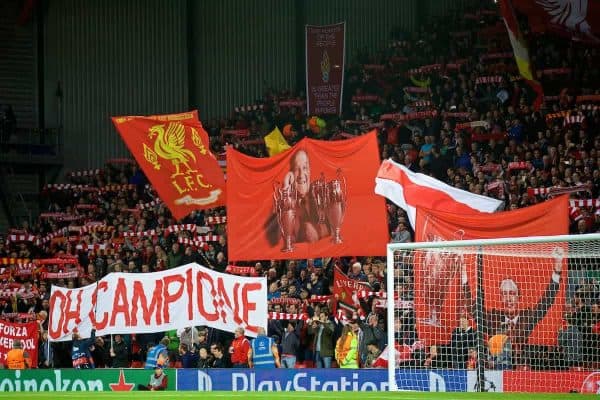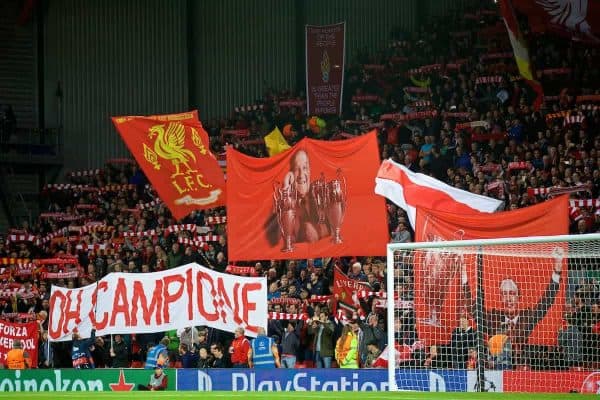 City fans can adopt this naive approach all they like, but not until you've sampled Anfield at its best can you fully appreciate its effect.
It does funny things to great players, and if the opposition don't start quickly, matches and ties can get away from them very fast.
The noise and passion on a European night affects even the best players, something that rarely happens in routine Premier League matches.
Such is the close proximity between the stands and the pitch, it feels as though the supporters are on top of the opposition. Liverpool can, at times, feel 1-0 up before the game even kicks off, such is the intimidation element produced by the home faithful.
In the modern era, there have been numerous evenings in which Anfield has delivered to devastating effect in Europe – UEFA Cup, Champions League and Europa League – turning trophy-laden players into quivering wrecks.
Chelsea were defeated in both the 2005 and 2007 Champions League semi-finals, despite going into both contests as resounding favourites to prevail.
John Terry on the semi-final in 2005:

"The atmosphere: you would drive from the hotel, a 30-minute bus ride and they were all on the streets, winding you up, throwing stuff at the bus. It was a nightmare. It was the worst and the best ground to go to.

"The Champions League game in 2005 is probably the best atmosphere I've ever played in."

John Arne Riise on the same game:

"The crowd were fantastic, there was no way I could have run like that for 96 minutes if I hadn't been feeding off the crowd."
In the former, they had just been crowned Premier League champions, but they didn't know what had hit them from minute one, having arrived in over-confident fashion.
The stunning 4-3 win against Borussia Dortmund in the Europa League in 2016 was the most recent great European night we were treated to, with Liverpool producing a miraculous comeback from 3-1 down.
Dortmund boss Thomas Tuchel struggled to fathom what had happened to his players in that second-half – a team that featured such luminaries as Mats Hummels, Henrikh Mkhitaryan, Marco Reus and Pierre-Emerick Aubameyang:
"I can't explain it, it was not logical. It was very emotional. At the end at 3-3 everyone here believed it was meant to be, it was destiny.

"With the equaliser it was an atmosphere where everybody, except our supporters, believed it was meant to be."
In other words, they were powerless to stop the home supporters inspiring their heroes over the finish line.
Barcelona, Juventus, Real Madrid, Inter Milan, Arsenal and Man United have all come unstuck at Anfield in Europe this century too, with some of them being blown away.
While many have been complimentary about the atmosphere over the years, some have been stupid enough to downplay and disrespect it, prior to heading there.
Tommy Smith on the European Cup semi-final win over Inter Milan in 1965:

"The Italians thought they had heard noise in the San Siro I can tell you they had never experienced anything like the noise from the Anfield fans as the cup was carried round. When we heard the crowd I could understand how intimidating it was for the Italians. But it gave us a great lift. People talk about the atmosphere at the St Etienne game, when David Fairclough was the hero, and Istanbul, but that night against Inter Milan was something special."
Joey Jones on the famous home win over St. Etienne in 1977:

"For me it was the greatest atmosphere I ever played in. Older supporters will talk about the Inter Milan and Celtic games in the sixties, but there was no doubt in my mind that St Etienne was the best. There was a sense of anticipation about the game and it hit home when we heard that there were thousands of fans gathering around the ground early in the morning, never mind late afternoon. It was a real pressure game and the supporters played their part.
Villarreal boss Marcelino claimed his Villarreal side would "in no way whatsoever be affected negatively by the atmosphere" before the Europa League semi-final second leg two years ago, before being dispatched of 3-0 with ease.
Young Hoffenheim manager Julian Nagelsmann was similarly dismissive back in August, as he declared: "I don't really make a difference between home or away matches, so I don't really care [where the game is played]. I am not overly in awe of this club."
Liverpool then cruised to a 4-2 win to qualify for the Champions League knockout stages, and the scoreline was kind on Nagelsmann's hapless team.
This is the air you get from City ahead of the game – admittedly not (yet) from Pep Guardiola and his players – and if the supporters go into it with too arrogant an approach, it could backfire on them spectacularly.
Of course, they have every right to be confident, they are an exceptional team with an 18-point advantage over Liverpool in the league, but sides with just as much quality have wilted at Anfield in the past.
City themselves should know this, considering the way in which Liverpool tore them apart for large chunks of January's league meeting, resulting in a generous 4-3 loss on their part, and their unbeaten league record going up in smoke.
From a Reds point of view, the more cocksure and naive their fans are, the better, especially if it seeps into the mindset of the manager and the team.
The Latest Great European Night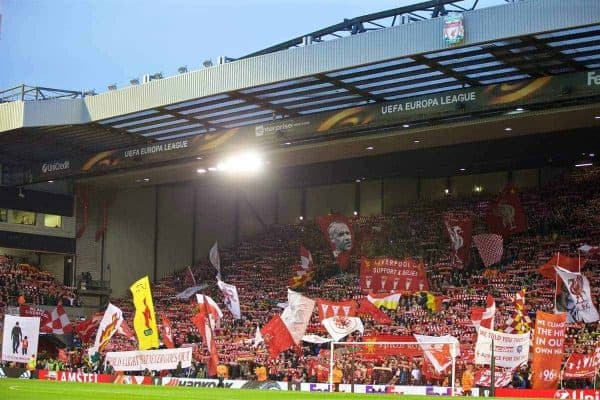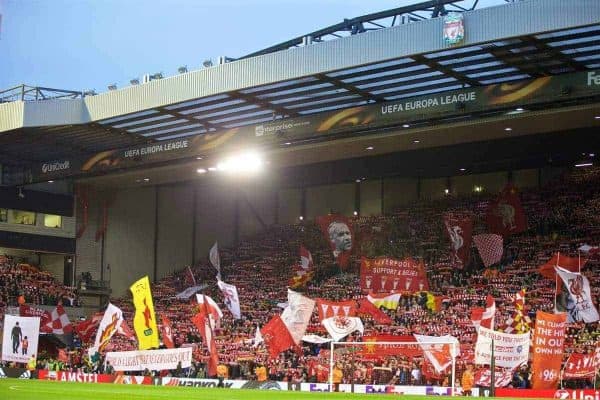 The anticipation ahead of the City game is palpable, as Jurgen Klopp's Reds partake in their biggest European game in almost a decade.
There was a period in the late 2000s when reaching the quarters and semis of Europe's elite competition felt like a given, but it has been slim pickings since.
Liverpool's 2009/10 and 2014/15 European campaigns were dire, with no great nights to speak of, and even the 2015/16 Europa League campaign lacked that truly special feeling, despite memorable occasions against United, Dortmund and Villarreal.
This City tie is the real deal, though. It feels gigantic.
It is a tie that may define Klopp and Guardiola's respective tenures in England to date and pits two of Europe's most entertaining sides against one another.
The all-English element gives it an extra edge as well, bringing back great memories of those classic games involving Liverpool, Chelsea, United and Arsenal in the latter part of the 2000s.
Fabio Capello on the 2005 quarter-final against his Juventus side:

"The fantastic atmosphere at Anfield was like an electric shock for Liverpool's players, who started the match at an astonishing tempo. They seemed unstoppable."
Xabi Alonso on the 2005 victory over Chelsea:

"Liverpool's fans definitely intimidated Chelsea at Anfield… I want to thank the fans for playing such a big part in helping us reach the final."
If Guardiola's star-studded side turn up to Anfield and pick up a win next Wednesday, they should deserve all the credit they receive.
They will have overcome an incredible atmosphere and made them themselves both strong favourites to reach the semis and possibly win their maiden Champions League crown.
There is, though, a feeling that their fanbase are displaying over-confidence ahead of the first leg, and it will be interesting to see if Guardiola or others follow suit in the days leading up to the match.
Perhaps it's a group of supporters who have rarely tasted nights likes this throughout their history, and hopefully their arrogance comes back to haunt them.
They will know what the fuss is all about come Wednesday night.