Jurgen Klopp's tactical nous ensured Liverpool were able to fight back from a familiar struggle to win 2-1 away to Crystal Palace on Saturday afternoon.
Jordan Henderson commented after the game that the best teams tend to win even when not playing at their best, and this was the case for Liverpool here.
Crystal Palace were able to control certain areas of the pitch where Liverpool are weakest, but Klopp came up with a plan of his own later in the game which allowed Mohamed Salah to work his magic.
Even though this plan looked to be scuppered when Adam Lallana left the pitch with an injury, having come on just minutes earlier, Klopp's game management was excellent.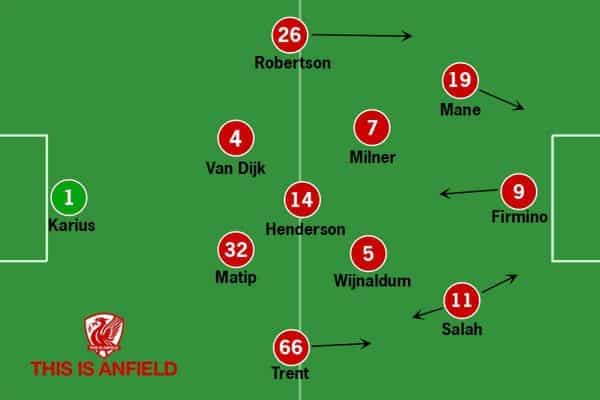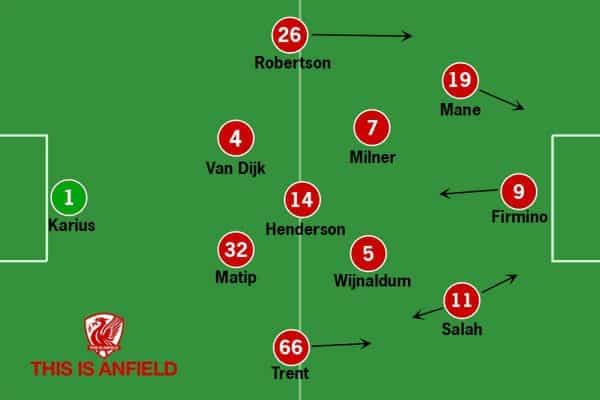 Selhurst Park The Bus
Palace approached the game with a similar plan to that which Man United had used against Liverpool earlier in the month.
Christian Benteke was playing the role of his compatriot Romelu Lukaku, while Palace's main threat, Wilfried Zaha, was replicating the part played by Marcus Rashford who scored two goals against the Reds at Old Trafford.
Roy Hodgson's side looked, on paper, like they might be set up in a 4-3-3 formation, but right winger Andros Townsend was regularly part of the midfield, and this led to something more along the lines of a 4-4-2, with a target man/speedster combo up front.
This focus was reflected in the amount of attacks Hodgson's side had down the left where Zaha was stationed.
Benteke moved away from Virgil van Dijk onto the less robust Joel Matip to make this even more pronounced.

The graphic below from @11tegen11 also shows how heavily they relied on the players down this side of the pitch:

Trent Alexander-Arnold endured a tough opening period against Zaha, and was caught out a few times in the early stages.
On one occasion he was saved by Loris Karius, who came out well to block from Zaha, who had sped in behind the Liverpool back line onto Yohan Cabaye's long pass.
The right-back seemed to have recovered from this, making a good intervention shortly after, but then he lost Zaha again, and this time Karius was unable to bail him out, conceding a penalty instead.
Alexander-Arnold bore the brunt of the criticism, but there were a number of other factors which led to the opportunities for the hosts.
The first Zaha chance was also a very good ball by Cabaye, and although Alexander-Arnold could have done better, it was a good piece of attacking play as the midfield playmaker and pacy forward combined.
The incident which led to the penalty was a string of errors, and other Liverpool players contributed as well as Trent.
Matip was outmuscled by Benteke, who eventually had a free run at Hennessey's long ball, while Henderson challenged too late (circled below).
The striker's header was latched onto by Zaha who had cut inside Trent (arrow).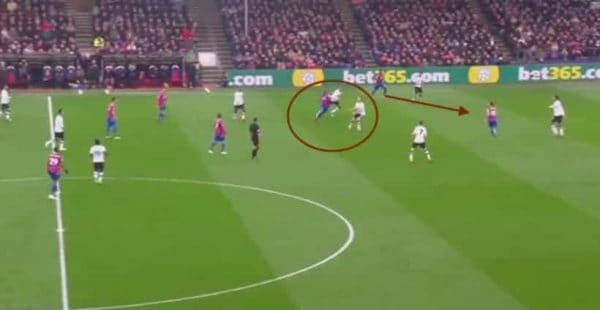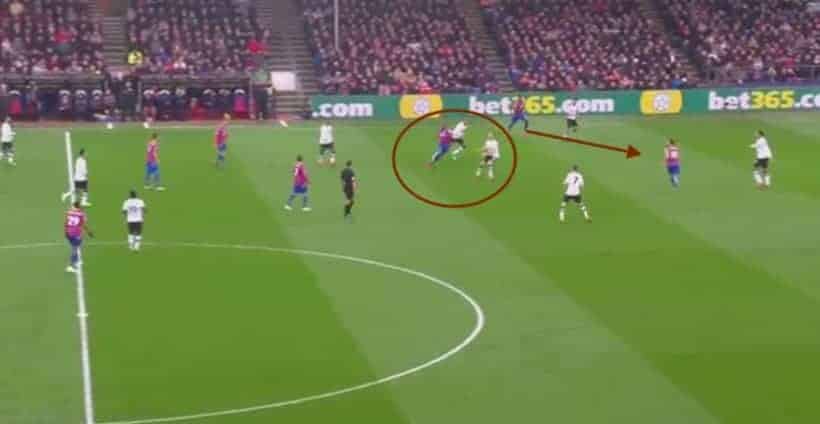 The solution to this problem is the same as it was after the United game: have a stronger presence alongside Van Dijk, and sign a midfielder who can sit in front of the defence and deal with this type of striker in the air.
Combinations of Dejan Lovren and Emre Can, and now Matip and Henderson, have so far failed to perform this initial task.
Alexander-Arnold should be able to learn from this, or at least Liverpool will hope he can ahead of facing Leroy Sane in the Champions League, but the other issue seems to be one which requires new personnel.
Incidentally, it's difficult to plce any blame on the shoulders of Karius for conceding the penalty, as if he doesn't have this mindset Liverpool probably concede from the first Zaha chance too.
Average Positions – New Balance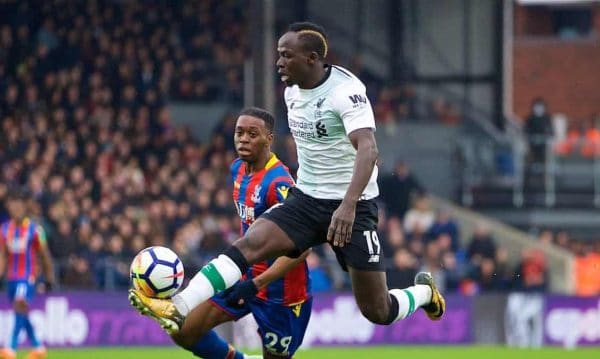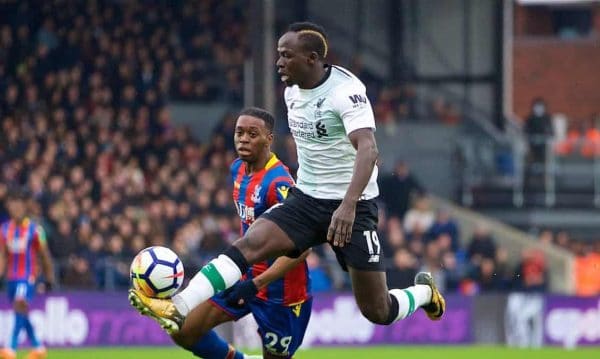 Salah is usually the player highest up the pitch when it comes to the average positions in attack, with Sadio Mane and Roberto Firmino slightly deeper.
But for this game the wide players' roles were reversed, and Mane was the auxiliary striker.

The best example of this was the position he took up for his goal, drifting into the centre to get on the end of James Milner's cross.
The other reason for this new balance out wide was down to Salah being on the side where Palace were attacking, so will have had to do more tracking back.
The Egyptian actually made more tackles than any other Liverpool player, with three, but this was all to change in the latter stages of the game…
Three at the Back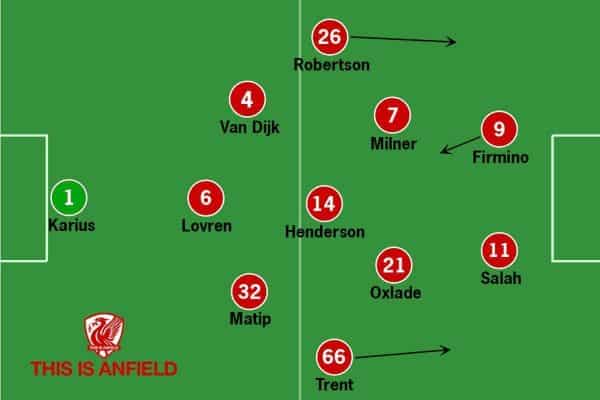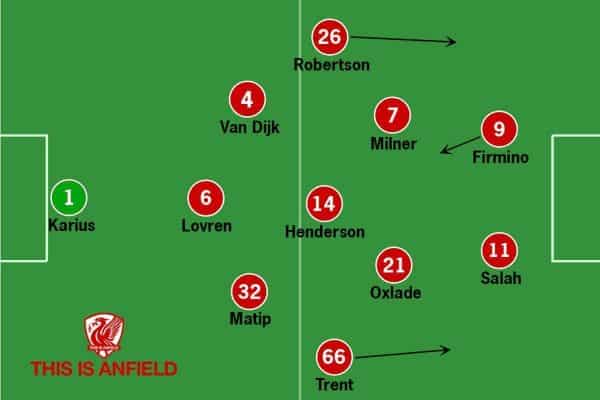 When Lallana went down injured minutes after replacing Georginio Wijnaldum, the obvious substitution to retain the existing shape would have been to bring on Danny Ings, moving Firmino into one of the wider positions and Alex Oxlade-Chamberlain deeper into midfield.
But Klopp had already pushed Salah into the front line, with Lallana and Oxlade-Chamberlain, who had replaced Mane, operating in attacking midfield positions behind Firmino who naturally drops deep to help out.
The best, and maybe only, move to keep Salah up top was to go to a back three even though this wasn't part of the initial plan, and Lovren rather than Ings replaced Lallana.
The midfield and full-backs were able to push up in attack as a result.
This also invited Palace to attack more, and gave them more possession than they had previously.
For the game as a whole Liverpool enjoyed 68 percent possession, but for the period they were using a back three in the last 20 minutes this was down to 55 percent.
This invited Palace onto them, leaving Salah ready to pounce, and though the winning goal wasn't a classic counter-attack, it relied on Salah being the furthest forward and Palace being somewhat out of sorts.
Andy Robertson's advanced position at left wing-back, rather than as a standard full-back, meant he was in position to provide the cross.
Lucky Liverpool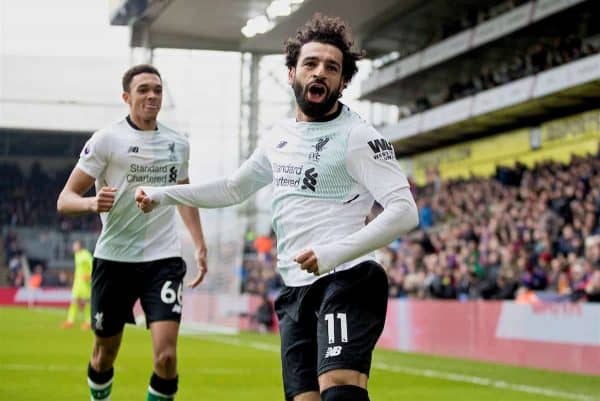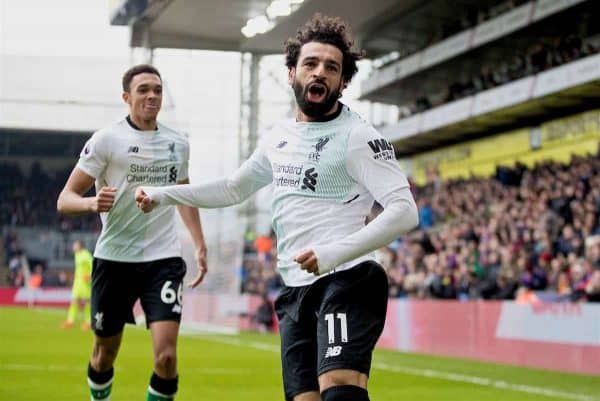 The expected goals indicate that Klopp's side were fortunate to come away with all three points, and though the sides were fairly even in this respect, the home side edged it.

Not including the penalty, Palace had three big chances. The first was the Zaha chance saved by Karius, with the other two falling to Benteke who couldn't hit the target on either occasion.
Liverpool's two big chances resulted in goals. This type of performance in front of goal where few good chances are created but most are taken is usually reserved for Liverpool's opponents, especially in the score draws this season.
FT Crystal Palace 1-2 Liverpool

Shots: 6-16 (3-6 on target)
Big chances: 4-2

via @StatsZone pic.twitter.com/ZlwXgukBRP

— Colm McMullan (@tiki_taka_co) March 31, 2018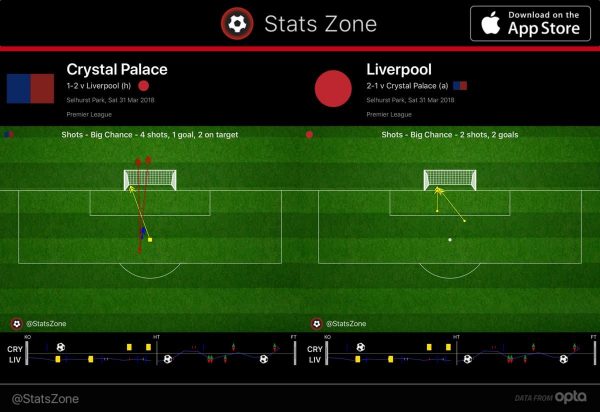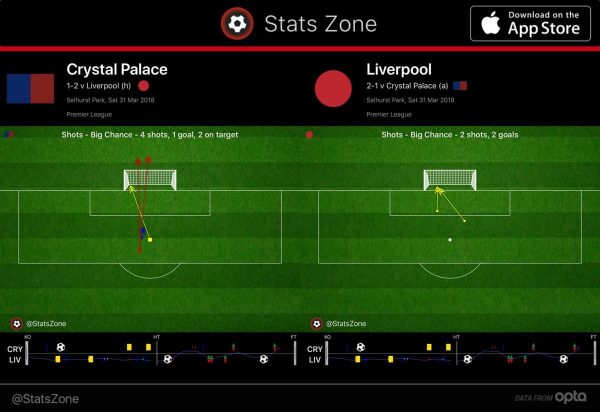 But as the old cliche rolled out by Henderson suggests, a team which wins without playing to its full potential should do well.
The captain, players, staff and fans will hope that they can learn from this and win by playing well in their biggest test of the season so far over two legs against Man City.