Alex Oxlade-Chamberlain was enjoying a great run of form until his season-ending injury, but it was still a positive debut campaign at Liverpool.
The England international joined the Reds from Arsenal late in the transfer window, with Jurgen Klopp splashing out £35 million to land his man.
Given that Oxlade-Chamberlain turned down a new contract with the Gunners and a move to Chelsea just to seal an Anfield switch, his commitment and intent were never in question.
It took some time for the new No. 21 to settle into the team, as could be expected, and his campaign can quite clearly be split into three — hitting both ends of the scale along the way.
Alex Oxlade-Chamberlain, 2017/18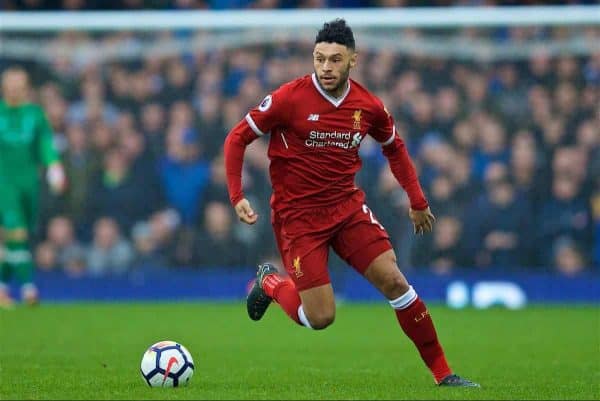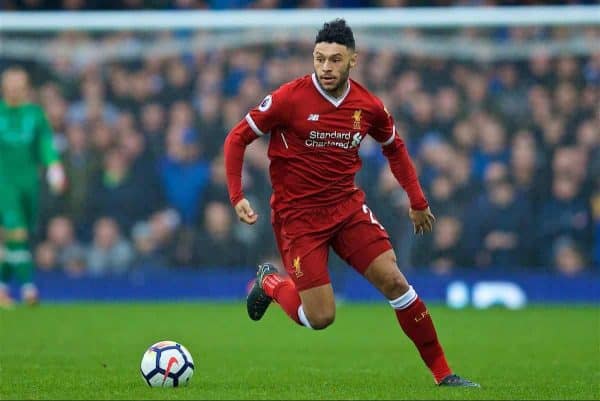 Started: 22 (All competitions)
On as a substitute: 21
Unused sub: 4
Goals: 5
Assists: 8
Average TIA Player Rating: 6.9 (Rank: 6th)
Patience required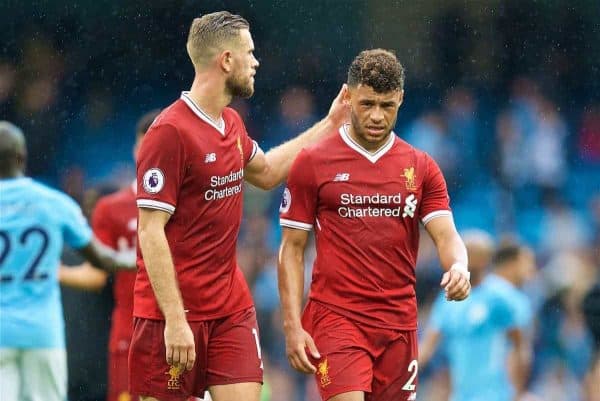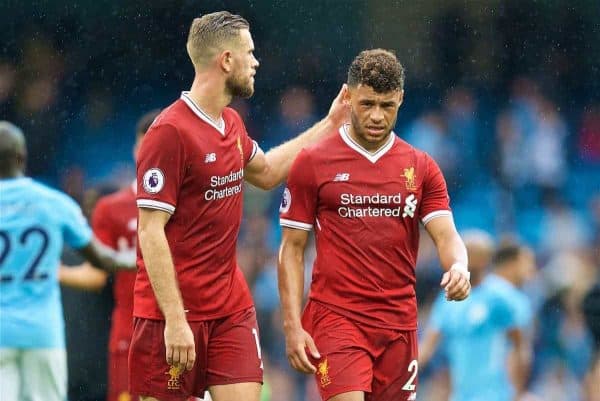 Oxlade-Chamberlain was fit and ready when he joined the Reds, given he'd started all three of Arsenal's matches to that point—including a 4-0 defeat to Klopp and Co. days earlier.
His debut wasn't much better though: a 5-0 reversal at Man City after Sadio Mane's match-defining red card, and a succession of late sub appearances were all the new signing was handed early on.
There were early questions, of course, mainly from those who know no patience or cannot understand the concept of integration in a timely fashion.
His first six league matches as a Liverpool player yielded a single victory, and there were also accusations thrown at the manager by some over potential false promises.
Oxlade-Chamberlain had wanted a central midfield berth, left Arsenal because of their insistence at playing him on the wing—or at wing-back, even—yet here he was playing wide for the Reds.
The manager explained it of course, clearly and obviously: he needs time, time to train, time to adapt to Liverpool's style.
Sure enough, by November there was an upturn: a goal on his full league debut for the Reds, an assist in his first start from central midfield. Oxlade-Chamberlain had arrived.
Explosive impact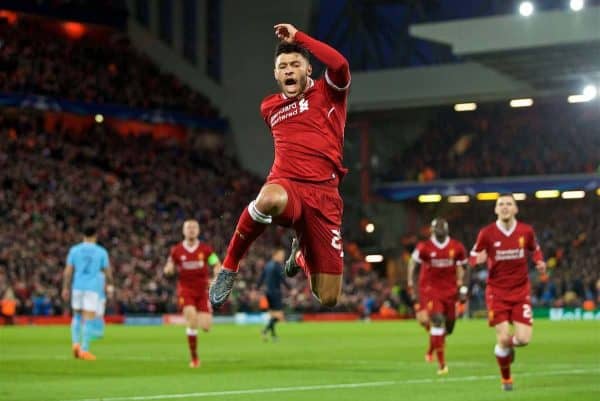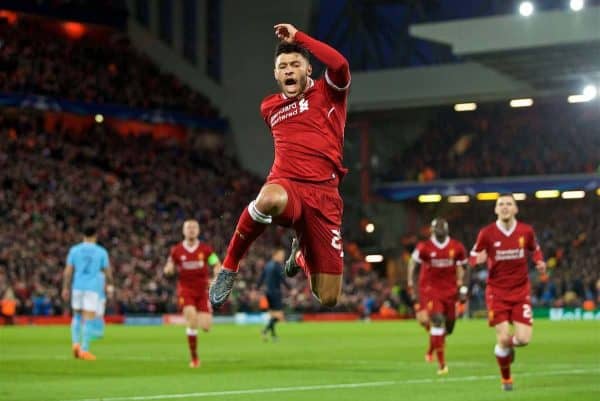 While his tally overall was almost exactly split between starts and sub appearances, the fact Oxlade-Chamberlain was involved almost every match speaks volumes.
Whether starting to help dominate or coming on to reinvigorate, he quickly became a player that Klopp would trust and look to.
There was frustration from fans at some inconsistency in his game, true, but there's no doubt about it: Oxlade-Chamberlain was much-improved this year compared to last, or even the year before.
As the Champions League run began to gather pace, Oxlade-Chamberlain became more central: a starter and a crucial performer in the win over Man City, with his blockbuster goal a memorable strike.
Pressing, tackling, surging forward in possession and helping to break the lines: Oxlade-Chamberlain was now playing a regular part in some of the Reds' best moments in games.
With Emre Can out injured there was little doubt Oxlade-Chamberlain was a key performer, and he had almost certainly guaranteed himself a place in the international lineup, too.
Frustration and dismay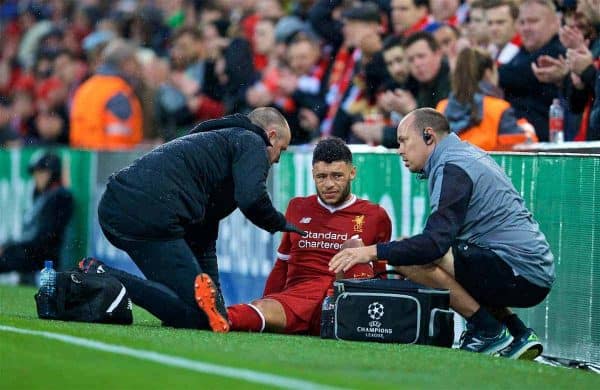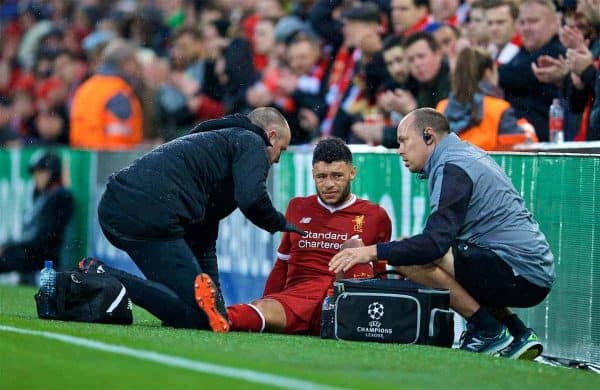 Cruelly, it was all halted in an instant.
A determined recovery run and a perfect tackle in a big match: everything the manager would want from his midfielder, and everything done precisely as he should.
But that was the end: an awkward twist as he made the challenge ended up costing Oxlade-Chamberlain his place in the team, his fitness and his summer at the World Cup, suffering knee ligament damage.
He faces a long road back to physical fitness, as well as dealing with the mental disappointment at missing out on the Champions League final and trip to Russia.
Bounce back he must, and surely will, but the frustration and bitter despondency he must be feeling as the campaign draws to a close is a harsh blow to suffer.
But it shouldn't mask what was a good campaign for Oxlade-Chamberlain, a progressive season, and one where he has shown that there's much more to come from him in a Liverpool shirt.
Improvements & future role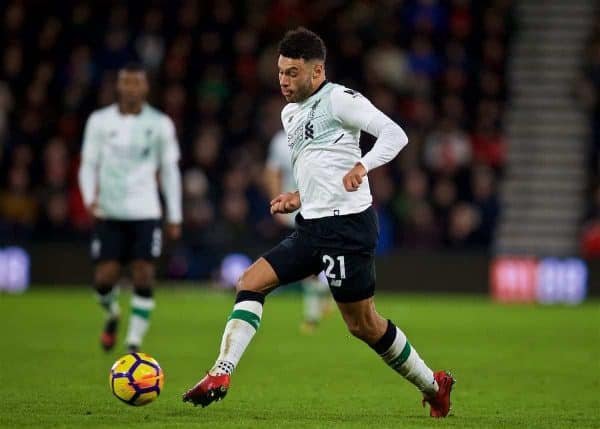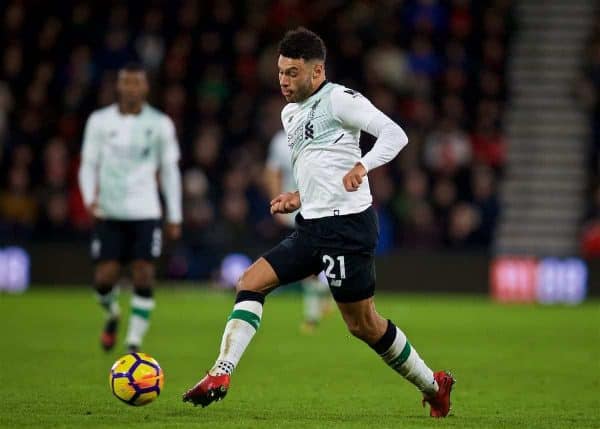 Job No. 1 will be to get fit, over the summer and into the autumn.
Reports have been conflicting but it's clear Oxlade-Chamberlain faces a few months on the sidelines at least, and it may well be that he doesn't return until close to Christmas.
While that's bad news for him, it means the Reds will have an extra fit and fresh body to look to in the second half of the campaign, something which they've struggled with this term.
He can still play a big role in the outcome of however far Liverpool go next year, even if he's only available for 40 per cent of 18/19 at full capacity.
A little more consistency in dominating games, a desire to add a few more shots to his game and being somewhat more diligent about tracking back in the channels, and Oxlade-Chamberlain will once again become a vital part of Klopp's team.
Best Moment: A thunderous, breathtaking, goal of the season strike against Man City in the Champions League. Oxlade-Chamberlain at his best.
Worst Moment: Of course, the season-ending injury in the very next round against Roma.
Role next season: He'll have to win a place all over again once back to full fitness, but there's so much more he has to give.
Still a first-team player, but not a guaranteed starter—at least until he rediscovers top gear.