Liverpool ended their Premier League campaign with a stunning final-day victory over Brighton, sealing a top-four finish with a 4-0 win.
Liverpool 4-0 Brighton
Premier League, Anfield
May 13, 2018
Goals: Salah 26′, Lovren 39′, Solanke 52′, Robertson 85′.
Salah back to scoring goals and setting records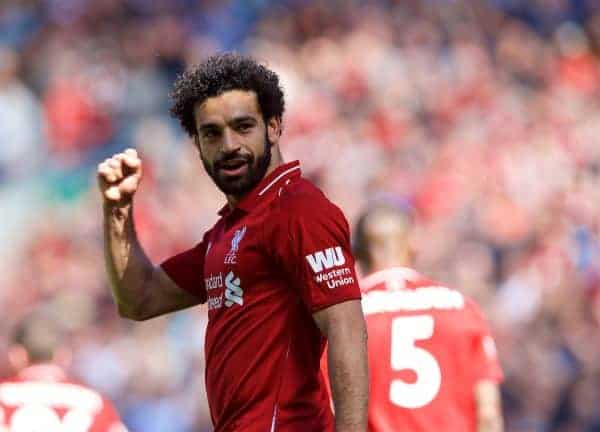 After a couple of frustrating outings of late, Mohamed Salah once again showed up with a superb performance—and a new goalscoring record.
The Egyptian forward spun and lashed home the opening goal of the game in the first half and celebrated with an evidently furious burst of relief.
In the opening 20 minutes he had already been denied a penalty at least once and gone close to a goal, but his instinctive finish banished thoughts of every chance he had spurned since dinking one wide against Stoke.
The goal was Salah's 32nd of the league campaign, netting him the Golden Boot and a brand new record all of his own: the most goals by a player in a 38-game season.
Salah's movement, touch, creativity and drive was all near his highest level, and he even added an assist later in the match.
Ahead of the final and biggest match of the season, his return to top gear couldn't have come at a more opportune moment.
Fortress Anfield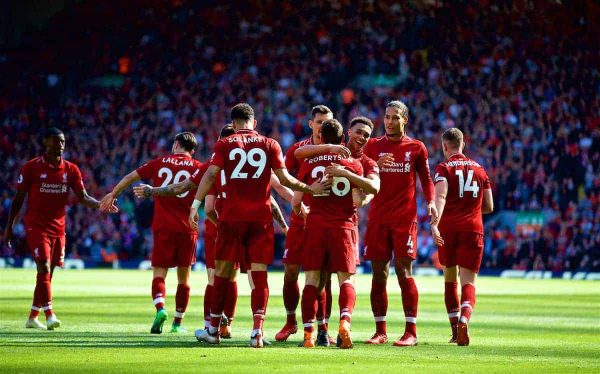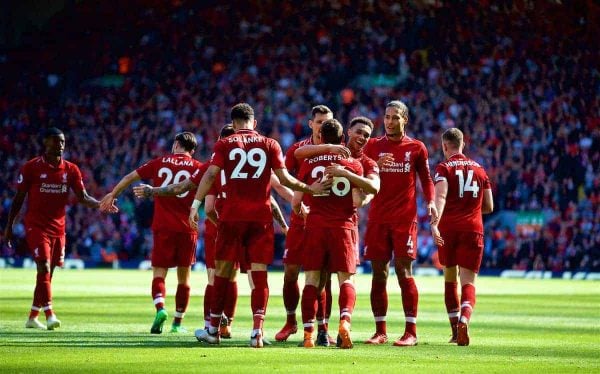 A 4-0 win over a Brighton side with nothing to play for might not sound particularly noteworthy in isolation, but it rounded off a very impressive campaign on home soil for Jurgen Klopp's men.
The Reds did not suffer a single defeat at Anfield in Premier League play in 17/18, the only club in the top flight to boast such a record.
It's the first time Liverpool have remained unbeaten at home all season since 08/09.
Twelve wins and seven draws show there is still room for improvement next term, but that should only add to the excitement of what could lie ahead.
The Reds conceded just 10 times at Anfield this term—only Man United, with nine, conceded fewer—and ended the year with five successive league clean sheets on home soil.
Klopp, along with his coaches and the likes of Virgil van Dijk and Loris Karius, deserve enormous credit for that upturn in fortunes.
Anfield is once again a place teams will fear to tread.
Solanke's trial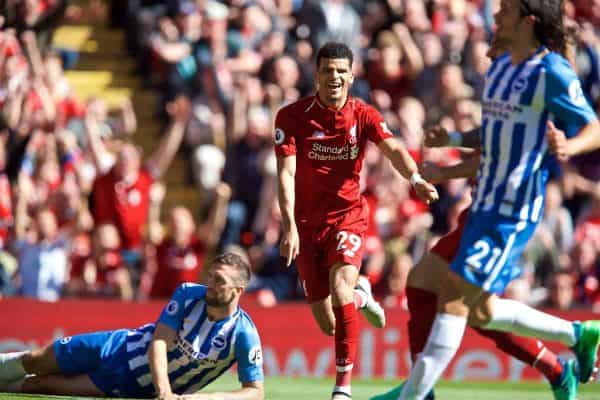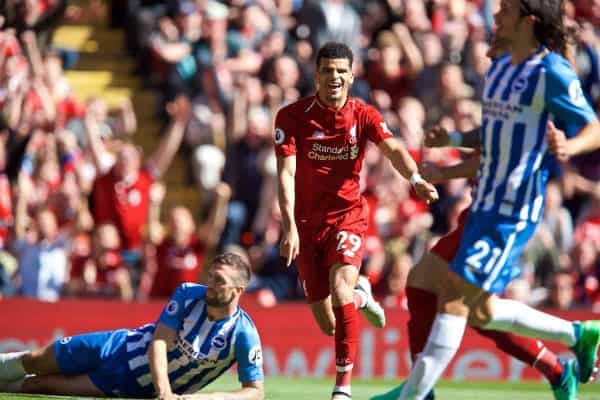 With James Milner injured, Klopp could have drafted in a different midfielder to fill the void, but made the bold call to go with goalless striker Dominic Solanke.
After a difficult first campaign where minutes have been hard to come by, Solanke seized this final opportunity in style, netting his first goal for the Reds.
His movement was good throughout and, though he lost his footing and thus a couple of chances early on, he improved immeasurably and without question produced his best performance so far.
More than once he linked extremely well with Salah and it was the No. 29 who played the telling pass for the opening goal.
Later the duo saw their roles reversed, with Solanke burying a fierce top-corner drive for 3-0 on the day and jubilant celebrations from all corners as he ended his drought.
One game, or indeed one goal, won't make or break his career at Anfield—but ahead of the Champions League final there's no question that a confidence booster couldn't have been better-timed.
Change of shape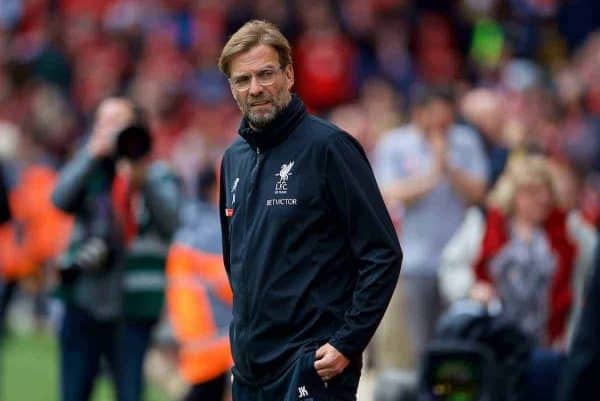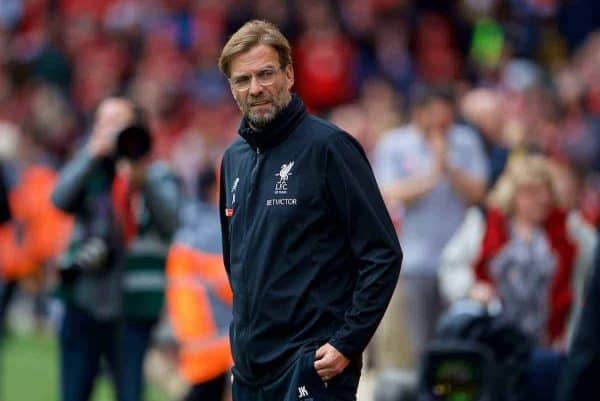 Milner out, Solanke in meant a change of shape: Roberto Firmino into a deeper role and what was effectively a 4-2-3-1, though the amount of possession the Reds enjoyed meant it was often a fluid four-man attack on show.
Klopp will be pleased at the movement shown by his forwards, but also by the dominance and quick recoveries of his central midfield duo, Gini Wijnaldum and Jordan Henderson.
The two will be utterly crucial in the final as they try to contain and help overrun Real Madrid's world class midfield, so to see them working together in a slightly different shape was another plus-point for the boss.
Interestingly, it was often Wijnaldum who was once again slightly deeper, and certainly the Dutchman was the more impressive in winning back the ball off Brighton's counters.
Choices aplenty for the boss, in tactics and personnel, ahead of the trip to Ukraine.
Champions League: This year and next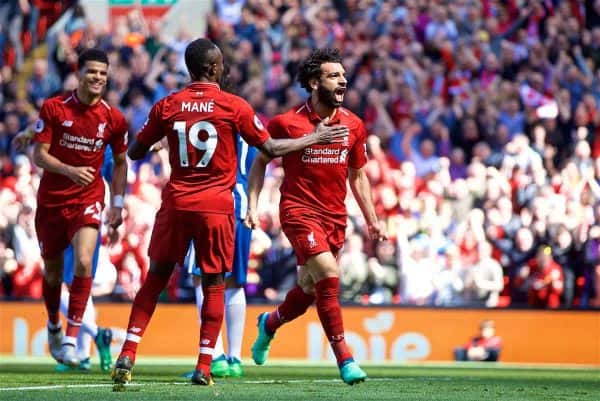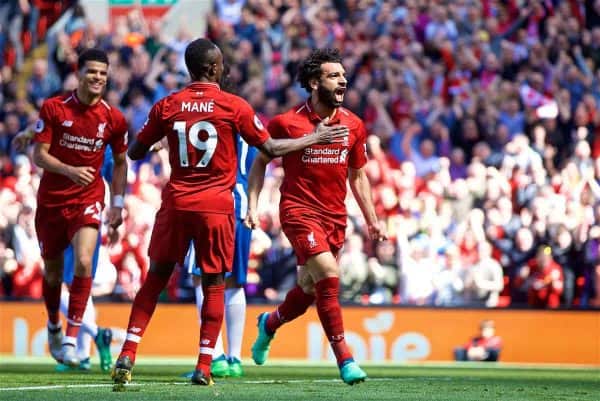 Chelsea lost their own final game of the season 3-0 at Newcastle, but their result was rendered irrelevant by Liverpool's victory in any case.
It means fourth place is the Reds—and that means a Champions League group stage place for 2018/19 after a rule change this year.
No qualifier, no early start to the campaign and no worries over another tough test before the groups: Liverpool can plan in earnest for the heavy match-load they'll face, as well as the financial boost they'll receive.
That's for next year though: first up is May 26 and a date with Real Madrid.
A scintillating, exciting and at times flabbergasting season of offensive football has seen the Reds blaze a trail to the Champions League final.
Now it's one more game, one more effort and one more opportunity, as Klopp and his men look to turn a season of huge progression into one of immortality.
To Kiev.