Trent Alexander-Arnold has paid tribute to his family and the Liverpool coaches and team-mates who helped him towards his England call-up.
Alexander-Arnold was a surprise inclusion in Gareth Southgate's 23-man squad for the World Cup in Russia this summer, joining Three Lions staple Jordan Henderson in the selection.
With Joe Gomez and Alex Oxlade-Chamberlain injured, James Milner retired and Adam Lallana short of fitness, the pair are England's only representatives from Jurgen Klopp's side.
While Henderson will be vying for Harry Kane for the captaincy, Alexander-Arnold will simply be hoping to play a part in the Group G clashes with Tunisia, Panama and Belgium.
The humility the teenager has shown since stepping up to the Reds' first team was evident as he expressed his gratitude in speaking to LiverpoolFC.com after his call-up:
"The lads have all congratulated me and said really well done. It's nice to get the recognition from your team-mates as well.

"It wouldn't have happened if it wasn't for them, so I have to thank them, the manager and everyone else who has supported me along the way.

"I have to say a special thanks to everyone, especially my family for helping me get so far.

"Everyone who has been there along the way, even going back to when I was really young, around the age of six.

"Everyone who has played a part, I just want to say thanks to them because without them, I wouldn't be where I am or who I am today. It's a thanks to all of them.

"I hope they can all feel as proud as I do about getting the call-up."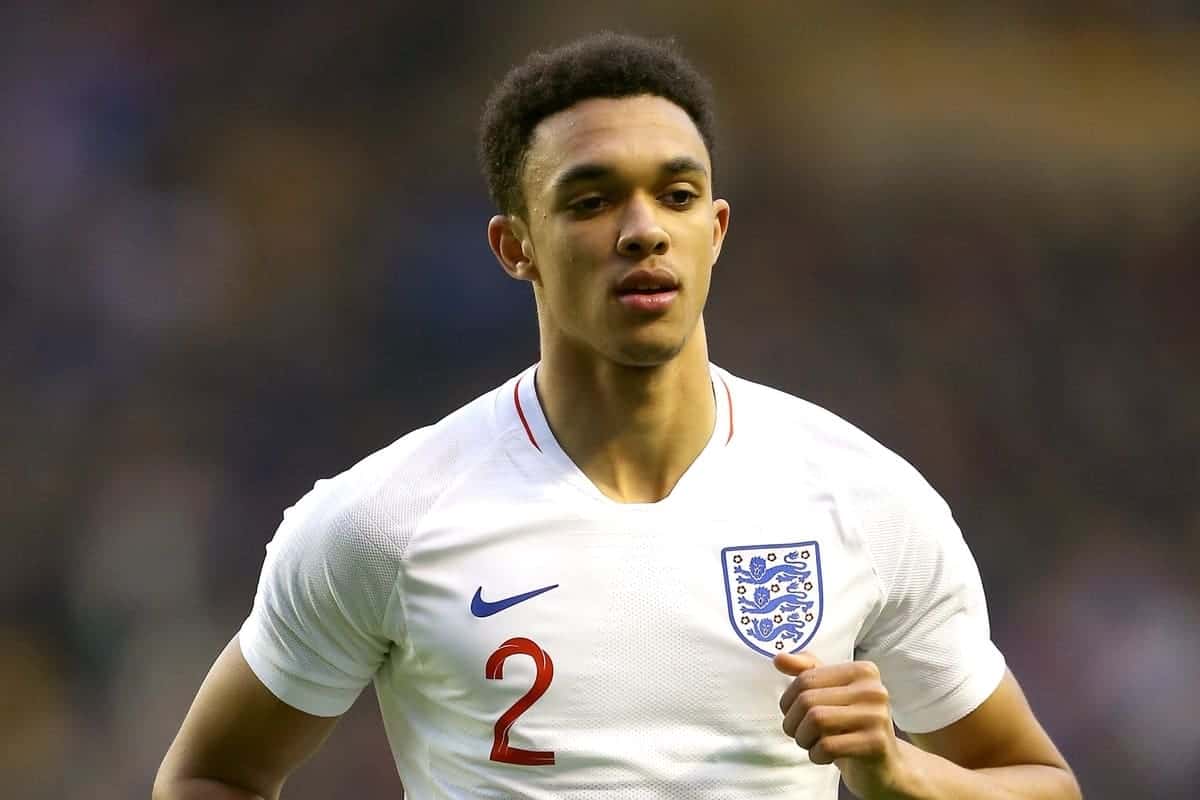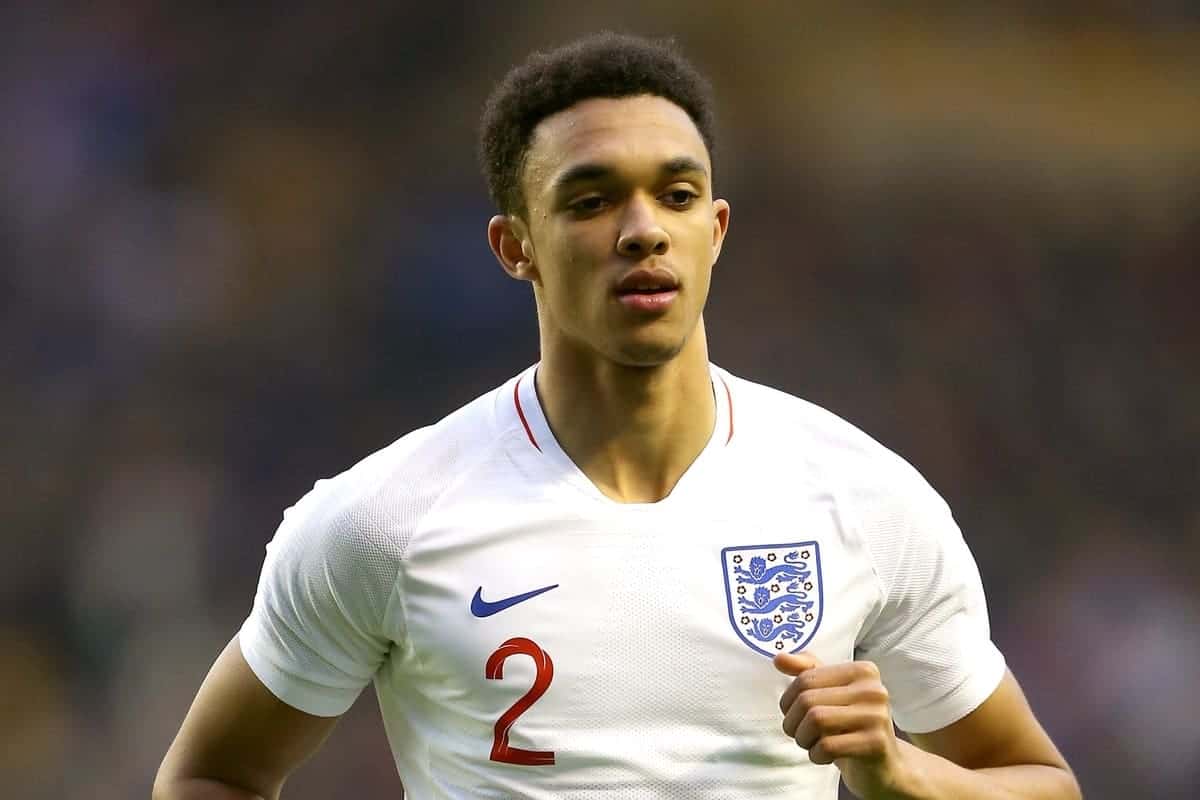 Alexander-Arnold's inclusion is a testament to his remarkable development since making his debut under Klopp in 2016, going from academy star to Champions League finalist within 19 months.
The No. 66 has been touted as a future captain for Liverpool, and following his call-up those who have worked with him applauded his character:
Congrats to these two for making the @England World Cup squad – don't look so shocked Trent, you deserve it! pic.twitter.com/i3pmYXNEXJ

— James Milner (@JamesMilner) May 16, 2018
Congratulations to both @trentaa98 and @rubey_lcheek on making the England World Cup squad. Delighted for both boys and their families
??

— Michael Beale (@MichaelBeale) May 16, 2018
Wow pal this is just the start of a massive career and only 1 person can take the credit for this and it's you!! ?????? https://t.co/7FZn47Tvs5

— Rob Jones (@RobjonesLFC2) May 16, 2018
Concratulations @JHenderson @trentaa98 ??? https://t.co/z9v8oziKaR

— John Achterberg (@1JohnAchterberg) May 16, 2018
Well done @trentaa98 ????? Well deserved mate! Also big congrats to our skipper @JHenderson for a place in the World Cup squad ???Enjoy it boys!

— John Arne Riise (@JARiiseOfficial) May 16, 2018
Absolutely buzzing for @trentaa98 well deserved @LFC

— Dominic Matteo (@Dominicmatteo21) May 16, 2018
Congratulations @trentaa98 on making the @England squad. Another one out of the @LFC academy ????????

— Stephen Warnock???? (@StephenWarnock3) May 16, 2018
Go on the kidddd! So buzzing for my lil bro going the World Cup??Fully deserved?@trentaa98 ??? pic.twitter.com/KoWnfWYq4u

— James Maddison (@Madders10) May 16, 2018
Yet to meet anyone who has worked with Trent Alexander-Arnold, who doesn't strongly believe he can grow to captain both club and country.

Pepijn Lijnders: "He was born to be a footballer and born to lead."

He is a credit to himself, his family, his club and his city.#LFC https://t.co/srM6AYKdqw

— Melissa Reddy (@MelissaReddy_) May 16, 2018
Best thing about Trent is he's a great kid who gets it. His talent takes care of everything else. One for everyone in Liverpool to be proud of. https://t.co/4l7xcgBWy7

— Tony Barrett (@TonyBarrett) May 16, 2018
Arguably the biggest advocate of Alexander-Arnold's potential is Klopp himself, and the right-back revealed how the manager was the one who broke the news on his World Cup dream:
"I'm honoured, excited and feeling really proud.

"It was an unbelievable moment to find out I was going to go to the World Cup, especially at a young age. It's probably capped off a really good season for me.

"I found out this morning, just before we came out to Marbella. The manager came and spoke to me just as we were getting on the plane.

"He asked me if I knew anything about the squad or anything yet. I said 'no' and he said 'have you got anything planned around the time of the World Cup?' I was like 'no, no holidays or anything…'

"He said to me 'OK, good…you're in the squad!' It was a really proud moment. On England's behalf, it was nice of them to let the manager tell me."
Alexander-Arnold is part of the Liverpool squad taking part in a low-intensity training camp in Spain this week, ahead of next weekend's clash with Real Madrid in Kiev.
He will be given little time to celebrate, with England set to take on Nigeria (June 2) and Costa Rica (June 7) before their World Cup opener against Tunisia (June 18) in Volgograd.