Trent Alexander-Arnold has enjoyed a meteoric rise at Liverpool, with the boyhood Red from West Derby explaining his journey in an interview with FourFourTwo.
Few teenagers enjoyed better seasons than Alexander-Arnold did in 2017/18, with the 19-year-old becoming a household name this summer after being named in England's World Cup squad.
He made 33 appearances in all competitions, and started in the Champions League final defeat to Real Madrid, keeping Cristiano Ronaldo quiet.
Speaking to FourFourTwo, Alexander-Arnold spoke about how he first got noticed as a footballer during his childhood, explaining: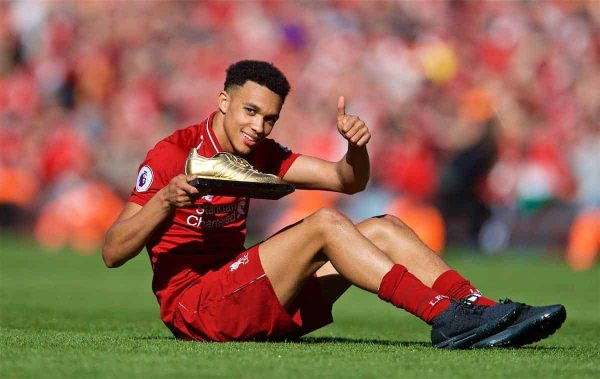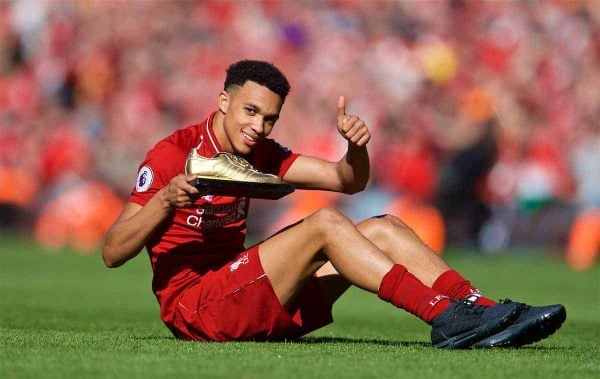 "I remember names being pulled out of a hat for a school summer camp (hosted by Liverpool), and luckily mine was pulled out.

"I went up there and played how I wanted to, with a smile on my face, and a scout came over to my mum and asked her to start bringing me here two or three times a week.

"When the opportunity comes you've got to take it, and back then I did that without even realising it."
Among numerous personal triumphs this season, including a memorable debut Champions League goal away to Hoffenheim, Alexander-Arnold scored at the Kop end for the first time.
The England international admits his maiden strike in front of Anfield's world-famous stand, against Swansea City in December, was a childhood dream fulfilled: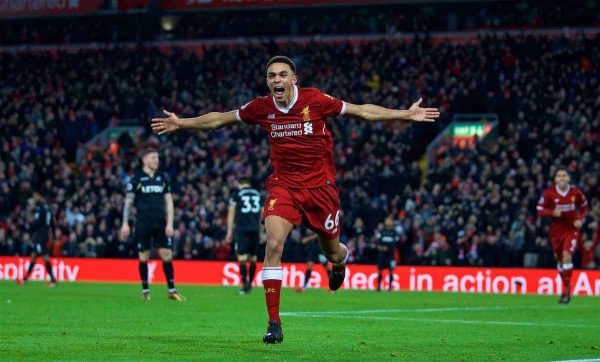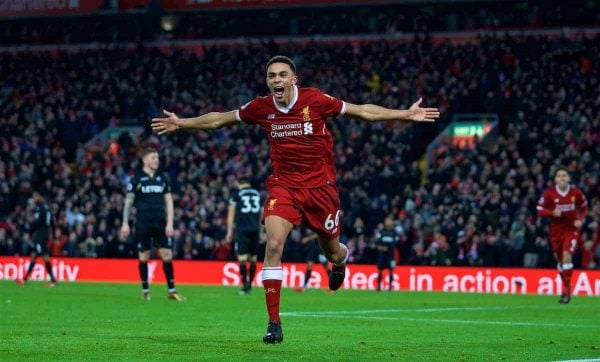 "As a kid I was always playing football with my brothers. We always recreated goals and commented on them, just as every young lad does.

"I always kept that image in my mind and knew that one day I wanted to score in front of the Kop and celebrate in front of it. It was a dream come true."
Another subject that the likeable right-back touched upon was how he has developed in a new position, having been known as a midfielder growing up.
He believes slotting into the defence was the sensible option in terms of earning playing time, and credits Jurgen Klopp for promoting youth from within the club: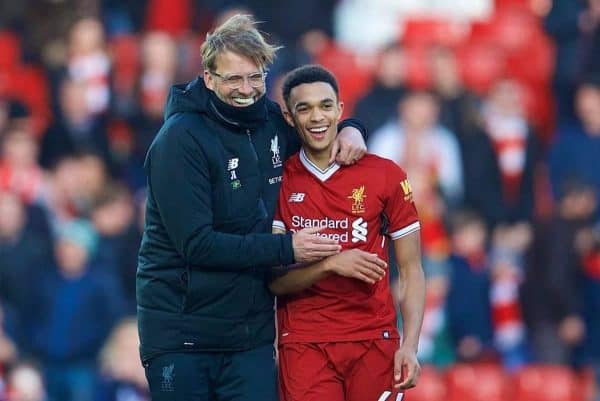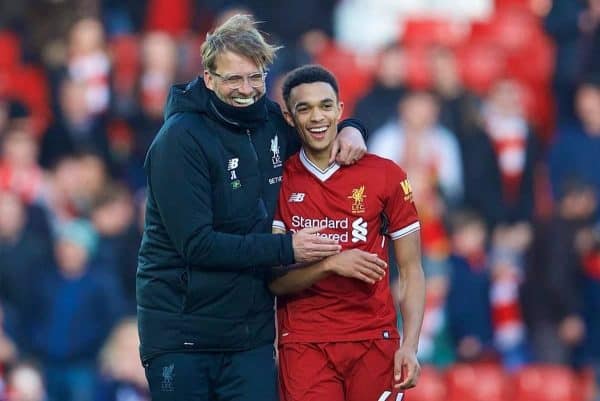 "When I was about 17 I was kind of playing a winger role, but then I was playing right-back in the U18s when needed.

"I developed the position and tried to take it forward as much as possible.

"I went on my first pre-season with the first team as a right-back, and it showed that it was the quickest route for me to get into the first team.

"I really worked on different aspects of it, because it's a lot different to the position I played in for the academy growing up.

"I'm still learning about it. Nothing's perfect, and you can always improve.

"The manager has given numerous opportunities to young players, and that was a really good sign when I was watching from the academy.

"I wanted it to be me, and that gave me that motivation and hunger to work harder."
Everything about Alexander-Arnold has been so impressive since becoming a first-team regular, from his enormous talent to his down-to-earth character.
He has all the attributes to be a future Liverpool captain, without applying needless pressure on his young shoulders, and can be a Reds hero for many years to come.
Liverpool supporters have a strained relationship with the English national team, but it will be fascinating to see how Alexander-Arnold fares for the Three Lions at this summer's World Cup.