A regular for Jurgen Klopp but an inconsistent midfielder, Gini Wijnaldum had a mixed campaign but ended up a starter for Liverpool in 2017/18.
The Dutchman has had two similar years at Anfield now, showcasing great ability at times and the technique to compete with the best midfielders, but also a frustrating lack of consistency.
There are times that matches bypass him entirely and his away form was something of a running joke for a spell—but he ended 17/18 in extremely impressive style.
A key man for Klopp, Wijnaldum will again face a battle for game time next term but has proven he can compete, play a variety of roles and provide real moments of quality at times too.
Gini Wijnaldum, 2017/18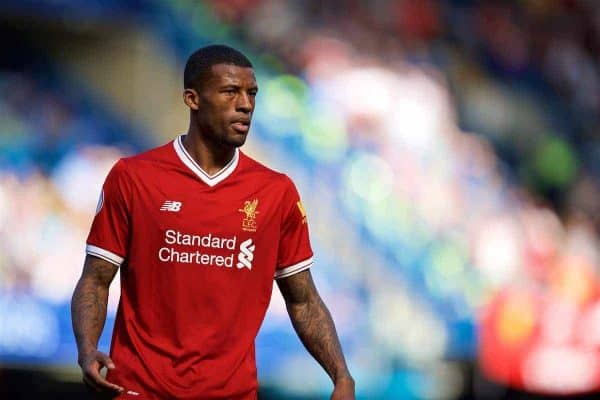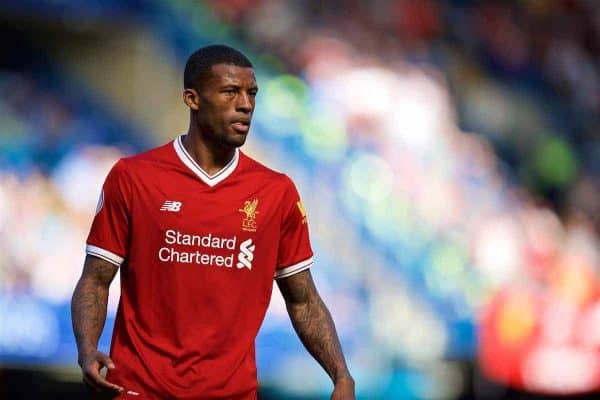 Started: 40 (All competitions)
On as a substitute: 10
Unused sub: 2
Goals: 2
Assists: 4
Average TIA Player Rating: 6.21 (Rank = 16th)
Regular, or Regularly Rotated?
Wijnaldum has been something of a conundrum over the last year. He's almost always in the Reds' lineup, or at least plays a part in games, but he just doesn't feel like a starter.
The fact he played 50 matches—only Roberto Firmino and Mo Salah made more appearances—speaks volumes for the reliance Jurgen Klopp had on him though.
But it wasn't always that Wijnaldum had played his way into the team, rather that he was available most frequently, suffered less injuries and had less wild swings of form than some others.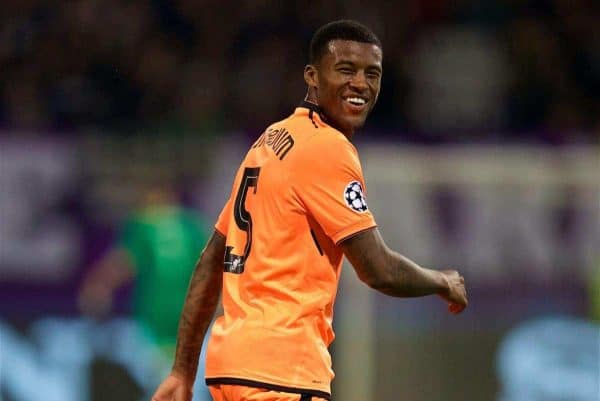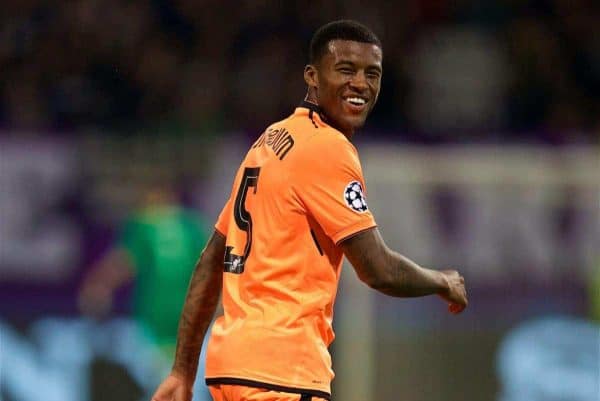 There are times when the Dutchman looks utterly class, but a frustration with him from a supporter point of view has been his anonymity in other matches.
This has been particularly prevalent in away fixtures, and has nothing to do with his lack of goals on the road.
It doesn't feel particularly coincidental that Wijnaldum was not selected for matches against the likes of Manchester United, Tottenham or Arsenal, when others were available.
Perhaps it's only tactical, but clearly Wijnaldum hasn't quite crossed the threshold into guaranteeing his name in the starting XI, either.
Deeper Role and Bossing It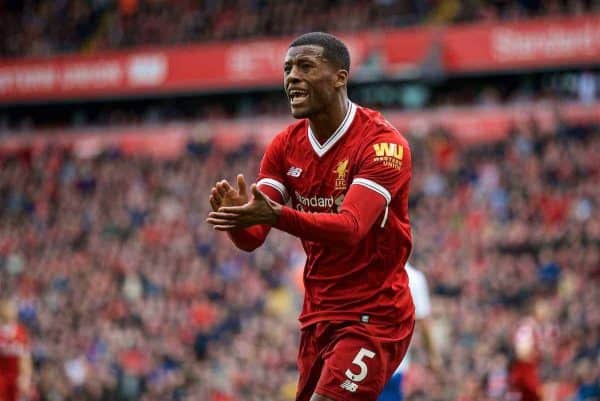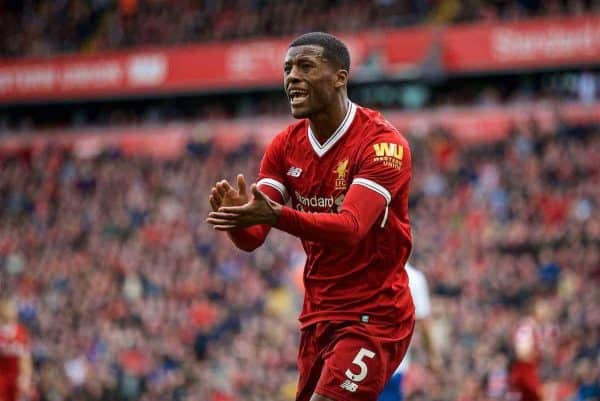 Wijnaldum can fill several roles within midfield: central or wider in a flat quartet, holding, box-to-box or as an outright supporting attacker.
Not to mention that memorable occasion as a centre-back.
It makes him a valuable option to look to, particularly given the overall depth of the squad wasn't enormous for 17/18.
At times, Wijnaldum looks a truly tremendous midfielder.
He's capable of winning the ball, spinning away with a piece of skill and then surging forward, powerfully and quickly, into the final third.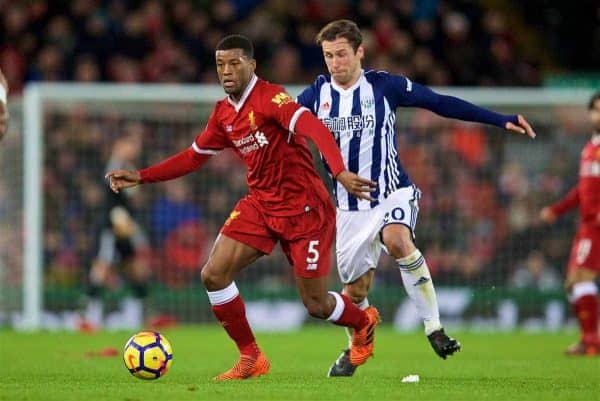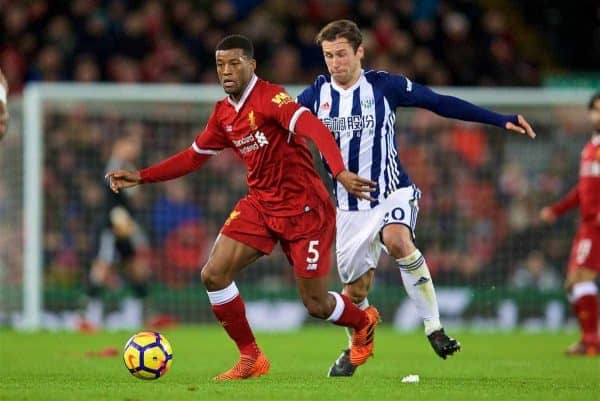 See this on a more regular basis, and there's no question: he'd be a massive asset even near the top of the league, bringing to the team the sort of characteristics Alex Oxlade-Chamberlain or Naby Keita can.
The infrequency is the issue. He might surge past three or four defenders in the space of five minutes, but then not again for two or three weeks.
When given the opportunity to play the deeper midfield role, Wijnaldum absolutely nailed it.
His passing is assured, he's proactive about covering dangerous areas of the pitch and his strength and bravery cannot be questioned.
It seemed briefly as though he could be a regular option for the No. 6 role in the future, but Fabinho's arrival probably ends that being a realistic prospect.
Improvements & Future Role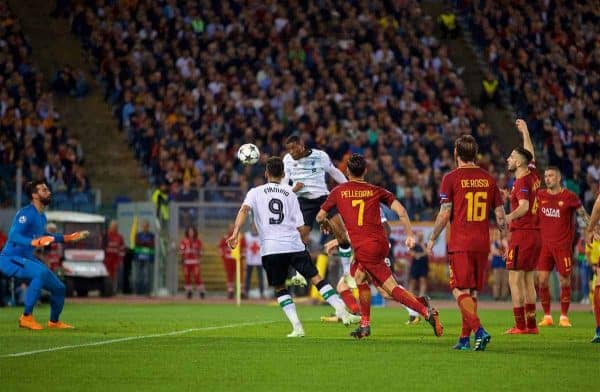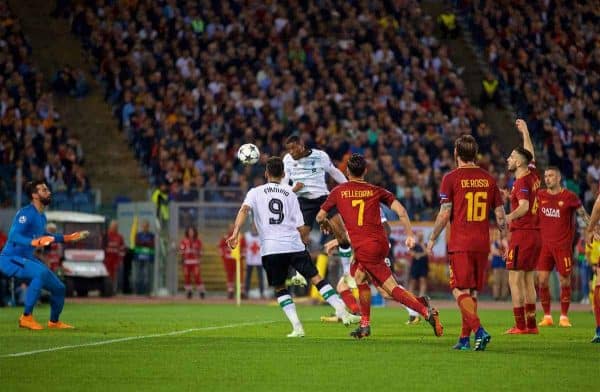 The future is cloudy for Gini right now.
A midfield overhaul is two-thirds complete already, with Keita and Fabinho, and with five Reds' midfielders from 17/18 showing no signs of leaving, there will be an almighty battle for game time.
That's what we want, but seven or eight into three don't go particularly well.
Something, or someone, has to give.
In one sense it's almost Jordan Henderson vs. Wijnaldum: both fill several roles, particularly as an eight and a six, and could an inconsistent Wijnaldum be chosen over the skipper?
For now though, Oxlade-Chamberlain's long-term injury might give Gini another few months to prove his immense and ongoing worth; he can quite easily be a core part of the side going forward, but has to showcase his best on a regular basis.
If that doesn't happen, he could find himself marginalised by the second half of 18/19.
It's easy to forget given he ended the season in the team on a regular basis, but when Emre Can, Oxlade-Chamberlain and James Milner were all fit, Wijnaldum was the one left out—including against Man City in the Champions League quarter-final.
---
Best Moment: His first-ever away goal for Liverpool. Of all places and times, it came against Roma in the Champions League semi-final.
Worst Moment: No glaring moments of awfulness, but a run of one start from six league matches around January to March was a period which showed he needed to improve drastically.
Role next season: Regular in the squad but a battle to be a starter. Once Oxlade-Chamberlain returns, it's anyone's guess who thrives.