Timo Werner has backed Naby Keita to become "world class" at Liverpool, and hinted at a future move to realise his potential away from RB Leipzig.
Keita will officially become a Liverpool player on July 1, in what is seen as one of the most exciting Reds transfers in years.
Those who watch the Guinean regularly expect him to take the Premier League by storm, combining skill, creativity, industry and tactical nous.
He has the ability to make the kind of impact Virgil van Dijk has at Liverpool, and the Reds' midfield will be transformed by the addition of him and fellow new arrival Fabinho.
Someone who knows Keita inside out is his former team-mate Werner, with the two often linking to devastating effect at Leipzig.
The Germany international says Keita can become a truly world-class footballer at Liverpool, and suggested he would like to do the same at Anfield.
"I want to be honest. Naby Keita didn't become a world-class player with us, but he could possibly become one now at Liverpool," Werner told Die Welt.
"I'm not world class yet. For me, [Robert] Lewandowski, Luis Suarez and Antoine Griezmann are world-class winners.
"To become a world-class player I probably need to play for an even better team at the club level.
"You have to play in the big teams and then play big games like the final or semi-final of the Champions League."
Werner did downplay an imminent move away from Leipzig, however, adding: "I have four or five years to learn to then become world class."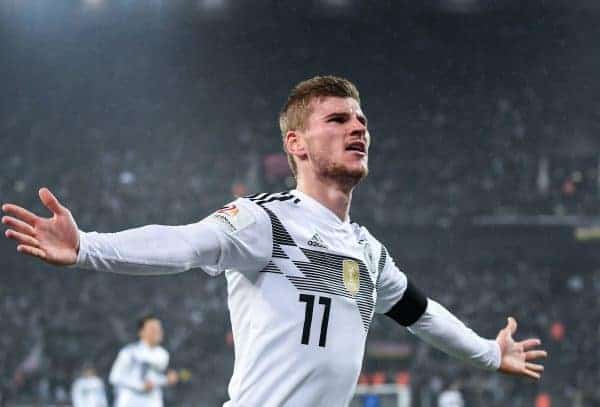 The 22-year-old has been continually linked with Liverpool in the past, with many seeing him as a perfect addition to Jurgen Klopp's attack in terms of quality, style and improving squad depth.
He would be the ideal acquisition in many ways, with Werner not at the age where he is expecting to play regularly for a team of the Reds' stature.
The young forward should feature prominently for Germany at this summer's World Cup, giving supporters a great chance to see his qualities firsthand.
Werner sees it as a perfect opportunity to shine, but says the tournament will not affect his focus or define his future.
"Of course, a player can also have personal benefits from a World Cup," he said.
"But I do not think anyone is just going to a World Cup to play for Barcelona, Liverpool or Man United in the future, at least not me.
"Everyone just wants to do the most for their country. Everything else would be a bonus."