As Liverpool arrive in America, we spoke to one of the founding members of the supporters group in Charlotte, Salim Tucker, to get the lowdown on life as a Red in North Carolina.
On Sunday, thousands of Liverpool supporters will flood the streets of Charlotte, North Carolina as the Reds descend for their first stop on their pre-season tour of America. Waiting for them in the Queen City are a group of dedicated and passionate supporters who make up the area's official supporters group, the Charlotte Reds.
Founded over six years ago by a group of friends the club's rapid growth led them to being officially recognised soon after, with every Liverpool game since their inception watched on by countless supporters in the only way they know how: 'full throttle'.
Charlotte are no strangers to welcoming Liverpool to their city having rolled out the red carpet as the Reds took on AC Milan during the 2014 pre-season campaign, but this time around its Borussia Dortmund awaiting at the Bank of America Stadium.
But regardless of the opposition, members of the Charlotte Reds will welcome Liverpool with a wall of noise and Joanna Durkan spoke with one of the club's founding members, Salim Tucker, to delve deeper into life as a Liverpool supporter in the Queen City.
The story of the Charlotte Reds…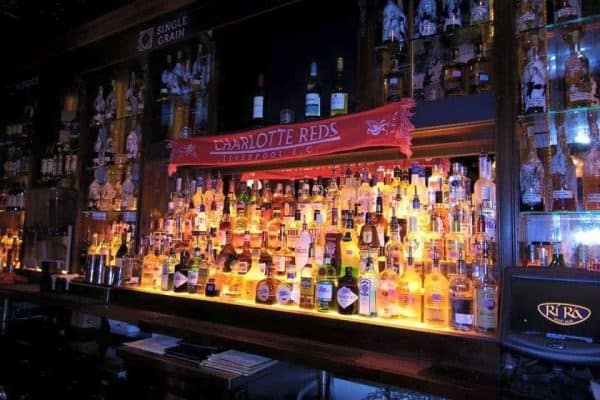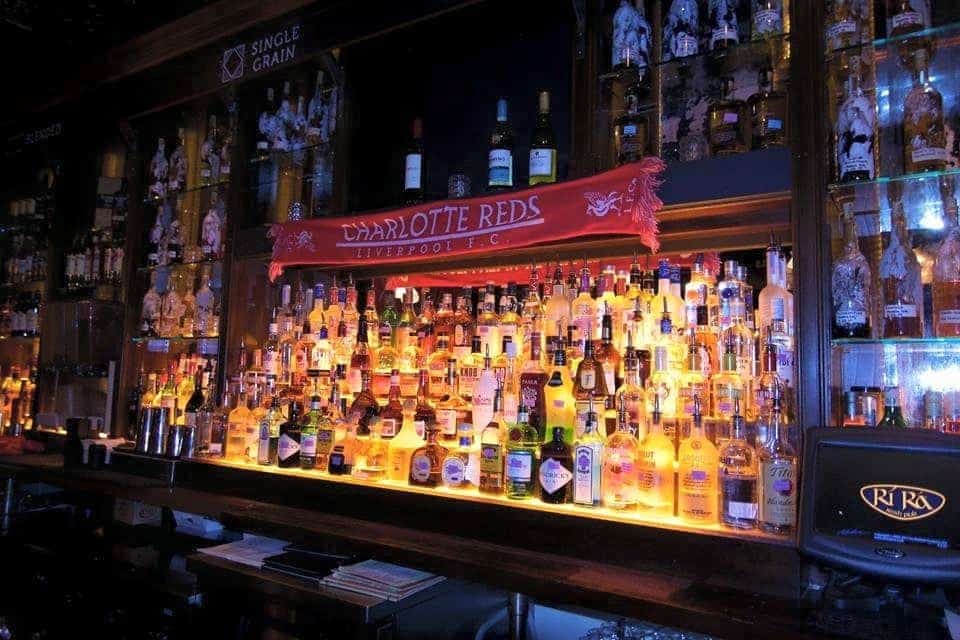 "We call ourselves the brotherhood, the original beginnings of our supporter's club comes from a tight knit group of guys, about 20 of us and I am one of the founding fathers. We are die hard football fans, and we didn't know where to go or what to do to watch football and be around other supporters.
"We started at one of my friend's house, I would cook a full English breakfast and we would drink massive amounts of cider and strong Irish red ales all morning while we watched Liverpool, until we found out that a local football pub here in the city would be up early and host the matches.
"We've had to move venues multiple times because they couldn't fit us all! It was a bash and a half at every match, that's for sure. We got a lot of complaints because the other fans just didn't have the group, or the support, so they weren't having the best time because they were listening to Liverpool chants the entire time."
Those chants were, and continue, to be led by Salim whose love and undying support for Liverpool was set in stone on that night in Istanbul. As an admirer of English football throughout his youth, he avoided the trap of following in the footsteps of his Manchester United supporting father, a decision which he says, "was meant to be, and I have never looked back.
"Me being me, I'm always the chant leader so I always start when it comes to chanting and singing and it caught on like wildfire. And we then became the fastest growing, and largest, supporters group in the city, with over 180 paid members."

And with a front row ticket to Liverpool's game on Sunday, there is only one place you will find Salim.
"Since I am the chant leader I am the one who holds our custom-made club flag with the Charlotte Queen City crown on the front with 'You'll Never Walk Alone' across it. I display the flag and pretty much turn around, and usually don't even watch half the match, and stand on the barrier and I lead the chant section for over 70,000 people.
"It's very humbling I'll say that. That's the beauty of it and that's what makes Liverpool Liverpool. It doesn't matter what stadium or what pitch, as long as you hear that sound and that song [YNWA] it changes people's lives.
"Whether you're a football fan or not and you're attending the match and you hear that song, something happens to you."
Matchdays are 'full blast' in Charlotte…

Although the opportunities to see Liverpool in the flesh are few and far between, it doesn't stop the Charlotte Reds from gathering together to tune in for every matchday at a local pub at various times throughout the day.
"We tend to meet at two different pubs, and we all meet there at any given day, depends on the match which is usually around seven to nine in the morning, but we will get there about 30 minutes early and have a couple of pints to start off bright and early on a Saturday or Sunday.
"We meet during the week as well, usually they are much later matches, but we still find time to make it down to the pub and have a couple of pints while we cheer on the mighty Reds.
"We are unafraid here in Charlotte that's for sure. We take it pretty seriously, I know those across the pond don't like us very much because we are a bunch of Yanks, but we are definitely a part of the family, and we will bleed for them.
"Tradition at the pub whenever we score we take a shot collectively as a group. It's just full blast, full throttle here. We don't hold anything back. We hold tradition very well here.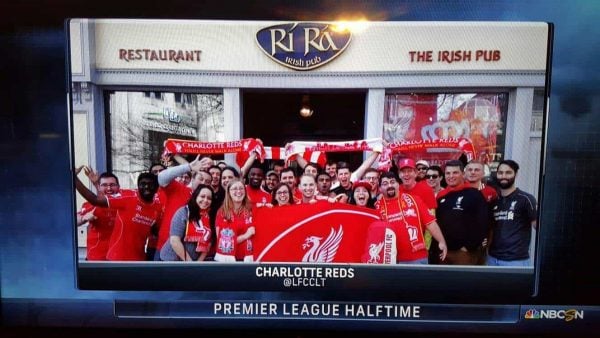 "I wouldn't be so arrogant as to say we're the best club in the country or in the world, but the group we have here in Charlotte are die hard through and through.
"I actually wrote a toast and it goes: 'Here's to us the mighty Reds, to all of us alive and dead, here's to the old guard and here's to the new, here's to the Scouse through and through'.
"I wrote that a couple of years ago and its stuck with us, so usually whenever we lose a match we say that, and it brings us all together again, and for some reason we just keep coming back for more! It's a family, it's a lifestyle, it's a gut changer. It's hard to describe."
The thrill of Liverpool's impending visit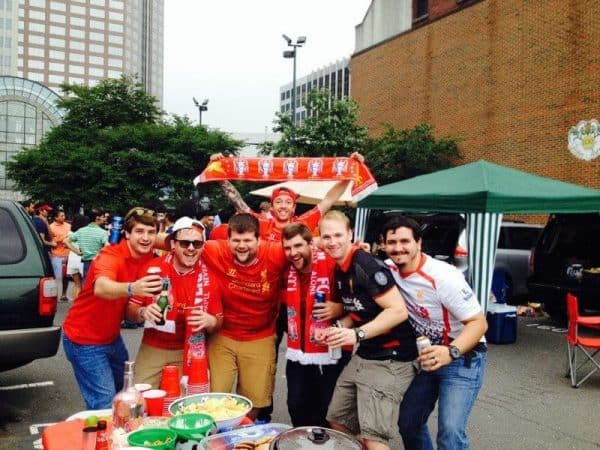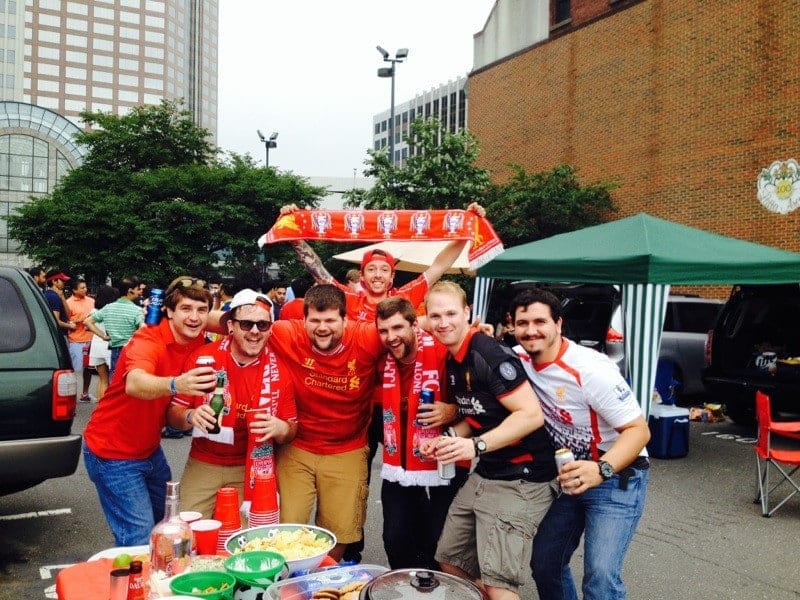 "It's always a blast, we always put on something incredible for the masses, the pre-match training session on the pitch the night before we always go to, there's player meet and greets around the city.
"There's a couple of venues hosting massive parties before and after the match, so Charlotte is ready to host Liverpool again. We scream for it every year. It's a blast.
"Last time we hosted probably 130,000 people travelled to Charlotte just to watch, whether they had a ticket or not. I met people from Indonesia, New Zealand and Australia, Africa. These people travelled to Charlotte North Carolina, in the middle of nowhere, to watch Liverpool play. It's very humbling and it's a blessing every time for sure."

With all eyes set to be cast their way over the coming days, only one thing sprung to mind for Salim when asked to encapsulate what the Charlotte Reds are about at their core.
"Brotherhood, not to exclude the ladies as we have many female members as well, but the term brotherhood at its root is how I would describe our group. No matter how far away, no matter how long it has been, you're always welcome. There's always a spot at the bar for you and there is always a beer to be bought for you on the club.
"I believe that Liverpool is one of the clubs that embraces everyone and that's why we are, without a doubt, the greatest and biggest football family in the world. There's no question, Liverpool is the biggest football family in the world and whether you live on Anfield Road or not, I don't think it matters."
* You can find Charlotte Reds on Twitter @LFCCLT.