Jurgen Klopp has highlighted how he is planning to get the best out of Naby Keita, with his Liverpool side catered to suit the midfielder's strengths.
Keita officially became a Red at the start of the month and has already made a seamless transition from RB Leipzig to his new club, adding an extra dimension to the midfield.
The 23-year-old looks a footballer of stunning quality, with an all-round ability to run the show in the middle of the park.
Liverpool's new No. 8 again shone in the 3-1 defeat to Borussia Dortmund on Sunday, producing some silky touches and covering ground relentlessly at Charlotte's Bank of America Stadium.
After the match, Jurgen Klopp discussed Keita's best position moving forward, with a box-to-box role likely to get the best out of him:
"He is a creative midfield player with discipline; tactical discipline is a big strength of his usually. He's doing the right things in the right moment, that's how good players are.

"I don't want to give him 500,000 [pieces of] information. We got him because he is the player he is and now we want to work with that. That means first of all we let him go and adapt to our system.

"I see him as an '8', he can play '10' as well, maybe in the future he can play '6' as well.

"At Leipzig, he played as a winger, that's for sure not his best position but he can play it because he has the speed for it, he has the football intelligence for it.

"We see him as a creative No. 8 playing the passes and making the runs with the ball. With the ball he has the same speed as without, you don't have a lot of players with this quality."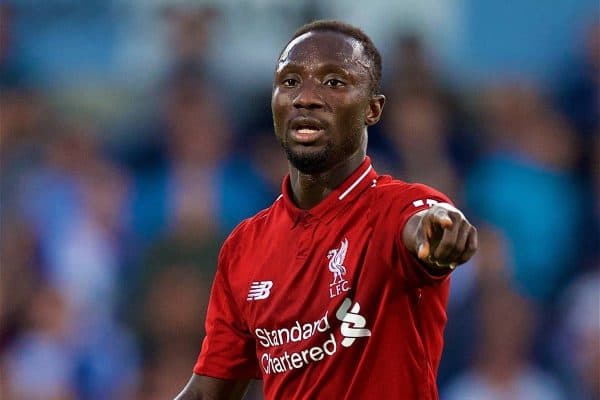 The Liverpool manager also spoke about how he feels Keita has fared in pre-season so far, with the German admitting more is to come, mainly in terms of fitness.
"He can do much better, that's clear. He was exhausted, he was really done in the last few minutes when they scored on the counter-attack," he added.
"Usually Naby is fit and around the situation. I think it was the third goal, he couldn't do it anymore. But, football-wise, he is in a very good way because he's a naturally skilled player.
"In small spaces his first few yards are outstandingly quick, so that changed the situation a lot.
"He was good in the game and then the last game, maybe the half-time was 10 minutes too long for him."
There have been few more exciting signings made by the Reds in recent memory, with Keita capable of taking the Premier League by storm in 2018/19 and beyond.
His sternest test of the summer comes his way on Thursday (1am BST) when Liverpool come up against reigning champions Man City in New Jersey.