Jurgen Klopp has laughed off Jose Mourinho's claim that Liverpool's big-spending summer requires they win the Premier League title this season.
The Reds have so far signed four players for a combined £170.5 million, though much of that is offset by the £142 million received on Philippe Coutinho's move to Barcelona in January.
With Alisson, Fabinho, Naby Keita and Xherdan Shaqiri, Klopp has strengthened his starting lineup and substitutes' bench significantly, and the hope is they can challenge Man City.
This should be essential according to Mourinho, who addressed journalists to insist "maybe this season finally you demand that they win."
But asked about this ahead of Liverpool's clash with Man United in Michigan on Saturday, the Reds' manager dismissed Mourinho's claims and focused on delivering attractive football for supporters.
"Jose can say what he wants to say, to be honest, that's how it is," he said.
"Obviously I can do the same, but I'm not too much interested in Manchester United honestly.
"I'm pretty sure they will do business as well in the next few days, so that's it.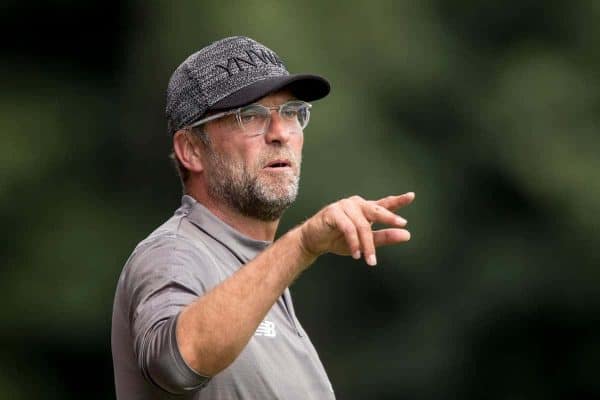 "But apart from that we know about our responsibility, but we only feel responsible for our fans, our owners, for the supporters all over the world. Nobody else.
"That's the situation, that we are ambitious, we never said something different.
"We have to deliver, we know that; what that means exactly I don't know in the moment, we will see.
"But a big part of the job is to play football that our people like.
"That happened last year, probably the year before as well, and so now we are in a situation where we want to make the next step.
"The opponents don't sleep, we know that, so that means our life isn't easier because we brought a few players in.
"We only feel a little bit better prepared again than last year, that's all."
Success should, of course, be a byproduct of this approach, but Klopp has clearly shunned United's negative stance on grinding out results at any cost.
After pre-season, Liverpool's first clash with United comes at Anfield on December 15, which could provide a better barometer of the two sides' progress in 2018.