Georginio Wijnaldum has performed impressively in the No. 6 role at the start of the season despite strong competition for places in midfield.
Following the arrivals of Fabinho and Naby Keita, and with Adam Lallana back to full fitness once more, Wijnaldum's place in the side looked heavily under threat ahead of the new campaign.
There were even whispers from some quarters at the start of the summer that the Dutchman would potentially be looking for a surprise move abroad, although that was never backed up by any reliable reports and the player himself laughed off such suggestions.
Nonetheless, a patchy 2017/18 season saw Wijnaldum struggle to really kick on after an accomplished debut campaign at the club.
Few would have predicted that he would force his way into Jurgen Klopp's starting lineup for Liverpool's opening three fixtures of the Premier League season, especially not in the lNo. 6 role.
Wijnaldum has seized his opportunity, however, and based on his displays so far, he will play a much more prominent role for Liverpool this season than many might have expected.
Here's how he has transitioned into a genuinely quality option for Klopp at the base of Liverpool's midfield.
A drastic positional shift under Klopp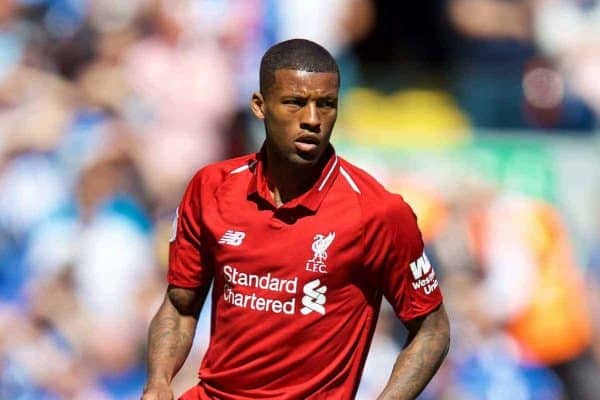 When Wijnaldum joined Liverpool in the summer of 2016 from Newcastle, in a deal worth around £25 million, fans weren't quite sure what they were getting, or exactly where he would fit into the side.
At Newcastle, Wijnaldum had operated primarily as a No.10 or as a left-sided midfielder, frequently breaking forward into the penalty area.
He hit a respectable tally of 11 goals in his first season in the Premier League, including a four-goal haul in October 2015 against Norwich.
Liverpool already had Philippe Coutinho playing a similar role at the time, as well as Adam Lallana, with James Milner also capable of playing in an advanced midfield role or out wide.
It wasn't obvious how Wijnaldum would slot in—but Klopp, of course, had his own plan for the Dutchman.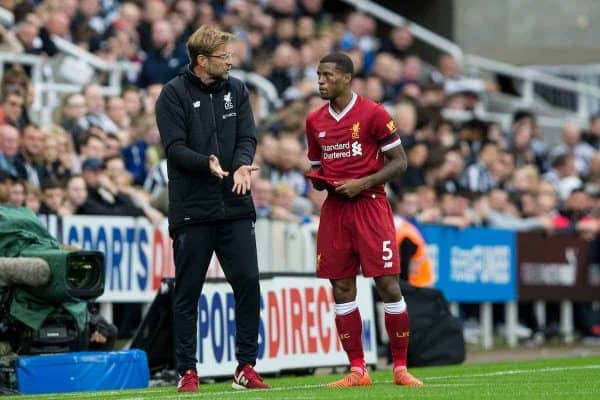 Wijnaldum quickly adapted to a slightly deeper, box-to-box role, where he shouldered an extra defensive responsibility as well as having the license to link up with the attack.
The emphasis on pressing in order to win back possession quickly and in dangerous areas also meant Wijnaldum was required to put in a serious shift off the ball, more so than at any other point in his career.
An outstanding performance in a 2-1 away win at Chelsea demonstrated Wijnaldum's ability to thrive in that role against top-class opposition, and he grew into something of a fan favourite throughout the season.
A big part of that was scoring the crucial breakthrough goal against Middlesbrough on the final day, to secure Liverpool a top-four spot under great pressure from Arsenal.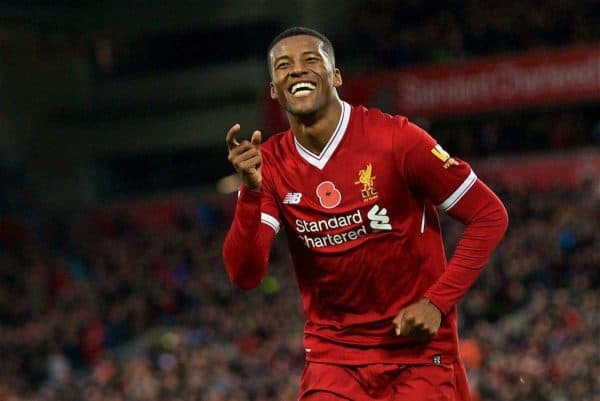 Wijnaldum's physical strength, tactical awareness and mobility meant he adapted to the deeper role with aplomb and, despite developing a reputation for struggling to impact games away from home, delivered six goals and 12 assists in his first season on Merseyside.
The expectation was that he would continue on his upwards trajectory last season, but his consistency level notably dipped.
While there were still a handful of decent performances, Wijnaldum went through long periods of not exerting any great influence in games, often frustrating with his tendency to play safe, easy passes rather than an incisive, forward ball.
Notching just two goals all season, it was difficult to escape the feeling that Wijnaldum was playing very much within himself: a player capable of so much more.
Relishing the competition for places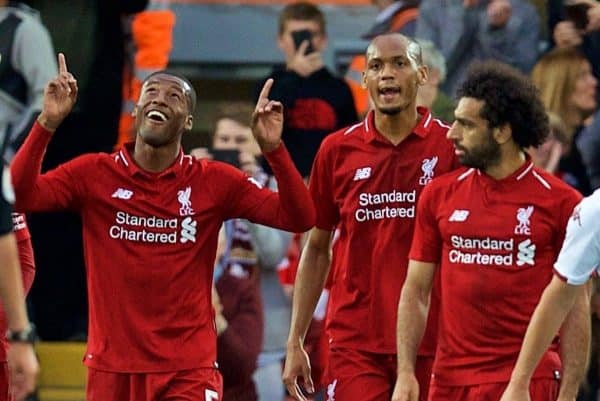 Wijnaldum endured a frustrating and disrupted pre-season, missing several training sessions and friendlies with minor muscular injuries, preventing him from gaining any real rhythm and staking his claim for a starting spot in midfield.
With Fabinho signed from Monaco for £39 million as a specialist defensive midfielder, and playing in that role throughout pre-season, many expected the Brazilian to start the season as Liverpool's first choice No. 6.
With Jordan Henderson returning late to training following an extended post-World Cup break, it seemed the logical choice.
Klopp, however, has shown in the past—most notably with Alex Oxlade-Chamberlain and Andy Robertson—that he is not afraid to bed new signings in slowly.
He gives them time to learn and adapt to the demands of their role in Liverpool's system on the training ground before throwing them into competitive action.
Wijnaldum, meanwhile, was perfectly placed to take advantage of the situation.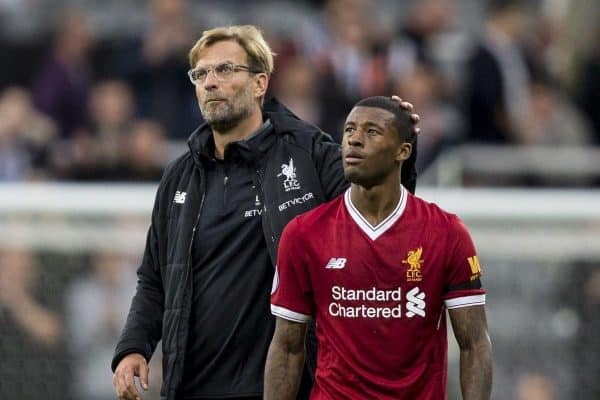 While he might have endured a slightly disappointing 2017/18 campaign, he clearly remains highly trusted by the manager and is very much a known quantity in terms of what he can offer to the team.
Notably, Wijnaldum did play the No. 6 role against Man City last season, away in the Champions League quarter-final second-leg.
It was an extremely difficult job against a side who went all-out-attack in a desperate attempt to claw back the 3-0 deficit from the first leg at Anfield.
Despite an exhausting and intense first half of City domination, Wijnaldum eventually excelled in the role and played an important part in the build-up to Mohamed Salah's away goal, which effectively killed the tie on the night.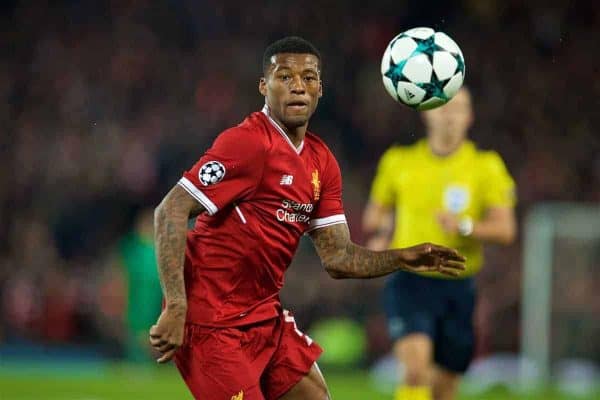 Wijnaldum, therefore, has a great deal of credit in the bank and has taken the opportunity so far this season to show why he deserves to keep his place in the side for the time being.
While Keita and Sadio Mane were arguably been the two standout players from Liverpool's victories against West Ham and Crystal Palace, Wijnaldum was highly effective at the base of Liverpool's midfield.
Against Brighton over the weekend, he was arguably the best player on the field.
He might not be flashy, but Wijnaldum is making himself something of an unsung hero in this Liverpool side.
Different options for different games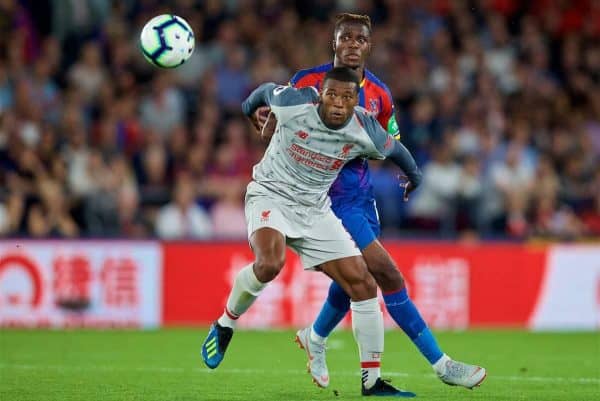 All three opponents thus far are sides Liverpool were expected to beat, and while the two most recent provided a much tougher test, Liverpool possessed vastly superior quality.
It remains to be seen, however, who Klopp favours as his No. 6 against top-six opposition, and it may well be a case of horses for courses.
Wijnaldum, Henderson and Fabinho can all offer different qualities in that role, which might suit different types of games.
Wijnaldum has excelled so far with his short, crisp passing, posting an accuracy of 91 percent across both initial games. Against Brighton, he was immaculate: 76 passes, just shy of 99 percent accuracy, with just one misplaced attempt.
He rarely attempts to pick out a long, raking pass to the flanks in the manner that Henderson does so often, opting instead to keep things fairly simple and shift the ball quickly from side to side.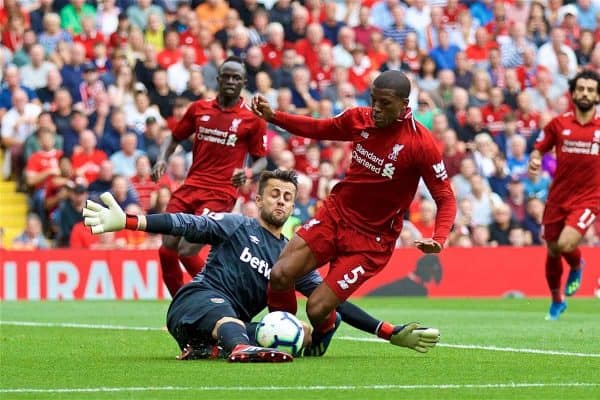 What Wijnaldum also offers is an exceptional ability to protect the ball in very tight spaces, using his agility and dribbling ability to evade opponents in a way that Henderson and Fabinho cannot offer to the same degree.
The best example of this was highlighted against Brighton, as Wijnaldum won the ball off one player, lifted it over another opponent's head and surged into the attacking half of the pitch.
With his low centre of gravity and surprisingly robust frame, Wijnaldum is also able to outmuscle opponents to win the ball back and shrug them off with ease when in possession.
At 5'9″, though, he is significantly smaller in stature to both Henderson (6′) and Fabinho (6'2″) and offers less of an aerial presence, in terms of defending from set pieces and crosses.
It could be that Klopp deploys a double No. 6 pivot on some occasions, or perhaps opts for the more physical presence and experience of Henderson in the biggest games—with Fabinho offering a more naturally defence-minded alternative once he fully settles in.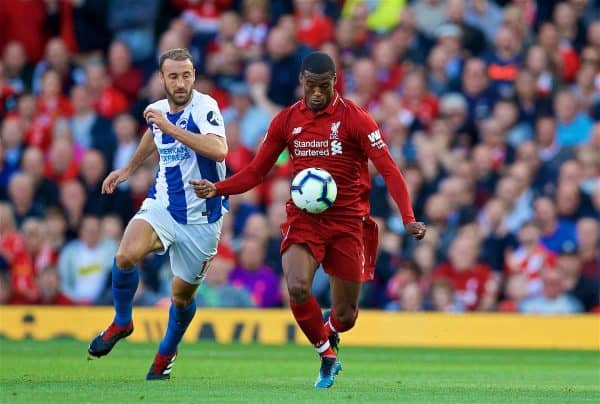 Wijnaldum can, of course, continue to offer a potential box-to-box midfield option or even play further forward if need be, such is his all-round positional intelligence and well-rounded skill set.
Indeed, Klopp alluded to such after the Brighton match, highlighting the Dutchman's excellent performances in pre-season as a No. 8.
The value of having such a versatile player gives Klopp so many different options in different systems.
And with Wijnaldum offering such an encouraging set of displays in the No. 6 role, he can be entrusted with the defensive responsibility that comes with anchoring Liverpool's midfield while also offering a great deal of quality on the ball.