Two of Liverpool's summer signings are already impacting in the first team, but two more remain waiting in the wings for their chance.
Naby Keita was always going to be an immediate hit, being a midfielder of the perfect type to slot into Jurgen Klopp's team.
The same can be said for Alisson: a specialist signing for a specialist position, always likely to be No. 1.
Xherdan Shaqiri, who impressed so much in pre-season, is still awaiting a first start, but a cameo off the bench already and more chances to play as an attacker means he'll feature heavily sooner or later.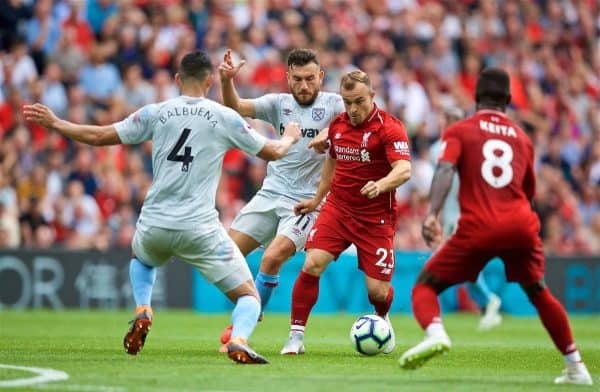 Central midfielder Fabinho, though, has yet to make his bow in competitive action for Liverpool, and was left off the squad list for a particularly tricky game at Crystal Palace on Monday.
A big-money signing who has proven his class, it won't be long until he makes his mark—but Klopp has to weigh up the argument for bringing him in against destabilising a key part of the team.
So the question is: When should Fabinho be brought into the fold? Which game, or run of games, is ideal to see what he brings and continue his adjustment?
Five Reds have given their thoughts on the matter: Matt Ladson (@mattladson), Jack Lusby (@jacklusby_) and Karl Matchett (@karlmatchett) from This Is Anfield, Dave Hendrick (@DaveHendrick_) from Anfield Index and Duncan Hewitt (@DuncanHewitt) of ITV Sport.
Upcoming games:
MATT: Familiar pattern of adaptation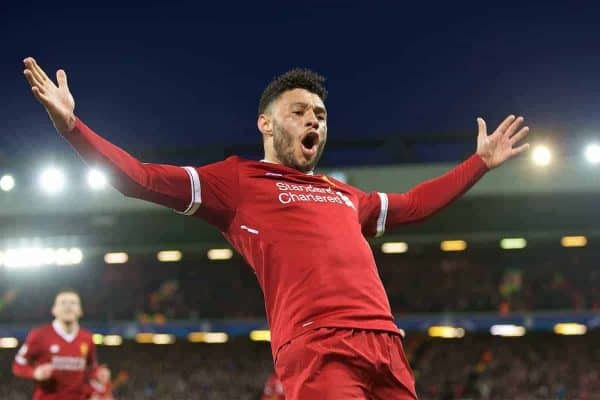 I think we're likely to see an Alex Oxlade-Chamberlain-type adaptation with Fabinho.
The League Cup tie at Leicester last season was Oxlade's first start and that could make sense for Fabinho too, hopefully with a bit of playing time from the bench before then.
With Oxlade, and indeed Robertson, we didn't see their true qualities until the second half of the season, once Klopp had coached them for a six-month period. It could be that Fabinho himself and us as fans need to be patient.
What is interesting is the use of Wijnaldum in the No.6 role, so with him, Henderson and Fabinho, I'm not sure how that works long-term.
---
KARL: Start now, watch later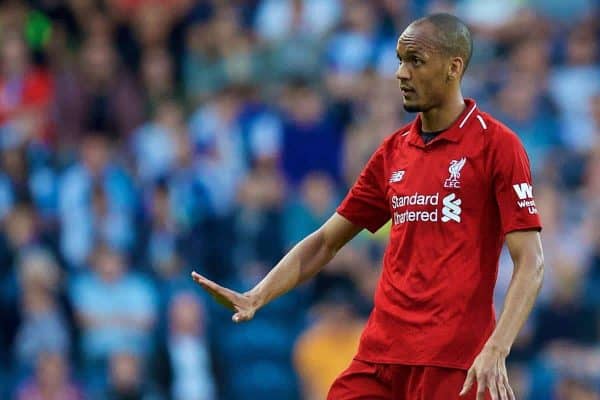 I'm in agreement with Matt that it'll take a while for Fabinho to earn a regular place—but I think it makes sense to give him his first start right now.
Brighton at home is a game Liverpool should control and dominate, and his recycling of the ball from deep will be useful, even if it doesn't showcase his best traits. He's also happy enough to stop those pesky counter-attacks with a rather lovely, cynical body-check or two, something we've not had enough of in recent seasons.
I'd expect he'll be back out after that with perhaps the Southampton–League Cup double-header the first opportunity he'll get thereafter, especially if Klopp wants him to play back-to-back games.
But appearances off the bench in the meantime will see him continue to adjust to the team.
Brighton, though, gives us a game we shouldn't have to rely on him being at his best yet, and there are plenty of options to bring on if he hampers the offensive side of the game for any reason.
---
JACK: Wait until the double-pivot is required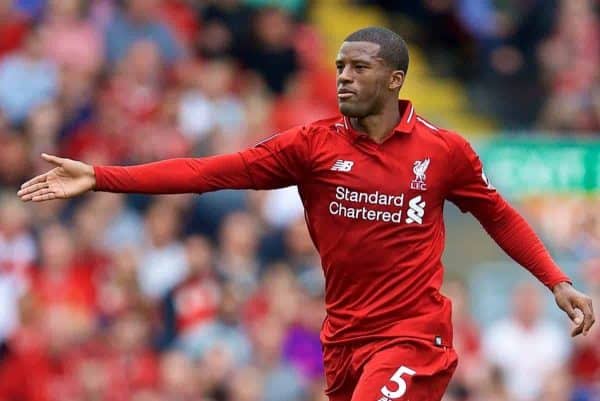 Personally, having watched Fabinho throughout pre-season, I thought he'd be ready to start the first game—but Klopp's comments on his adaptation and slight fitness issues suggest that would have been unwise.
As Matt says, with Wijnaldum currently thriving in the No. 6 role, and plenty of options elsewhere in Keita, Milner, Henderson and even Lallana, there's no rush with Fabinho.
We've not played a 'big' club so far, so perhaps Klopp's plan to use two deep-lying midfielders could see Fabinho start at Spurs, but more likely it'll be a comfortable tie—so Southampton or the League Cup third round.
Saturday evening's game could, of course, also fit that criteria…
---
DAVE: Regular starter from here on out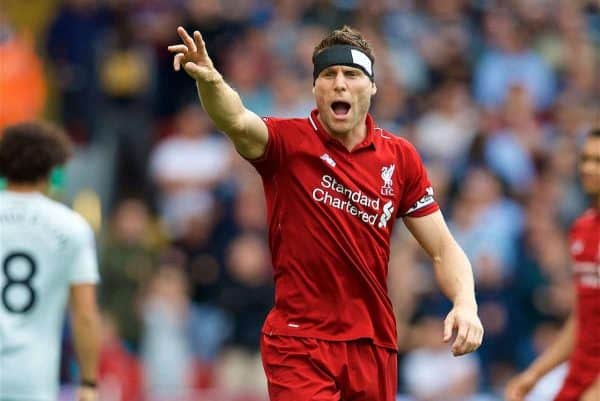 I think Brighton at home is the ideal game to bring him into. Following that with Leicester would be ideal.
We could leave him out at Spurs if Klopp wants to go with the tried and tested group, and then the three games after that will be ideal for him.
That'd be five out of six games and would get him up to speed.
As for who to leave out, James Milner is the obvious one. Gini will thrive in a more advanced role, so leaving Milner out and playing Fabinho is probably the best move.
---
DUNCAN: European action points the way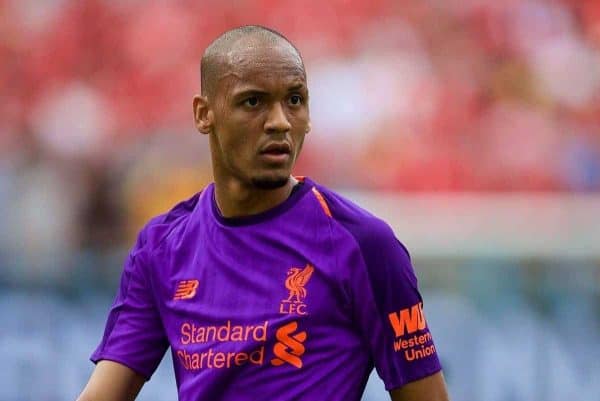 Whichever moment Klopp decides to bring Fabinho in from the cold, it will undoubtedly be under the microscope. Fabinho's absence is as much to protect the player as it is to eventually get the very best out of him.
The home game against Brighton looks to be the most obvious choice, but tricky games thereafter could mean Klopp resists the temptation to make Brighton his baptism of fire.
Mid-September, with the Champions League campaign starting followed by Southampton at home and a League Cup third round tie, will be Fabinho's opportunity for me.
His strong Champions League pedigree with Monaco, downing Pep Guardiola's Man City so emphatically along the way, is a big indicator of when he'll come in.
When playing in Europe there is a lot less focus on the defensive duties in Klopp's midfield.
Like with Alex Oxlade-Chamberlain and Andy Robertson, the man from Monaco was not signed as a player who was expected to waltz into Liverpool's first eleven, more to drive the squad on, whilst studying the game Klopp demands to develop.