Fabinho is yet to make his competitive debut for Liverpool but says he is learning from his team-mates and wants to be an important player.
While three of Liverpool's summer signings have debuted in competitive action and two are already regulars, the fourth awaits his chance.
Fabinho, signed from Monaco early on in the summer, has been granted extra time by Jurgen Klopp to get used to the demands and style at the club.
Charged with a watching brief across the first three Premier League games of the season—the first from the bench, since then not even that—Fabinho has seen Gini Wijnaldum, James Milner and Naby Keita fill the central midfield.
With three wins and three clean sheets so far, that trio has played an important role in both halves of the pitch and Fabinho allows that he is looking to them to show him the way forward.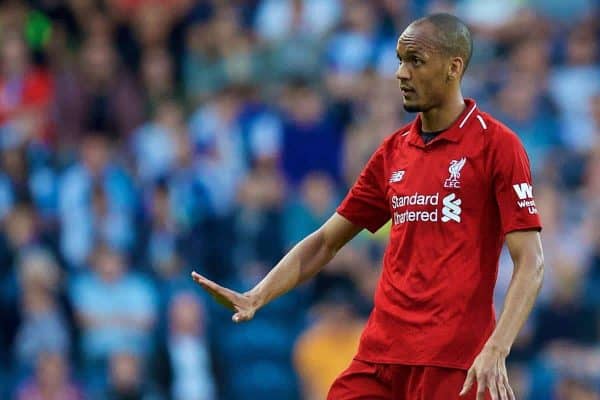 "I'm aware it's a different playing style than Monaco," he said, per the Echo.
"There were two in midfield there whereas here at Liverpool there's usually three.
"My midfield partners [at Liverpool] have provided me with guidance and assistance. So have the defence."
While of course he'd love to be in the team in an ideal world, Fabinho is happy to play the long game at his new club.
The Brazilian is seen by many as a crucial addition to the squad, thanks to his ability to play a specialist position.
And he feels he'll fit right in at Anfield, with certain similarities in style just as there are differences in tactical shape.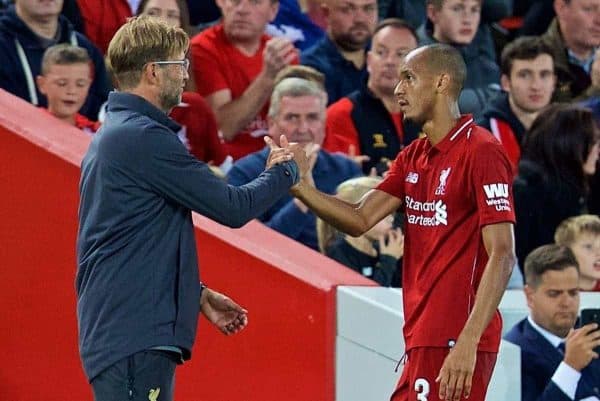 "I knew it would change and I feel I've adapted well. You seek guidance from the other players around you and that's worked really well and I feel my performances in pre-season were good.

"Although the systems are slightly different, there are similarities too.

"Monaco had a transition similar to Liverpool's. I think the two teams can be compared in this way; both them have very fast transition, with every fast players up front.

"I hope to be as important here as I was at Monaco."
Fabinho will hope to make his debut against Leicester before the international break, but as Klopp has shown with the likes of Andy Robertson and Alex Oxlade-Chamberlain, even the most important figures have to earn their place in the team.