Jurgen Klopp was satisfied after watching Liverpool rout Napoli 5-0 in Dublin—but made it clear there was still room, and need, for improvement.
The Reds' eight-game summer has already yielded some eyebrow-raising results and exceptional spells of football, with wins over Man United and Man City coming on the US tour.
Now Serie A runners-up Napoli have been emphatically added to the list, with the Reds powering past them in Dublin in unstoppable fashion.
The boss, however, says the scoreline isn't his focus right now, and that although there were impressive moments during the 90 minutes, he wants to see improvements.

Liverpool have another week in training before the Premier League gets underway, as well as a friendly against Torino, and Klopp says those are the games to focus on, report the Echo.
"The result isn't something I'm interested in.

There were a lot of really good moments, especially around the goals. Organisation wise it was good in parts and average in others.

There were too many spaces for Napoli at times and it's something we will work on. You could see that some players were tired. Endurance wise, they aren't where they need to be so we need to work on that.

I don't care what people think how about our team and our squad, it's not important, it's only important we make sure we get a team together for Torino on Tuesday and then West Ham next Sunday.

West Ham will be a completely different challenge. Don't let the expectations grow. The Premier League is hard work, it's not about winning 5-0.

But of course winning 5-0 is much better than losing and having no confidence. We know what we have to work on."
While the attacking side of the Reds' play has rarely been in doubt, defensive improvements have been incremental throughout Klopp's tenure.
It's an ongoing process, and it would be difficult to expect that to be at 100 per cent even before the first week of the season, of course.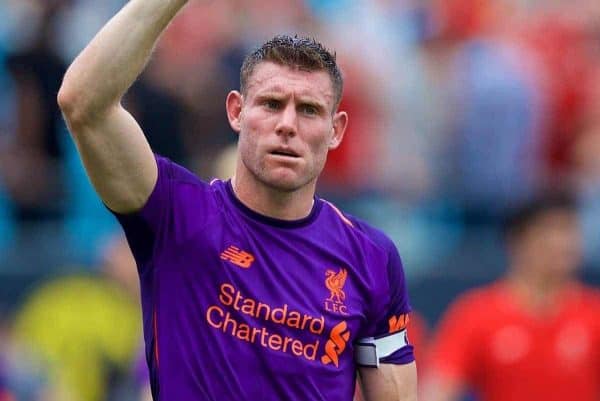 Meanwhile, Klopp has also hailed James Milner's performance—which was cut short by a head injury, which required stitches.
"James Milner played a brilliant game before going off with a crazy cut," the boss said.
"[He's had] a lot of stitches, 15, and you don't want that in that position in your face. But then he is quite positive about it, but probably nobody showed him the mirror so far!"
Fingers crossed Milner's recovery will be straightforward and quick, and he'll be ready for the start of another season in which he'll doubtless have an impact on the squad.