Jurgen Klopp has built Liverpool's strongest squad for 30 years, with his so-called second string now capable of beating most Premier League sides.
As the team news for last Sunday's Premier League opener against West Ham came through, something caught the eye more than anything.
It wasn't the debuts handed to Alisson and Naby Keita, or the fact that Mohamed Salah, Sadio Mane and Roberto Firmino all started—it was the substitutes.
For so long now, Liverpool have possessed excellent first-choice starting lineups, only to be let down by those in reserve.
We witnessed that to our horror in both 2008/09 and 2013/14, seasons in which the Reds came painfully close to winning the title.
If Fernando Torres was injured, Rafa Benitez had to call upon David N'Gog or Andriy Voronin; if Luis Suarez and Daniel Sturridge were tiring five years later, Victor Moses and Iago Aspas were the best Brendan Rodgers could hope for.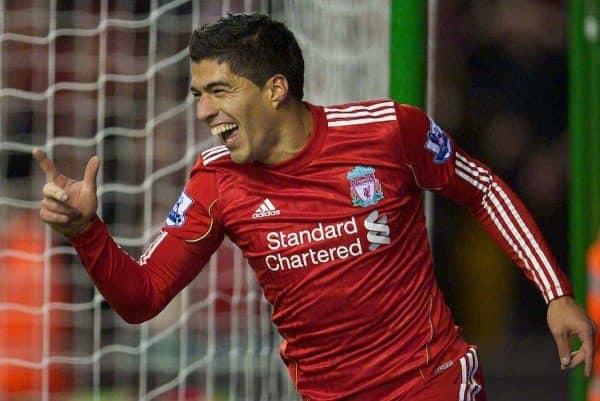 This lack of depth hurt Liverpool severely and it was even evident at times last season, with Danny Ings and Dominic Solanke nowhere near the quality of back-up strikers required.
When Salah got injured in Kyiv, the collective groan wasn't just because the Reds has lost their star man, but because there was nobody good enough to replace him.
On Sunday, however, Klopp's substitutes' bench was one full of quality, experience and versatility, with its occupants reading:
Karius, Clyne, Fabinho, Henderson, Lallana, Shaqiri, Sturridge.
That is the strongest bench Liverpool have named in quite some time and is further proof that this is Liverpool's best squad since the late 1980s.
Superb Back-Up Options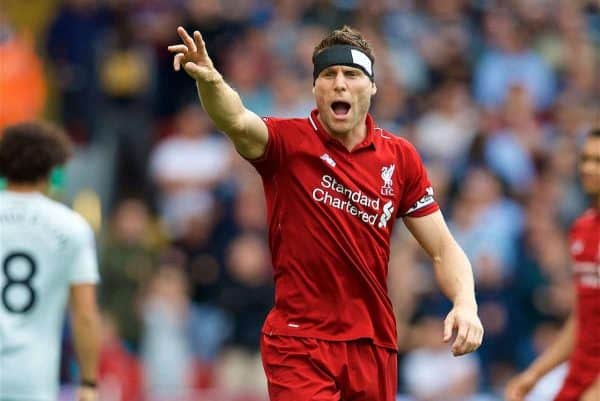 Every Liverpool supporter has their own opinion on what the Reds' best starting XI is.
The strongest team almost picks itself these days, however, assuming everybody is fit and in form…and personal agendas are cast aside for a second.
Alisson walks into the side, while it is hard to argue against any of Trent Alexander-Arnold, Dejan Lovren, Virgil van Dijk and Andy Robertson being first picks, too.
Fabinho has been signed to be Liverpool's new No.6, with the magnificent Naby Keita, already looking like one of the best players at the club, alongside him.
Jordan Henderson would also probably start, much to the chagrin of some—Klopp rates him highly—perhaps in a slightly more advanced role, as we saw in 13/14.
The front three of Salah, Mane and Firmino almost come as a collective, with the trio now one of club football's most unplayable attacking units.
Being asked to dissect Liverpool's '2nd XI' would have been troublesome in the past, but the names now roll off the tongue.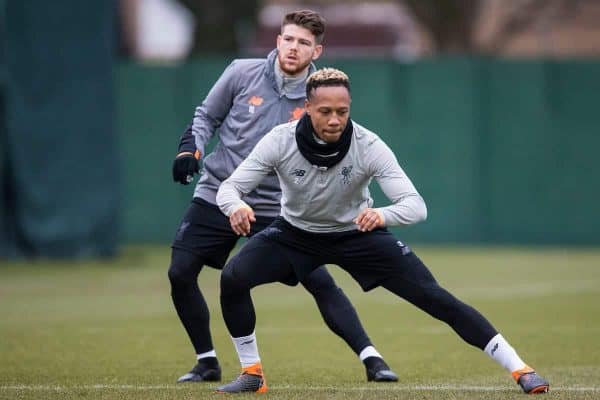 Loris Karius is a solid deputy, despite his recent form, while Nathaniel Clyne and Alberto Moreno are decent second-choice full-backs.
Neither are perfect, with one limited going forward and the other capable of defensive lapses, but they are better than often given credit for.
Joe Gomez, Joel Matip and Ragnar Klavan, if he stays, add depth at centre-back, although an injury to Van Dijk would be disastrous.
Gini Wijnaldum and James Milner were key players in the latter stages of last season's Champions League and would be pushing Henderson close for a starting berth.
The duo have started this season impressively and are excellent squad players.
Adam Lallana's ability to flatter to deceive is infuriating, but when fit he remains a handy player to have around.
That's a midfield brimming with depth and that's before the stricken Alex Oxlade-Chamberlain has even been mentioned, as well as youngsters Marko Grujic and Curtis Jones.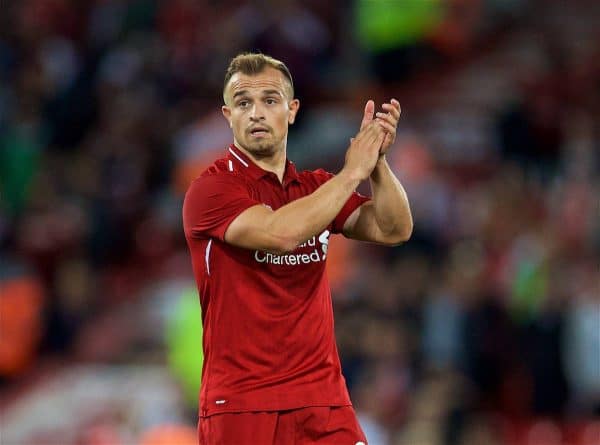 Xherdan Shaqiri looks like a top signing, but for all his talent, there is no place for him in Klopp's preferred team, unless he is used in an attacking midfield role.
Then there's Daniel Sturridge, who has enjoyed the most pleasing of career turnarounds at Liverpool, having looked set to leave in the summer.
His finishing and creativity could be such a potent weapon, especially in tight games when a piece of individual magic is required. Staying fit holds the key for the striker.
So, Liverpool's '2nd XI' looks something like this, give or take the odd tweak here and there:
Karius, Clyne, Matip, Gomez, Moreno, Wijnaldum, Milner, Lallana, Shaqiri, Sturridge, Solanke.
That is a team packed to the rafters with experience and quality, and one that would be the envy of most current Premier League managers.
It is testament to the work Klopp has done that he now has such backup quality at his disposal, and it will aid Liverpool's title bid greatly.
Time To Challenge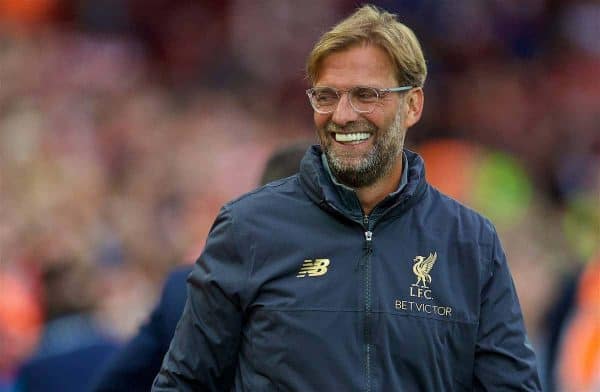 To win the Premier League you need to have endless squad options, unless we witness a freak occurrence like Leicester City's triumph in 2015/16, when they suffered almost no injuries and had a week between every game.
Man City perfectly illustrated this last season on their way to 100 points, with Pep Guardiola blessed with options all over the pitch.
Man United always had it during their most dominance years under Alex Ferguson and the same has applied to Chelsea and Arsenal's most successful title-winning sides.
A lack of depth has held Liverpool back so many times you almost lose count, but that cannot be used as an excuse this time around.
Klopp has a second-choice side that would beat the majority of other top-flight teams and he will be afforded the luxury of rotating far more this year.
That substitutes' bench against West Ham was a sign of things to come, in what promises to be hugely exciting next nine months.
What do you think Liverpool's '2nd XI' is? Let us know in the comments section.