Liverpool were able to see off Roy Hodgson's Crystal Palace thanks to a solid defensive display and some opportunism.
It was a game which past incarnations of Premier League Liverpool may have struggled to a 0-0 draw or possibly conceded a late goal, but they gave as good as they got against a stubborn Crystal Palace side.
The quality in the side shone through in important moments. Winning a penalty, converting the penalty, defending stoically, and being lethal on the counter-attack to prevent late nerves.
The formation was a familiar one, but there were a few tactical quirks in the game which emerged, as much because of the opposition rather than anything Liverpool set out to do.
Jurgen Klopp's men confirmed that they have numerous modes of attack should they require them, and although they weren't firing on all cylinders here, it was an impressive and important win nonetheless.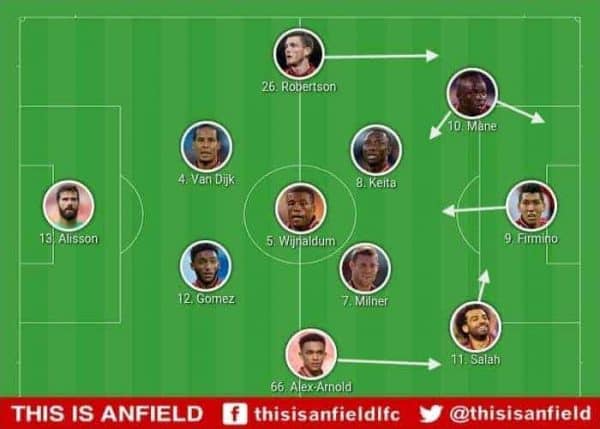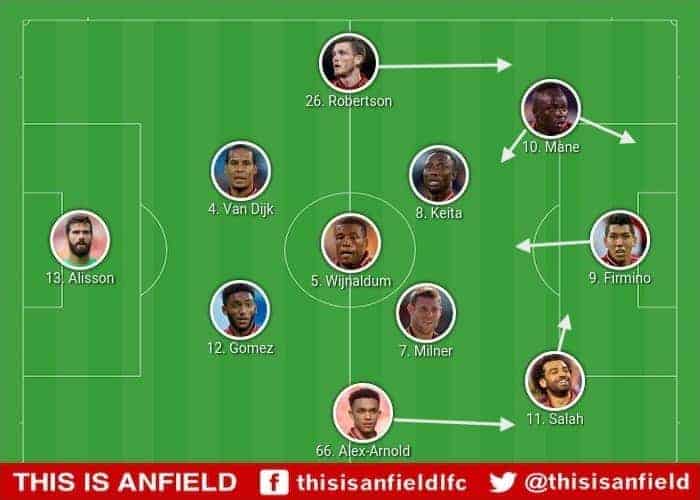 ---
Liverpool Play The Long Game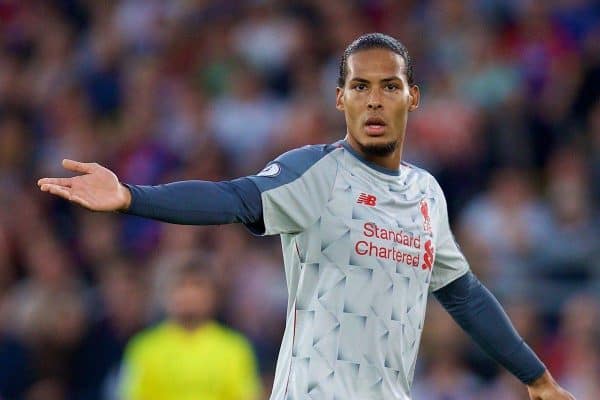 Between them, goalkeeper Alisson and Virgil van Dijk completed 19/22 long balls.
This might seem like a lot for a team who are supposed to be a possession-based or counter-pressing side, but as both Liverpool and Manchester City are beginning to show, long passing is as much part of the modern game as the short, quick exchanges on the deck.
These are not long balls in the traditional sense, but lofted passes to fullbacks or wide forwards.
The narrow 4-4-2 of a Roy Hodgson side allows for plenty of this type of pass, and Liverpool exploited it to good effect.
Klopp may not have been pleased with the tempo of the game in certain areas, but the ideas were in place to beat this type of opposition.
Alisson's sprayed passes are shown in the tweets in the final section of this article, and the image below, from StatsZone, shows Van Dijk's pass map.

The big Dutchman was unbeatable in defence, winning nine aerial duels and making eight clearances, but his contribution to attacking play was also important.
The centre back's most common target was Andy Robertson, whom he found 19 times. The Scotsman was also Alisson's preferred target with seven passes being launched in his direction from the goalkeeper.
It was credit to the left back that he was able to take these occasionally difficult balls in his stride.
As Bob Paisley once said, "It's not about the long ball or the short ball, it's about the right ball."
The Keita-Robertson-Mane Axis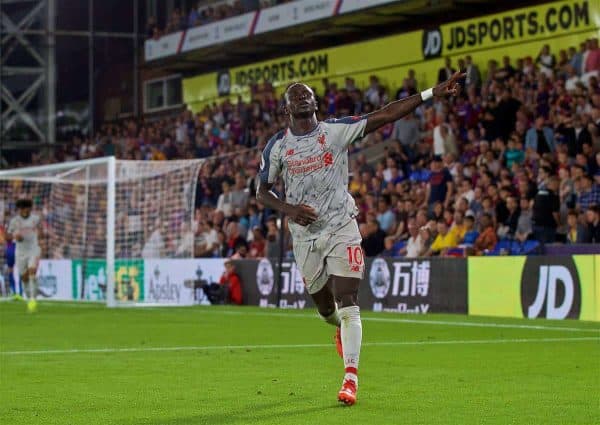 Liverpool's full-backs were involved more than any of the other players, with Robertson and Trent Alexander-Arnold racking up 103 and 104 positive actions (or touches as WhoScored call them) respectively.
Though the attacks were spread across the pitch, and with Alexander-Arnold making more passes than any other player with 94, Liverpool appeared to lean on their left side where Robertson, Sadio Mane, and Naby Keita threatened to run riot.
It didn't quite come off for them but there were moments which will bode well for future matches.
Aside from the penalty and the counter-attack goal in the final minutes against 10 men, the best chance Liverpool created in open play came down the left through Mane and Keita.
The Guinean's left-footed effort was saved by Wayne Hennesey at his near post, but it was a promising position which he should do better from if presented with a similar chance in the future.
Keita had more shots than any other Liverpool player bar Salah, and in some passages of play he's almost as attacking as Mane. He was the most involved of the three midfielders, with 83 touches, as shown below from WhoScored.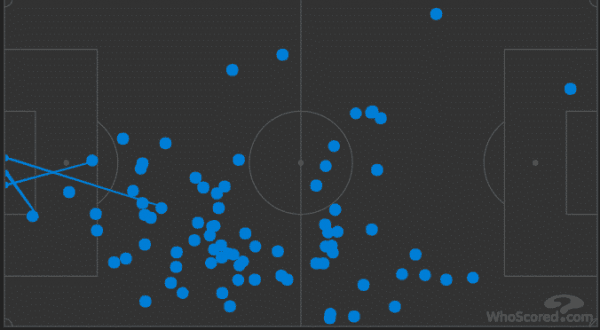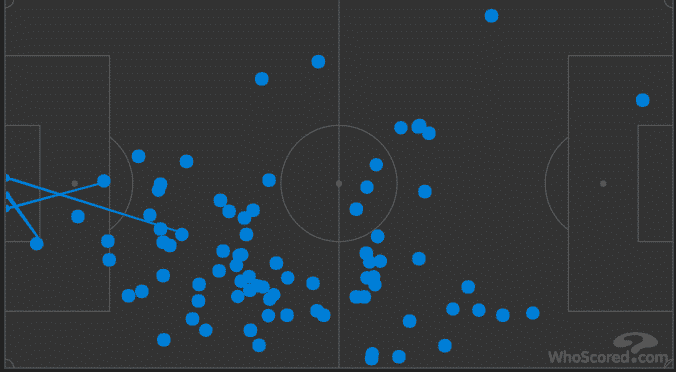 While on the other side of the pitch Alexander-Arnold completed two of 13 crosses, Robertson preferred to attempt to find players inside him with passes along the deck, only attempting one cross in the entire game.
He was able to bag an assist for Salah in the opening game, and there should be more to come as the season progresses if Keita hones his shooting and Mane continues his current form.
Liverpool Served Neat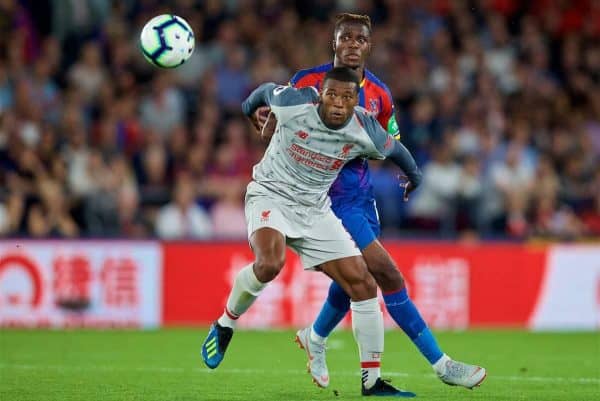 Seven of Liverpool's starting eleven emerged from the game with a pass accuracy higher than 90 percent.
It may be easy to pass the ball around the back against opposition sides who defend deep, but risky passes are also required to break them down.
The technique on show in the starting eleven, especially from the three midfielders who had to do this work in traffic, was often of the highest level.
Georginio Wijnaldum had a quiet but influential game, in contrast to the quiet but anonymous performances he put in on occasions last season.
This tidy technique goes all the way back to the goalkeeper, and players are not scared to pass back to Alisson even when it puts him under pressure, as they know he will deal with the situation more often than not. Liverpool haven't had this before, or at least not since the days where pass-backs were permitted.
Considering the full backs' heavy involvement in the game, completing over 90 percent of their passes takes some doing.
Naby Keita was the only midfielder not to pass the 90 percent mark in terms of pass success, but he was the one trying things, advancing down the left with intent.
He also performed a turn on the ball in his own half which, with one swift turn, took him into the hearts of Liverpool fans and away from his marker.
Klopp, however, stated that he wasn't pleased with his players "rhythm" and "timing" in attack.
"Defensively it was absolutely OK, [but] I was not too happy with our offensive play," he said.
"The rhythm was not good, timing was not good."
These comments will have had the next game in mind, as he works to get more from his players regardless of the result.
Alisson

Even though this has already been alluded to above, it's worth recognising the goalkeeper's play in a separate section.
Alisson produced a passing accuracy of more than 90 percent for the second game in a row, and these weren't all easy passes to the centre-backs.
Anything above 80 percent could be seen as good going for a goalkeeper when it comes to distribution, so to be above 90 for two games in a row is fairly impressive, regardless of the type of passes.
He completed nine out of 11 long balls, and his quick delivery from the back instigated numerous counter-attacks.
His passing earned a mention in the previous tactical review following the West Ham game, but the display against Palace attracted more attention.
Several Twitter users went into the details post-match, so rather than write them out again, the Tweets are listed below.
Alisson misplaced just two passes against Palace.

He also completed more passes than Townsend (19), Zaha (14), Salah (13) and Benteke (12). pic.twitter.com/ehIgTaUCJZ

— ReviewFootball (@ReviewFootball) August 20, 2018
? Alisson completed 91.3% of his attempted passes tonight, after finding his man 93.6% of the time against West Ham.

Wayne Hennessey, by comparison, completed 42.3%. pic.twitter.com/oDFJiwQ0Ts

— Jack Lusby (@jacklusby_) August 20, 2018
This will be difficult to maintain, but will be something worth looking out for in future games.
If wouldn't be a surprise to see him join compatriot Ederson among the goalkeepers with assists this season.