Mohamed Salah has found himself at the eye of a media storm after refusing to sign a shirt from his car – but there's valuable context missing from the story.
A man, who has since been revealed as a known peddler of autographed shirts, approached Salah's vehicle whilst it was in traffic in Liverpool, using children to try to get the player to sign a shirt.
Salah refused to roll down his window in a crowded area, which would clearly have been dangerous. All players are, for obvious reasons, advised not to sign autographs from their car windows while on a dual carriageway.
But there has been a typically over-the-top backlash on social media, and indeed the mainstream media, with some attempting to paint the player as the bad guy, while offering little to no context to the situation.
After a summer where Liverpool players and staff have been more accessible than ever, and on the back of this have given to a number of good causes including the North Liverpool Foodbank, incidents like this make it more difficult for players to do so in the future.
Considering his superstar status in Liverpool, his home nation Egypt, and across the globe, Salah is one of the more accessible players in the game, and regularly gives up his time for fans and community-related causes.
He recently donated a signed shirt for an auction organised by BOSS Night in support of the Sean Cox medical fund.
THANK YOU to @LFC and @TonyBarrett for donating this as a prize in the raffle for Sean Cox. pic.twitter.com/IQ0w9CdhqG

— BOSS Night (@aBOSSNight) August 4, 2018
This was something that was completely unprompted by the club and done at the player's behest. Salah is a caring, sensitive person who has shown his humble side with numerous acts like this.
He is worshipped in his homeland, but unfortunately, some people will look to take advantage of this and exploit his popularity and humility for their own gain.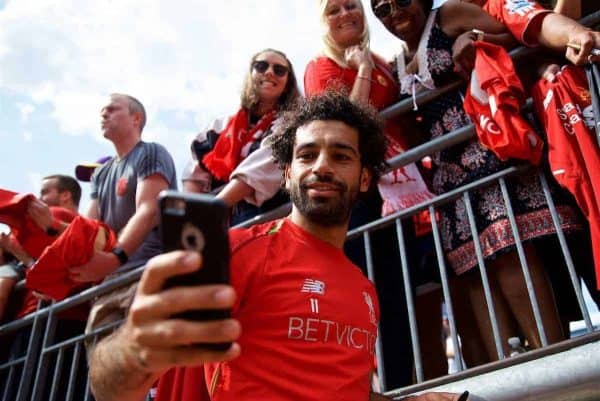 The Liverpool players' generosity towards the fans cannot be questioned, especially after pre-season just witnessed players and manager meeting with fans for a long time after games, handing out scarves and footballs, taking selfies, and appreciating the support wherever they went on their pre-season jaunt.
In Dublin, Salah had to be dragged away by security after spending an hour, literally, in with the fans.

The friendly at Anfield against Torino saw Jurgen Klopp and James Milner venture out from the safety of the dressing room to greet the fans who had gathered outside the ground before the game.
"It's nice to touch me, I didn't know that," joked Klopp when asked about this afterwards, suggesting he should do it more often, even if the security staff who had to accompany him on his way back to the safety of the Main Stand may disagree!
In Sunday's opener against West Ham, Salah reacted with commendable cool when a young fan ran on the pitch to greet him, and though it's worrying from a security point of view that this is able to happen, the Egyptian dealt with it well.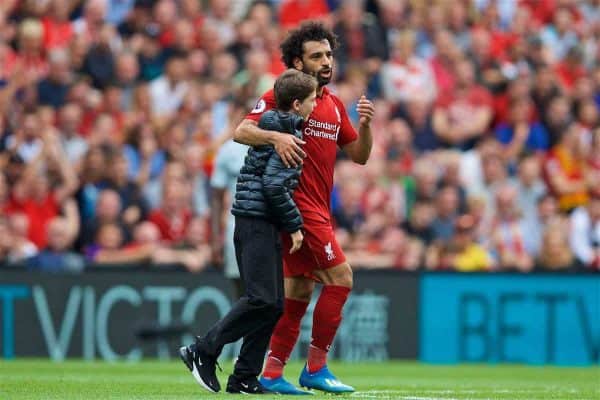 After the game, however, this incident occurred while sat in traffic on a dual carriageway.
Salah rightly refused to roll down his window but the 'fan' filmed the incident and was heard saying "he is a horrible, horrible man." This was then posted on social media to the usual overblown response.
It has since been revealed that this person is a notorious figure, known inside and outside of the club, and this isn't the first time he's besmirched somebody at Liverpool after being refused an autograph.
Others have posted on social media, claiming that the person involved will regularly get children to approach players for signatures, before selling them on for profit.
Not defending the use of the phone, having said that will defend Mo Salah against the filmer.

Rob Wylie is known to harass players, jump in front of traffic and endanger children to get autographs and sell them. He is well known in Liverpool and has been banned by the club. https://t.co/RH2uShpgEK

— Ahmad Yousef (@EgyptianPlayers) August 13, 2018
On top of this, and as alluded to in the above tweet from journalist Ahmad Yousef, Salah has also been reported to police after the incident, for "apparently using a mobile phone whilst driving".
While we're not attempting to condone Salah's use of his phone, he clearly doesn't use his phone whilst his car is moving, but in the time when traffic is stationary.
This has now been reported in the mainstream media creating headlines which offer no context or explanation of the events around the 'incident'. It's symptomatic of the obsession with the celebrity that this makes breakfast news.
On the lighter side of social media, the episode also sparked a series of satirical tweets, from an Everton fan no less, highlighting the ridiculous nature of this incident and the reaction to it.
https://twitter.com/1878_stamp/status/1029032390927310849
But this could become a serious issue if people continue to ask for mementos, and then turn to social media to tarnish the player when they are not satisfied.
Players like Salah do all they can to interact with fans and give back to the communities in which they work, but there is a time and place to do so.
The positive interactions with players may become rarer due to incidents such as this, which lessens the bond between the players and supporters – something players are often criticised for in the modern game.
The players don't want this, but they can find themselves in no-win situations.