Rhian Brewster has expressed his gratitude to Steven Gerrard for his influence on and off the pitch during his time as a coach at the Liverpool academy.
There haven't been many more exciting young prospects to emerge from the Reds' academy than Brewster, who has been on the club's books since joining from Chelsea in 2015.
A talented striker with top-class finishing ability, the 18-year-old won the Golden Boot at last summer's U17 World Cup, as England earned glory in India.
Brewster's progress may have been hampered by serious knee and ankle injuries, but he has been promoted to Jurgen Klopp's first-team squad ahead of his return.
Someone who helped aid his development in recent times was Gerrard, during his stint as the Reds' U18s manager last season.
Speaking to JOE.co.uk's Melissa Reddy, Brewster spoke about the influence the Liverpool legend had on him, whether it be improving him as a footballer or dealing with racist abuse:
"Stevie was an exceptional manager for me on the pitch and personally.

"He was constantly making sure that I was OK, he was always available if I needed to chat or get things off my chest.

"Every game that [the racist abuse] happened, I was playing really well and so he told me it was their way of trying to get to me because they couldn't match me in terms of ability.

"He said they were using it to try and put me off my game and so the best way to react to the idiots would be to show just how much better I can be."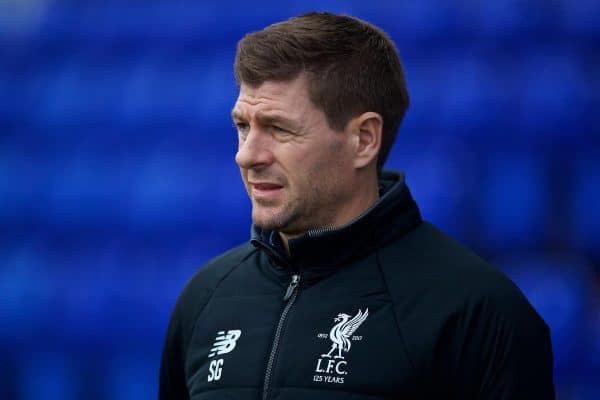 Brewster gave a good specific example of how Gerrard improved him, using his experience as a midfielder to the striker's benefit:
"He would tell me 'as a midfielder, this is where I'd expect you to be'. You get to understand the types of runs better like that.

"Having him pass the ball to me during sessions was very helpful, because it directed you on where to finish.

"And it makes you realise that in the same way, your movement can dictate where you receive the ball so you're always thinking about it.

"It's a loss to the academy that he's now at Rangers, but it's great for him and I know he'll do big things."
The youngster also paid tribute to the efforts of Steve McManaman in his part-time role at the academy, explaining how they "did a lot of finishing work together."
"He was so good in those sessions and we worked on my timing, my positioning and technique," Brewster added.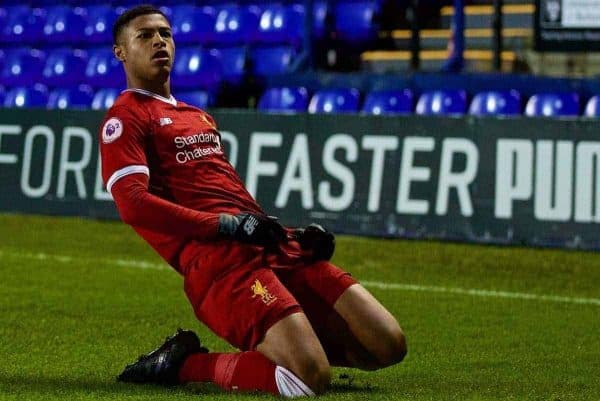 Brewster's return is still likely to be some way away, with the teenager's comeback pencilled in for December, after which he'll compete with the likes of Roberto Firmino, Daniel Sturridge and Dominic Solanke.
Klopp is thought to be a huge admirer, so the future looks incredibly bright for him at Anfield, with time very much on his side.
For a short while it looked as though Brewster would choose to join Borussia Monchengladbach this summer—nailing him down to a new deal was huge.