Liverpool ran riot in Dublin against Napoli and plenty of Jurgen Klopp's squad impressed in the penultimate pre-season friendly.
The Reds were comfortably superior in the Aviva Stadium, winning 5-0 in the end—though admittedly the scoreline might have been a little closer had key decisions been made.
A Napoli goal was disallowed for offside, wrongly, while Sadio Mane appeared to foul a defender in the build-up to Mohamed Salah scoring the Reds' third.
In pre-season it doesn't matter too much either way, but even without the helping hand from the officials, Klopp's team were excellent throughout and a host made their case for game time once competitive action starts.
Here's a closer look at the individuals who impressed, and the small handful who couldn't hit the same level over in Ireland.
Fast start, fine performance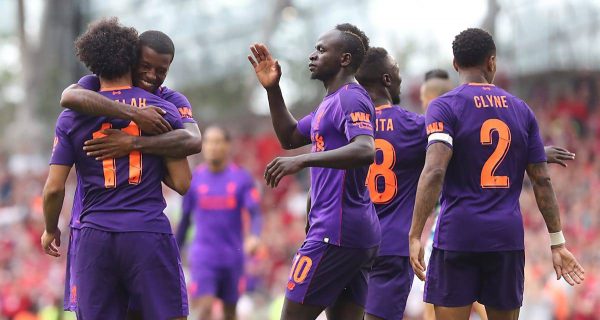 Two goals in less than 10 minutes after kick-off highlights what a good start the Reds made, and much of that was down to an intensive pressing campaign high upfield.
It bodes well for the season ahead that the midfield, as well as attack, were fully on-board with the tactic from the off—particularly given the regular front three were reunited for the first time this summer.
The two wider players, Salah and Sadio Mane, were particularly electric in the opening stages.
Both helped win back possession, linked nicely and created dangerous moments, with Mane indeed teeing up James Milner for the opening goal.
Salah notched a goal of his own in the second half, finding the top corner in outrageous fashion, and both look ready to hit the ground running next weekend.
Milner also deserves credit for his first-half display, showing the usual mix of tenacity and intelligent play we've come to expect from him.
Aside from his early strike, Milner was involved in both halves of the field and was the most impressive central midfielder on the pitch.
Brazilian spine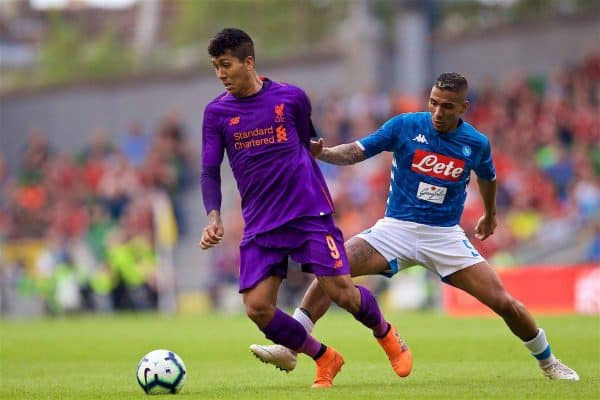 Alisson was the headline starter, with the goalkeeper making his debut, and the Reds could soon be looking at a line of Brazilians straight down the centre.
With the former Roma goalkeeper at the back, Fabinho coming on in midfield and Roberto Firmino back in action at centre-forward, there's a distinctively South American look about the spine of Klopp's team.
For the new first-choice stopper, it was a reasonably quiet afternoon; his aerial handling and footwork were impressive, but he was beaten by one darting run which should have been a goal.
Another save almost spilled in, but he got enough on the ball to divert it wide.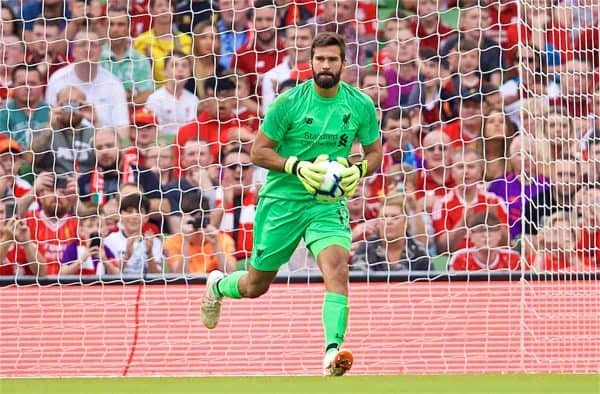 Bigger tests will lie ahead, but they also won't be his debut and the nerves and anticipation which come with it.
Fabinho showed more of his usual self in midfield once on: neat passing, a few key challenges (and fouls), and a good pairing in a two-man pivot after the hour mark alongside Curtis Jones.
For Firmino, the first touch and quick, clever turn-and-pass movements were all in evidence, but he'll be another few games before he's up to full speed.
Short spells to work on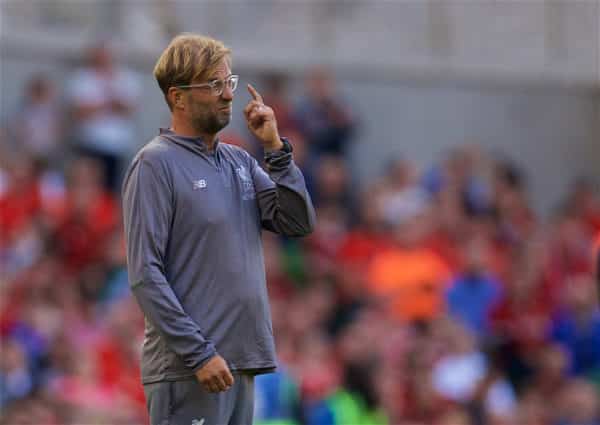 There was very little to worry about in terms of individual performances, with most of the in-game errors or struggles largely down to team setup or tiredness.
Klopp pointed out Napoli gaining a foothold before the break; in part this was down to exploiting the Reds' full-backs two-against-one on both sides, while the midfield three also broke apart somewhat at times.
Both right-sided defenders—Nathaniel Clyne first half, Trent Alexander-Arnold second—were caught in possession at times and received a few well-chosen words from Virgil van Dijk for their troubles.
But considering it was pre-season, the overall result and disparity in quality between the two teams, there was little cause for complaint.
Stand-out individuals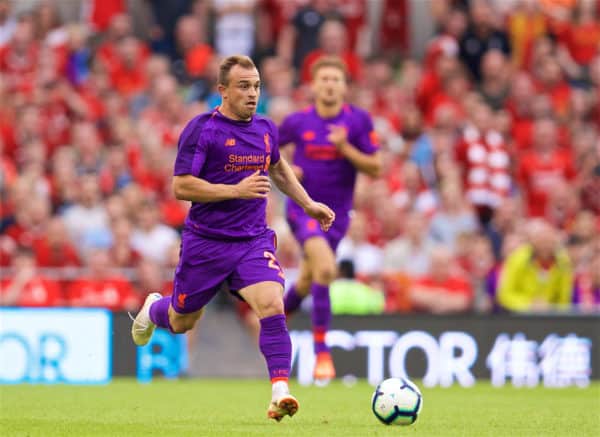 Xherdan Shaqiri came on at half time and Klopp made another batch of subs around the hour and 70-minute mark.
Two in particular shone in the second half, with the Swiss international one of those and Daniel Sturridge another.
For Shaqiri, it was an exhibition in just how well he has quickly slotted into the squad: he played centre-forward, right wing in a three and then right side of a 4-2-3-1 in just 45 minutes on the pitch, and excelled in each.
His movement and touch was extremely good, he has linked well with a number of team-mates already and the sense is that he's relishing playing with others who can be sure of their touch, fast in their transitions and always looking to attack.
Sturridge was simply brilliant, on both sides of the defence: coming short to offer creativity and link play, and running off the shoulder of the defender.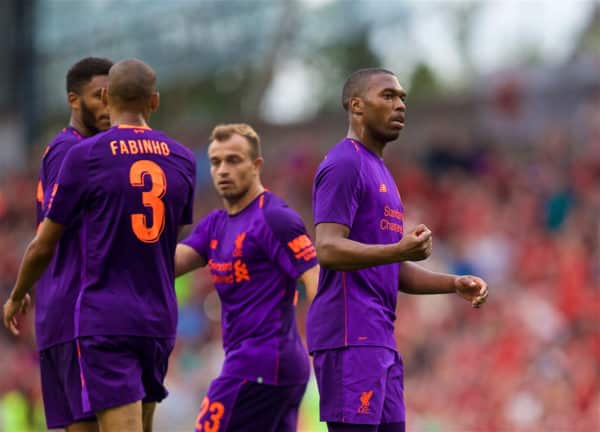 Even before he scored, the striker showed twice his old style of play—racing behind the defence for through passes, getting shots away.
After his goal, a fine, first-time finish which showcased his summer confidence, Sturridge was involved more than once in counter-attacks and his absurd long-distance pass set up the fifth for Alberto Moreno.
One more name needs mentioning: Joe Gomez.
The versatile defender has a big opportunity to start the season at centre-back, but hadn't been on top of his game in too many friendlies so far.
Against Napoli though he barely put a foot wrong, with his positioning and technical work much-improved.
This was a big boost just a week before the season starts and, just like Alexander-Arnold and Andy Robertson did last season, he'll hope to grasp his unexpected opportunity due to others' absences and stake his claim to be a first-team regular.