Liverpool continued their positive start to the season with a win at Leicester City, but it wasn't all plain sailing. Here's James Nalton's Monday tactics column.
Though they emerged victorious, Jurgen Klopp will have picked up on a number of areas in which the team can improve, as they look to remain at the top of the Premier League and look ahead to their tough Champions League games which begin later this month.
They didn't click as well as they had in other games at the start of this season—even in those which they supposedly won ugly—and conceded their first goal of the campaign as a result of an individual error, which also highlighted another problem.
The formation was the familiar one, but with a different midfield to that which had been seen so far this season.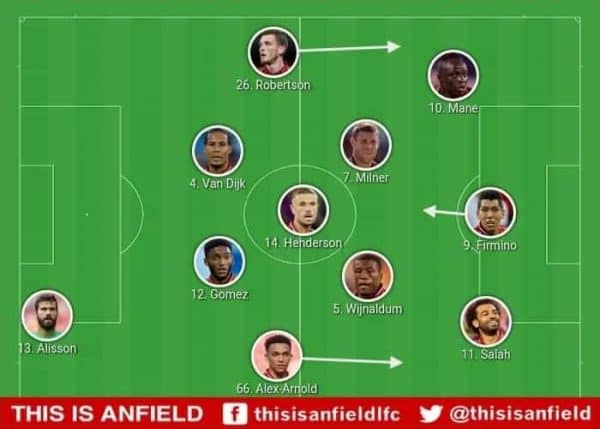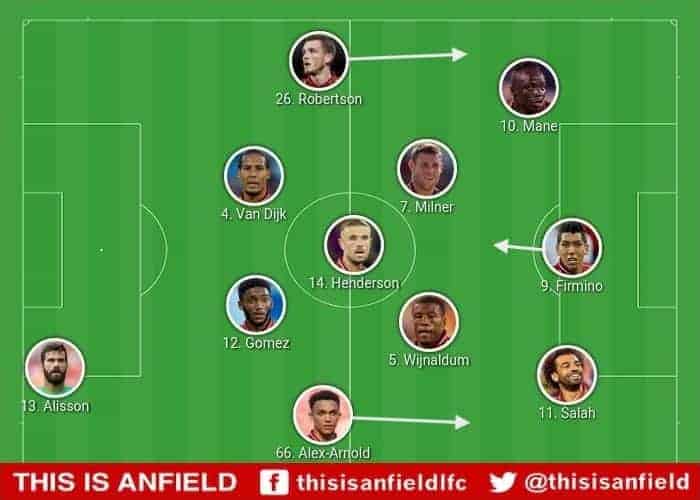 Gomez Adds New Dimension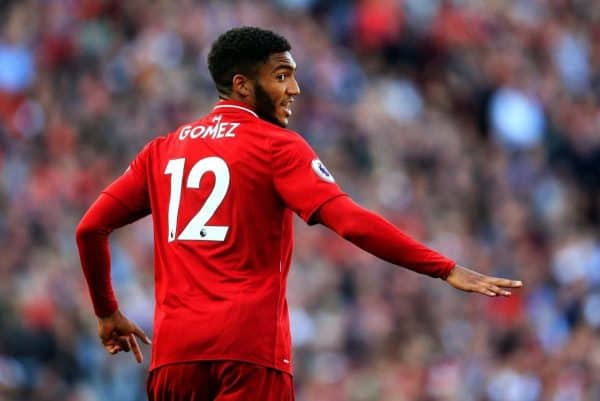 The start of this season has introduced the idea that Liverpool's right-sided centre-back isn't a job for someone who does nothing more than follow Virgil van Dijk's lead and hopes not to make an error.
Joe Gomez has come into the side under similar circumstances to those which saw Trent Alexander-Arnold become part of the first team last season, i.e. injuries to other players, and then turning out to be better than them anyway.
While it's true that the Dutchman is an effective defensive organiser even if he isn't having his best game, Gomez has proved that he can take the initiative.
Against Leicester, Gomez was even seen covering for his partner, blocking a James Maddison shot after Leicester's new signing had evaded Van Dijk.
The block was given a score of 159 on the twelve.football player map shown below, which shows all of his actions during the game (red defensive, yellow off ball, green attacking).
To put this in perspective, Andy Robertson's dribble down the left which led to the opening goal scored 120.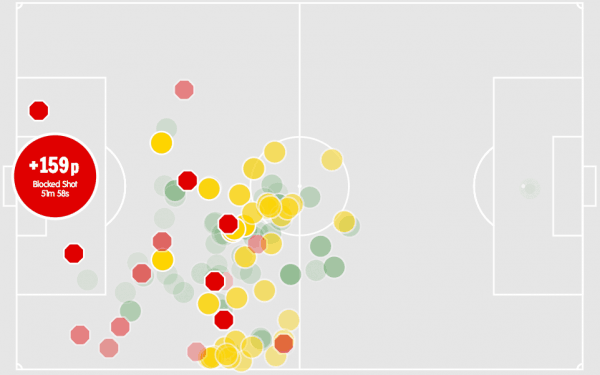 The screenshots below show how this came about, and how well the 21-year-old read the play.
Initially, Gomez was covering Demarai Gray, matching him for pace as he darted into the area, but it soon became apparent that Van Dijk was in trouble.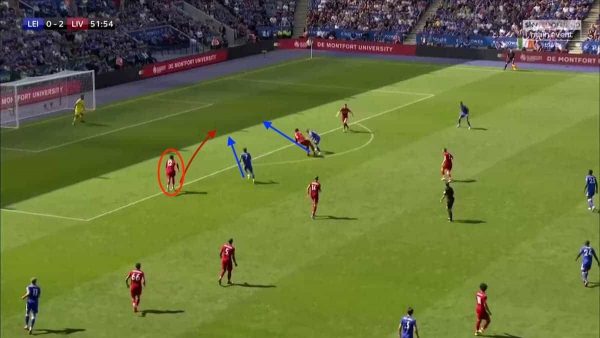 Rather than stick with Gray, he took the decision to leave him unmarked and cover across behind the back line instead, leaving him in the perfect position to make the block once Maddison had wrong-footed Van Dijk.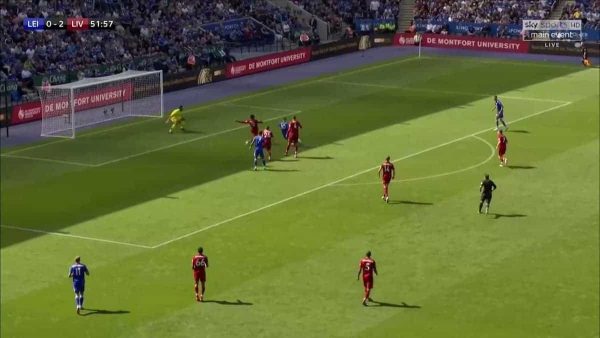 This was also a demonstration of Gomez's pace, which is considerable and has allowed him to operate at full-back in the past.
This extra speed allows Liverpool to play a higher line more comfortably.
This will be something worth looking out for as the season progresses and other players inevitably come into the side for cup matches or fitness reasons.
Alisson's adventure, the pace of the full-backs, James Milner and Gini Wijnaldum's ability to cover at the right moments, plus Gomez and Van Dijk's own pace, mean that the higher defensive line Liverpool like to play feels more stable.
But as new faces come into these positions, the dynamic will change.
This is also why Loris Karius would have been a better backup for Alisson in terms of being able to sweep behind the defence, but that wasn't to be.
Liverpool Conceded A Goal!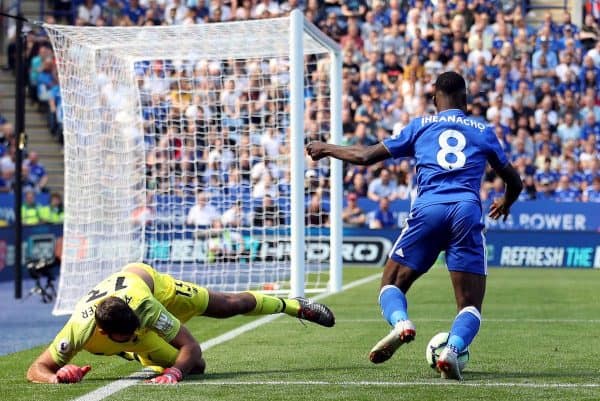 The defence has been impressive this season, thanks to the different dynamic provided by Gomez and Alisson, as mentioned above.
The goals Liverpool concede are likely to be analysed in-depth, as they look like being few and far between this season.
Leicester's goal, scored by Rachid Ghezzal, was a result of some Alisson overplaying and untidiness and poor decision-making through midfield to defence (more on that below).
The eccentric Brazilian was bound to make a mistake sooner rather than later, and although previous errors throughout his career have rarely led to goals, he is not the entirely error-free goalkeeper he was made out to be on signing for Liverpool.
Many of the errors used in pre-season analysis only took into account those which led to goals, but watching him for Internacional, Brazil, and Roma showed that he has his moments.
Just a matter of time this season before Alysson doesn't get away with one if he continues like this, opposition will be more alert to any risks he is prepared to take in possession.

— Adam Brandon (@AdamBrandon84) August 25, 2018
But in some ways, this is what Liverpool want and what they paid the money for. He is confident, good with his feet, courageous, entertaining, and often daring.
With this style comes risk, and though this one may have been unnecessary, it was almost inevitable.
All goalkeepers make errors. It is their reaction to them which is important, and Alisson and Klopp are making all the right noises post-match.
It didn't cost the side points, which makes it easier to learn from, forget, and recover from.
Midfield Muddle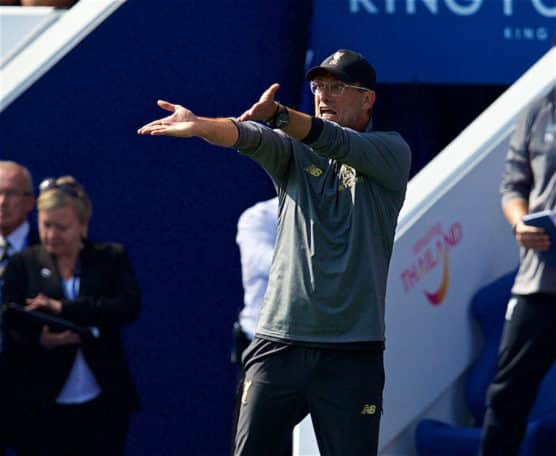 The other issue with the goal, aside from the fact it may have been a foul on Alisson by Kelechi Iheanacho, is the part played by the midfield which led to the subsequent skewed back pass from Van Dijk.
Jordan Henderson made a couple of poor passes in the build-up to this and Gomez, again, was the only player who came out of the moment well.
He controlled the first of Henderson's awkward passes and expertly evaded the press of two opponents, before returning it to the midfielder.
But Henderson's second ball, a left-footed scoop to Van Dijk, put his other centre-back under pressure.
The Dutchman controlled this well, however, and should have made a better pass to Alisson—but it went way wide of its intended target.
Henderson is not responsible for this goal and neither is Van Dijk, Alisson is, but the goalkeeper was put in this position due to a problem which Liverpool had throughout most of the game.
They were unable to control the match, which was in part down to how good Claude Puel's Leicester were, but also because of the midfield changes.
The graphic below from SofaScore shows how Liverpool dominated the opening stages, but were unable to retain this for long periods at the end of the first half and the start of the second.


Henderson had looked good during his cameos at the start of this season, especially against Brighton, but here he was bypassed by Leicester's quickness in attack while also struggling to take up the right positions when Liverpool had the ball.
There are times when it appears easy for the opposition to mark Henderson as Liverpool build out from the back, meaning he's not an option for a pass, or when he is he's under pressure immediately.
This is something which needs remedying if the captain is to play this role against good teams who boast their own quick and technically gifted players in the middle of the park.
Henderson's getting played around in DM. Needs to be much tighter to Leicester's movement between the lines. Drawn out at the wrong moments.

— lankyguy (@lankyguyblog) September 1, 2018
James Milner had been one of Liverpool's best players this season from his position on the right of midfield, but was shifted to the left in place of Naby Keita, who was dropped.
Georginio Wijnaldum, who had gone some way to proving himself as Liverpool's best deep-lying midfielder in Fabinho's continued absence, was moved out to the right of midfield, where he can go missing, and that he did.
He made just 29 passes, having made 76 against Brighton in the previous game when he played as the No. 6.
On the face of it there was just one change in midfield—Henderson for Keita—but in reality, there were three changes, and it, upset, the flow.
Leicester had more possession than Klopp's side, and this won't (or shouldn't) happen too often this season.
Other Notes