Andy Robertson has admitted he found moving to Liverpool and not immediately being first choice tough, in an interview with FourFourTwo.
Having just been relegated with Hull City, the all-action full-back made the switch to Anfield for around £8 million just over a year ago.
With Alberto Moreno making a return to form in pre-season and beginning the 2017/18 campaign as Klopp's starting left-back, it left Robertson on the bench or watching on from afar initially.
Midway through last season, Klopp recounted a conversation with his new defender, who wanted to know what he had to improve to get into the team.
A "disappointed" Klopp repeated what he had already told Robertson at the start of the season: defensive work required improving.
The penny dropped and Robertson made great strides, and an injury to Moreno gave him the chance to show his worth.
That opportunity was grasped tightly and Robertson remains in place now—but in an interview with Four Four Two, Robertson has admitted he wasn't used to the bit-part role he initially played at Anfield.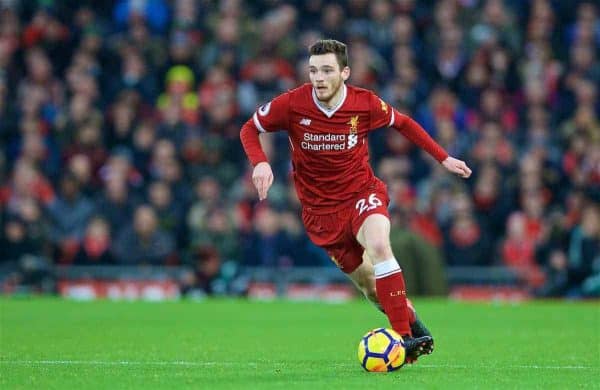 "It was tough. It was a new situation for me and I probably didn't deal with it very well initially. I hate not being involved," the left-back said.
"I believe in myself and I always felt I could be out there contributing, so being up in the stand, watching the game with my family, wasn't a nice experience.
"I was a real pain to be around, to be honest. My girlfriend probably hated me for those first couple of months but she was one of the people who kept me going.
"I hadn't come through an academy system, where boys are used to being in and out; I'd worked my way through the ranks and was used to playing matches.
"When I got my chance, I knew I had to take it."
It's fair to say he did exactly that, as Robertson became a fixture in the side from that point until the end of the season, earning admiration from the crowd and respect from pundits.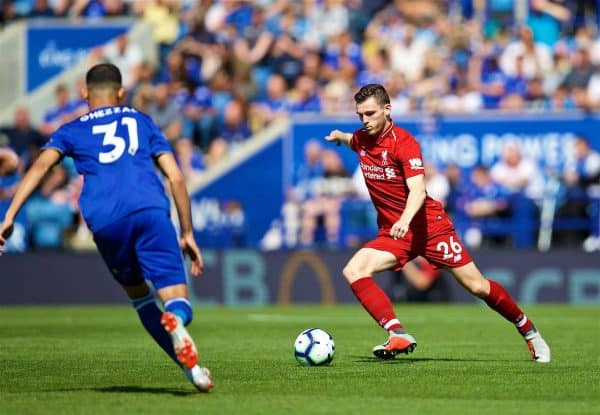 Robertson is now the established left-back for Klopp and a Scotland regular, while also seen by many as one of the best full-backs in the Premier League.
It goes to show just how fast fortunes can change for players at the top level, and also gives an insight for this season as to why, perhaps, the likes of Fabinho have not yet been heavily involved.
And that goes not just for new signings, but for those marginalised at the start of this season.
While club captain Jordan Henderson might believe he'll quickly earn starts and minutes, others have a bigger fight on their hands.
Adam Lallana has barely been involved thus far, while Xherdan Shaqiri and Daniel Sturridge have had to make do with cameo appearances.

Full-backs Nathaniel Clyne and the aforementioned Moreno have yet to feature, while striker duo Divock Origi and Dominic Solanke face a massive fight for game time.
Each should now be taking the example laid down by Robertson and asking exactly what it is they need to do to earn the manager's faith and belief.
A route to the starting lineup is always there under Klopp for those who show the application and the technical quality required, and it's this personal improvement which Robertson showed which helps the team become better and the squad, as a result, become much deeper.