Out of the League Cup we go, but hard done by to an extent. Liverpool will only be able to gauge what this defeat means to the bigger picture on Saturday evening.
I spoke about the importance of not gifting a rival a psychological advantage prior to this one. We certainly gifted them the victory, but in a sport where the 'mind games' are as crucial as the ball games, it's difficult to read just what this result will do to the Liverpool-Chelsea landscape going into the Premier League encounter on Saturday.
Chelsea will walk away from this game with more questions than answers, about what is to come at Stamford Bridge.
A surprisingly up-tempo game, Chelsea dominated the first half hour before Liverpool took a defined stranglehold.
Then came the sting in the tail.
The first of the two late goals we concede would have less chance of happening on Saturday.
Simon Mignolet is a 'good' goalkeeper. He is a skilled shot-stopper. We ask for more from a Liverpool goalkeeper though. Mignolet would be more than 'at home' in 75 per cent of the teams which play in the Premier League.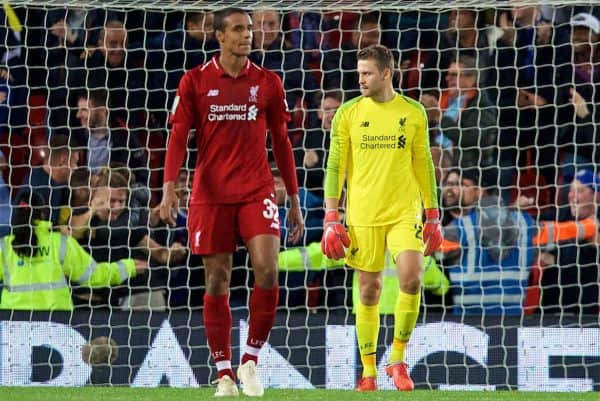 Alisson Becker probably doesn't concede that goal if a similar effort heads his way on Saturday, while Andrew Robertson probably doesn't allow the chance to arise in the first place.
Play the Alberto Moreno card all you like, but the second goal happens regardless of the personnel. Eden Hazard was scoring that goal, no matter what was put in his way.
As with any Liverpool defeat, as unusual as they have become, the finger pointing commences.
Jordan Henderson, on for the final 30 minutes, took his regular dose of stick from the usual suspects. People will always frown at Dejan Lovren and be vaguely suspicious of Joel Matip. Some lamented the performance of Nathaniel Clyne, although he certainly didn't play like a man who has missed a significant part of the last year or so.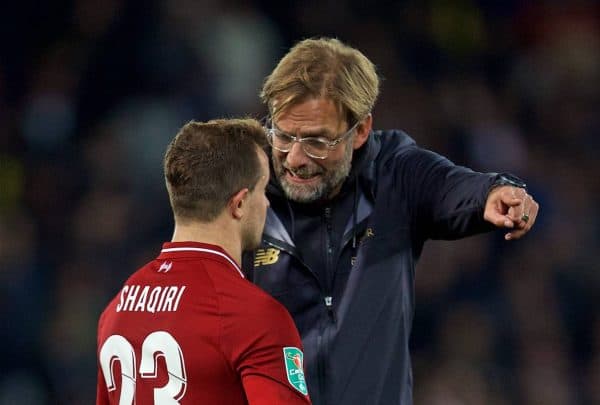 Upon the final whistle, Jurgen Klopp was even having heated words with a relatively blameless Xherdan Shaqiri.
There were a number of plusses about this game, though.
Domestic cup games have sadly become momentum killers, but this one wasn't like that. There was a busyness to the game from both sides, which was refreshing to see. Most of our shadow players have something to play for, even if it's to act as a reminder of their existences to potential suitors in January.
For the likes of Daniel Sturridge, Naby Keita and Shaqiri it was an audition for inclusion on Saturday.
One nice goal, one terrible miss and one audacious effort which clipped the bar from Sturridge. His mojo is high, and he wants to play.
Keita showed signs of his RB Leipzig self here and there.
Shaqiri is clearly hard to play against, offset by sometimes being difficult to play with.
Then we had Fabinho.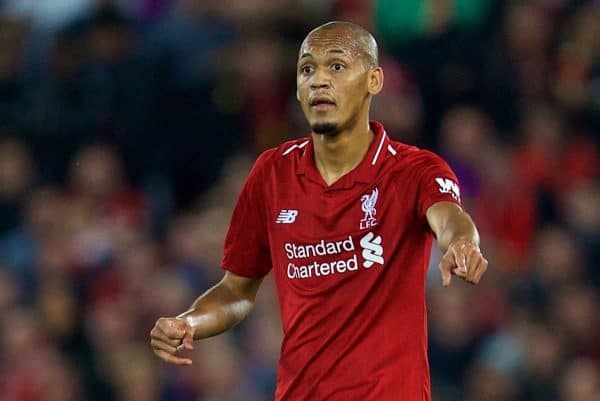 He looked lost and out of touch within that first 30 minutes, when Chelsea set a tempo that Liverpool clearly hadn't expected.
Misplaced passes, clumsy challenges, questionable positioning. Fabinho had the full repertoire.
He then settled down to the task.
As the game wore on Fabinho gradually looked that little bit more comfortable. Nice movement, intelligent passing and good support offered to his team-mates.
He isn't going to play at Stamford Bridge, but think back to Alex Oxlade-Chamberlain's drip-feed introduction to the Liverpool side after he initially arrived from Arsenal a year ago and perhaps the gentle introduction of Fabinho will seem worth it by Christmas.
Losing is never good
Plenty of supporters were quick to give it the "I'm glad we're out of the League Cup" routine, which makes no viable sense at all.
Yes, Saturday is of greater importance, but what do you then say, if we are on the receiving end of another loss?
The whole 'it's a good time to bury a bad result' ethos never works.
What I would say, though, is that Chelsea will have been on a high after their smash and grab act took this one.
Yet, in the cold light of day, they will think it through between now and Saturday and struggle to come up with concepts which will be transferable to the Premier League game between the two.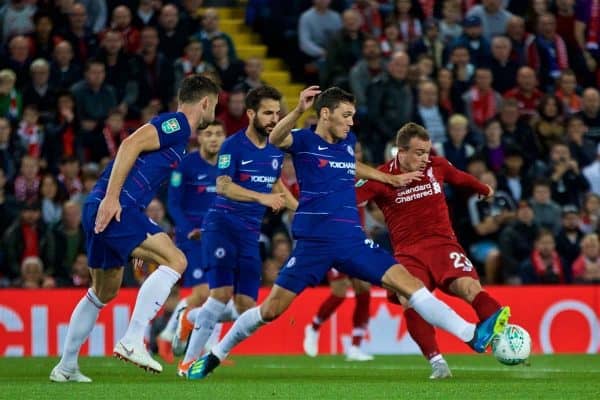 Of the 11 who started this one, probably only Sadio Mane could be fully confident of starting at Stamford Bridge. Our newly accumulated strength in depth really is that impressive.
The back five surely changes, while Keita, Shaqiri and Sturridge will be managing their expectations in terms of 'hope' rather than 'expectation' of playing, while James Milner will need a rest at some point soon.
The winning run was always going to end eventually. Now we just need to start another one. We can't kick ourselves too hard, but we need to kick back at Chelsea harder on Saturday.
This defeat will leave light bruising, but whoever takes the bruises on Saturday will be nursing them for weeks.