The Premier League takes precedence in the two meetings between Liverpool and Chelsea, with Blues supporters confident of victory on Saturday.
Wednesday saw the Reds eliminated from the League Cup by the west Londoners, with Eden Hazard's impressive late strike earning Maurizio Sarri's side a 2-1 win at Anfield.
It was the first of two meetings in the space of four days, with the sides reconvening at Stamford Bridge on Saturday evening.
Liverpool are going for seven Premier League victories in a row, while Chelsea know three points will take them ahead of the Reds at the top of the table.
With Wednesday's match done and dusted, and Saturday's clash on the horizon, we spoke to Blues regular Richard Long (@SARRI_BALL_2018) to get his thoughts on both games.
Firstly, what did you make of Wednesday's game – fair result? And how important is the League Cup to you?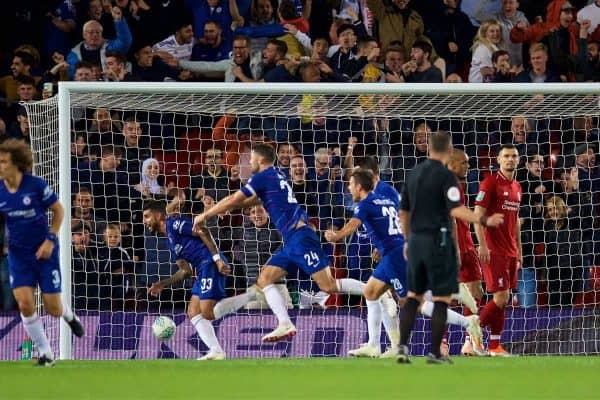 I felt the first half was fairly even but Liverpool had the much better chances during the game and really should have won it.
Daniel Sturridge could easily have had a hat-trick and easily finished us off, but I always felt like we had enough quality to score ourselves.
It is not a competition I get too excited about to be honest, unless it's in its final stages.
I think it would be good to win it, particularly for Maurizio Sarri in his first season, but we need to prioritise the Premier League and FA Cup.
Has anyone staked a claim for a start this weekend?
Not from a Chelsea perspective, Andreas Christensen and Alvaro Morata were particularly disappointing and I can't see any changes to the team that started at West Ham last Sunday.
I think the same is probably true of the Liverpool players last night. I thought Fabinho was poor and I can see now why Jurgen Klopp hasn't played him much!
What have you made of Liverpool and Chelsea's respective starts to the season? Genuine title challengers?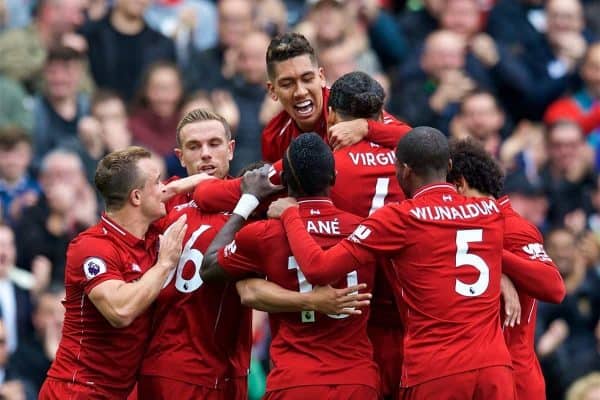 I don't think Liverpool have reached their levels from last season, which makes it all the more admirable that they remain undefeated.
I have always felt that Liverpool have struggled to grind out wins under Klopp, but that may be changing. I would still be very surprised if you finished ahead of Man City, though.
Chelsea have started really well and I have been very impressed with the style of football and change of tactics Sarri is trying to implement.
Realistically, we will need a lot more time before we are playing to our potential and I don't think we will challenge for the title.
A top-four finish was the aim at the start of the season and I don't think that has changed.
Looking ahead to Saturday's game, where do you see the key battles taking place?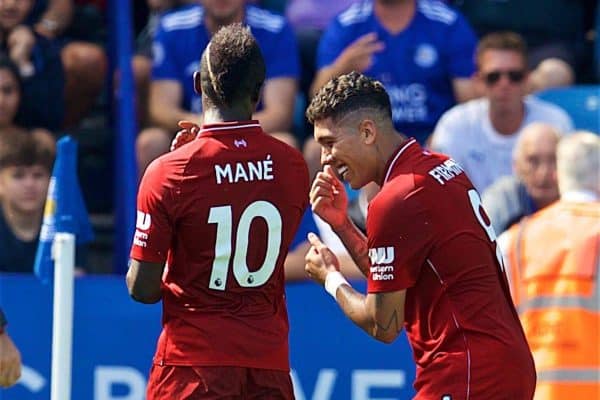 The key battles will involve the Liverpool front-three against our defence.
Their pace and ability will cause havoc against a back-line which has struggled at times this season. I am particularly concerned about David Luiz and Marcos Alonso going forward too often.
The battle between Olivier Giroud and Virgil van Dijk should also be entertaining. Both players are used to winning everything in the air and being physical, so I expect it to be a good match-up between the pair.
Anyone you fear for the Reds, in particular?
Any of the front three really – they play so well together and are so dangerous.
You know they are going to have chances against our defence and it will just be a question of whether or not they can take them.
What would be your combined Liverpool-Chelsea XI currently?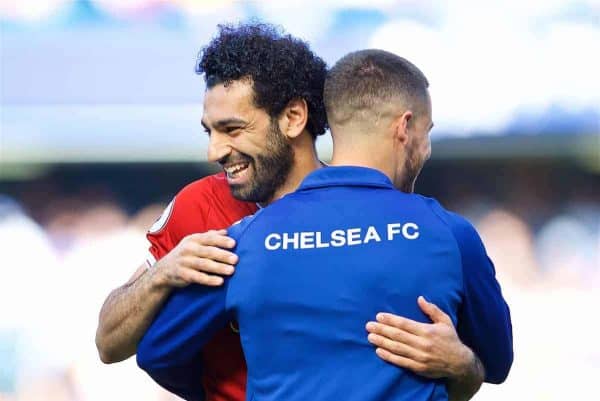 Alisson – Based on reputation as I haven't seen enough of both goalkeepers yet.
Azpilicueta – He remains the best defender in the league in one-on-one situations and rarely drops below an 8/10.
Rudiger – Seems to improve with every game and is becoming a leader within the team.
Van Dijk – Has completely changed Liverpool's defence and turned them into title contenders.
Alonso – Sometimes defensively questionable, he is the best attacking left-back in the league and contributes so many goals and assists for us.
Jorginho – His ball retention and passing ability is so impressive – he has dictated games so far this season.
Kante – Remains the best central midfielder in the league, although he has not been as effective in a more advanced position this season.
Hazard – The best player in the country and he showed on Wednesday night why that is the case. Chelsea fans need to enjoy him while we have him.
Salah – Probably Liverpool's biggest threat and usually so clinical.
Mane – He can sometimes blow hot and cold but on his day he is one of the best around.
Firmino – Makes Liverpool tick and can score, too, which instantly puts him above Giroud and Morata.
Finally, hit us with a prediction for Saturday and how the match will play out…
I'm going to go for a 2-2 draw, in an end-to end-game full of chances.
Both teams are very attacking and it will come down to who takes their chances. If Liverpool keep Eden Hazard quiet they will probably win it.