Jurgen Klopp was seen berating Xherdan Shaqiri after Liverpool lost 2-1 to Chelsea, and the manager has explained what was being said.
The Reds exited the League Cup on Wednesday night, as they suffered their first defeat at Anfield since January.
Daniel Sturridge's goal against his former club looked to have sent the hosts into the fourth round, but Emerson and Eden Hazard had other ideas.
Klopp cut a continually frustrated figure at Anfield – not helped by Emerson's dubious equaliser, in which a soft free-kick was given then VAR failed to award offside from the resulting set-piece.
After the final whistle, Klopp was caught on camera lecturing Shaqiri on the pitch, as opposing players shook hands around him.
The Swiss international was arguably Liverpool's best player on the night, leaving some confused as to what exactly Klopp was saying to him.
Speaking in his post-match press conference, the boss downplayed the affair, saying it was simply to do with a one-off incident:
"I spoke about a free-kick, the last one.

"We wanted to have Mo [Salah] a bit wider, so we had passed the ball to Mo, the whole bunch of players were in one direction – where we shot the ball, actually.

"But if we can send Mo into a one-on-one situation in the last situation of the game, it would have been not too bad. What I said was about the free-kick, nothing else."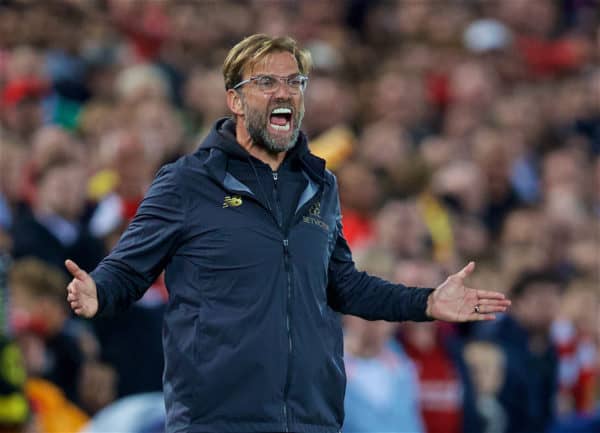 Klopp is forever a manager who will wear his heart on his sleeve, and as always, it's no surprise to see more being made of the incident than needs to be.
The German will have been encouraged by Shaqiri's impact and may feel he can use him in Saturday's trip to Stamford Bridge.
Revenge will be in the air in west London, as Liverpool look to replicate the Blues' class of 2005/06 and become only the second Premier League team in history to win its first seven matches.