Jurgen Klopp refuses to cast Liverpool as Premier League title challengers despite a perfect start to the season that continued with an impressive 2-1 victory over Tottenham.
Klopp hailed his team's best performance so far after goals from Georginio Wijnaldum and Roberto Firmino established a comfortable lead that would have been bigger but for some wasteful finishing.
Tottenham hit back in injury time through Erik Lamela and then had a strong claim for a penalty rejected, but Liverpool had dominated the remainder of the game.
Adding to the good news emerging from the trip to Wembley was confirmation that Firmino's eye injury is not as serious as initially feared – an examination revealed an abrasion without lasting damage – and the Brazilian playmaker remains in contention to face Paris St Germain.
The Champions League showdown with the French champions on Tuesday will offer another gauge of Liverpool's growing strength, but Klopp sees a long road ahead.
"We've won a few games and that's good, very good, but it doesn't change anything," Klopp said.
"We were really good against Tottenham and I'm happy with my squad, but we even had problems with this game so we'll have problems during the season.
"How we'll deal with those problems I have no idea. I'm not the type of person who waits for problems, but I'm old enough to know they will come.
"I'm long enough in this business to know that nobody plays a perfect season. Even City last year didn't play the perfect season.
"At the moment it's OK. We won at Tottenham and that's the only thing I was interested in. So we carry on. It's fantastic that we've won all five games.
"We've improved and this was by far our best performance of the season, so I like that development. Now we have to do it again and again."
PSG launch a testing run of six fixtures that includes games against Manchester City and Chelsea but given their dismantling of Tottenham, Liverpool will enter an important phase with confidence.
"I don't really want to speak about statements because every game is different," Wijnaldum told Liverpoolfc.com.
"Now is Tottenham, but other teams will come. A game is a game, it's not really a statement. You can win today and lose another game."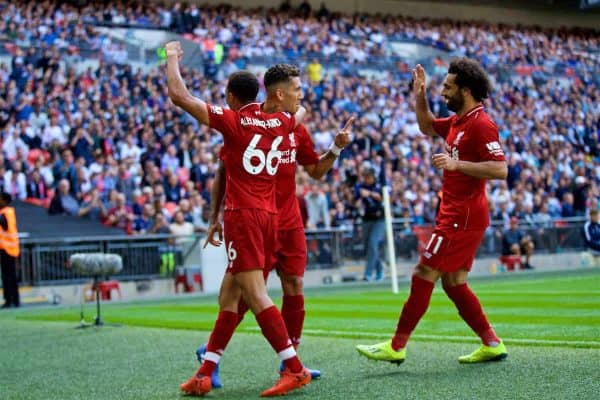 The fixture was due to open the new White Hart Lane only for delays to its £800million redevelopment to extend Tottenham's occupancy of Wembley until at least late November.
Alarm over Harry Kane's lacklustre form continues after he acted as a peripheral figure against Liverpool and Mauricio Pochettino was once again forced to defend England's golden boot winner at the recent World Cup.
"I respect every single opinion, but for me it's a collective problem. I am not going to put the finger on some player. I am happy with all the players," Pochettino said.
"We need to give time to the players to get their best and of course to show our potential in time."