The media felt Jurgen Klopp's development work and Liverpool's completeness as a team shone through in the 2-1 win over Tottenham at Wembley.
The Reds are yet to hit top gear but still managed to make it five wins from five with an excellent victory at Wembley.
Gini Wijnaldum's first ever Premier League away goal and Roberto Firmino's tap-in ensured Erik Lamela's late strike was only a consolation and the 100 per-cent winning record was maintained.
It was a thoroughly deserved victory – though one which should have been more comfortable – and ensures a brilliant start has been made to the season-shaping run of games.
Klopp will be delighted with a statement win at the home of a top-four rival, and here's how the media assessed events at Wembley.
The media praised Liverpool for passing the first big test of the season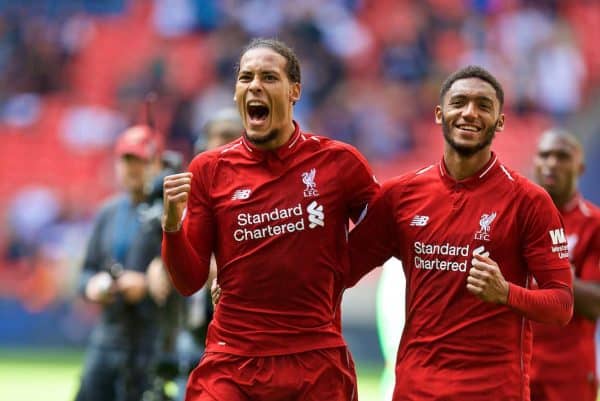 The BBC's Phil McNulty thought the Reds answered the challenge "in the most positive manner possible" to confirm themselves as Man City's biggest competitors:
They answered in the most positive manner possible and confirmed their growing status as the team most likely to topple reigning champions Manchester City.
The Liverpool Echo's James Pearce praised the Reds for proving their title credentials with a "statement" win:
The progress Klopp masterminded last term – coupled with this summer's show of ambition in the transfer market – had pointed to Liverpool being genuine title contenders this time around. Now they have proved it.

[…]

This was a statement win – Liverpool's first away to one of their top-six rivals since they collected maximum points at Stamford Bridge two years ago.
The Mail's Oliver Holt thought Liverpool were simply "in a different class" to Spurs:
They overwhelmed them with their class and with their conviction and with their energy and with their desire. The 2-1 scoreline may not sound as if it were an emphatic performance but that does not tell the story of the game.

[…]

The truth was that Jurgen Klopp's side were in a different class.
The Mirror's Steve Bates was emphatic in his praise, assessing Klopp's men "have the distinct look of champions" with momentum already behind them:
Now after five games and maximum points Liverpool have the distinct look of champions.

The key components are all in place – players, tactics and desire. And they've been bolstered by the unseen factor that categorises all big contenders – momentum.
The Guardian's Daniel Taylor thought the score-line flattered Spurs and didn't reflect the gulf in class between the sides:
If anything, it was a surprise Liverpool restricted themselves to no more goals, the only criticisms being that their final pass was often lacking and their finishing not clinical enough.

The final score hardly does justice to the gulf that existed between the sides.
There were countless positives from the victory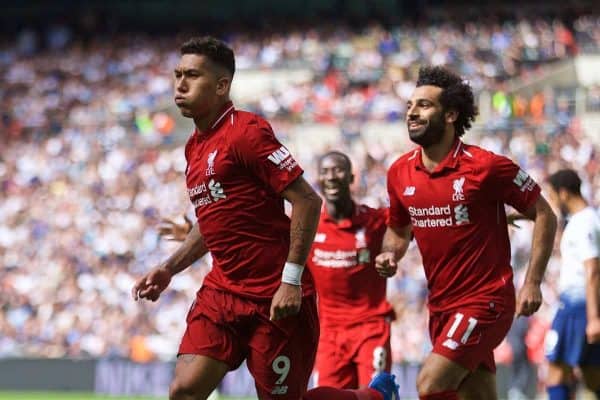 First of all, our own Karl Matchett dismissed suggestions that the win wasn't that impressive coming against a poor Spurs side, assessing that the hosts struggled due to Liverpool's superiority:
Given Spurs' performance, there will doubtless be a few post-game comments that Liverpool didn't face a top opponent; this is both wrong and irrelevant, and ignores the fact the Reds were better set up, quicker in the challenge more often than not and had more players who won their individual battles. One big game down, one victory accounted for.
The Guardian's Barney Ronay thought the ease of the victory was the aspect that will please Klopp most:
What will please him is how little this win seemed to take out of Liverpool.

[…]

Here, every part of the machine looked calm and settled.
Bates thought the most impressive factor was how Liverpool "nonchalantly neutralised" the hosts:
But the real story at Wembley was the way for 90 minutes Liverpool nonchalantly neutralised Spurs who look a pale shadow of the side who recently rocked up at Old Trafford and clipped Manchester United 3-1.
Matchett thought the main plus point comes from the immediate improvement in away clashes at top-four rivals:
Concerns and improvements aside, this three points simply can't be understated. Liverpool didn't fare too well against the top six last year, especially on the road, and Spurs have already beaten Man United this term.

Getting a win, staying unbeaten, staying top of the table—these are all excellent, exceptional factors to take on board at this stage of the season.
On a similar train of thought, the Telegraph's Matt Law thinks the title could even be decided by results in the head-to-head top-six games and praised the Reds for making a strong start in the mini league:
These are early days, of course, but this was a striking victory in a stadium in which Liverpool were beaten 4-1 last season.

This season's title race could effectively be decided by which team comes out best of the head-to-head battles between the big six and Klopp's team are making the early running.
However, Matchett found a small negative in the form of Klopp's go-to defensive substitution in that bringing on Joel Matip and reshuffling the defence is counter-productive:
It might have been expected that Fabinho could make his bow, needing minutes and to beef up the midfield, but again it was Trent off, Matip on, Gomez across from the centre to right-back.

In theory it makes the Reds more resilient at full-back and gives greater aerial dominance, but in truth Gomez is doing so well in the centre that moving him anywhere else simply weakens the line and wrecks the understanding that's clearly in place right now.
Reporters were impressed by how complete Liverpool were both as a team and in performance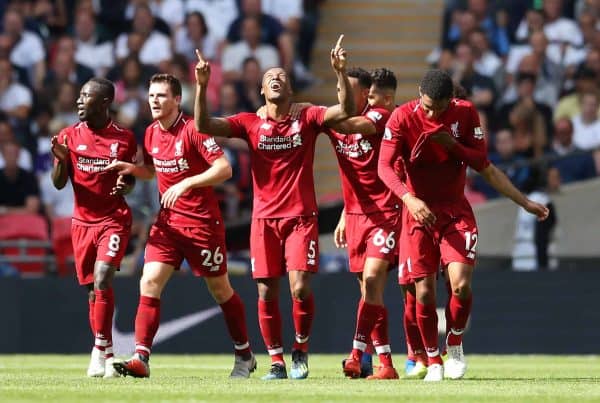 Ronay focussed on how well-drilled and synchronised the Reds were and praised the work ethic throughout the team:
Liverpool were solid in every position, their combinations well-grooved, every starting player blessed with the same intelligence, the same speed and spiky aggression.

[…]

But this was, above all, an expression of the collective, the shared will of those red shirts.
Taylor feels it is time Liverpool were acknowledged as a complete team and no longer just all-out-attack entertainers:
Yet there is also growing evidence that Liverpool can no longer be considered a lopsided team.

The partnership between Joe Gomez and Virgil van Dijk is flourishing and until the five minutes of stoppage time, when the substitute Erik Lamela scored for Spurs, it was difficult to think of another period when Alisson, the away team's goalkeeper, was in sustained danger.
Holt followed that by commenting on how Alisson and Virgil van Dijk have ensured the Reds "are no longer a soft touch" in defence:
For the moment, at least, Liverpool look formidable.

Their investment in Alisson and Virgil van Dijk has made a huge difference to their confidence. Their strength has always been their attack but they had an achilles' heel and other teams knew it. Now they are armour-plated in defence and other teams know that, too. They are no longer a soft touch at the back.
And the Mirror's James Whaling was impressed by how Liverpool have tightened up defensively without losing any attacking sharpness:
And, what's more, their solidity hasn't stifled their attacking play in any way, shape or form.
Meanwhile, McNulty reflected on Klopp's work since his first game in charge at Spurs in 2015, and explained how shrewd squad management and coaching has restored the Reds as a powerhouse:
An examination of Liverpool's substitutes that day, and its comparison to three years later, delivers arguably the starkest illustration of how Klopp has strengthened them into a Premier League power once more.

[…]

Now, so much further into development, Liverpool are looking even more like a team built exactly how Klopp likes it and in the manner of his work when he unseated the superpower of Bayern Munich to twice win the Bundesliga at Borussia Dortmund.
And ESPN's Mark Ogden thought Liverpool showed how far they have come from the Wembley horror show of last season, with this a result of Klopp addressing key weaknesses which has now taken Liverpool past Spurs:
But Liverpool's victory on Saturday and their surge to the top of table is about more than the money they have spent. Klopp has identified weaknesses in goal and in defence and sorted them out by investing wisely in Alisson and Van Dijk.

But while Klopp and Liverpool have built and prospered since last October, Spurs have gone backwards because they have stood still.
Certain reporters offered praise for individual performances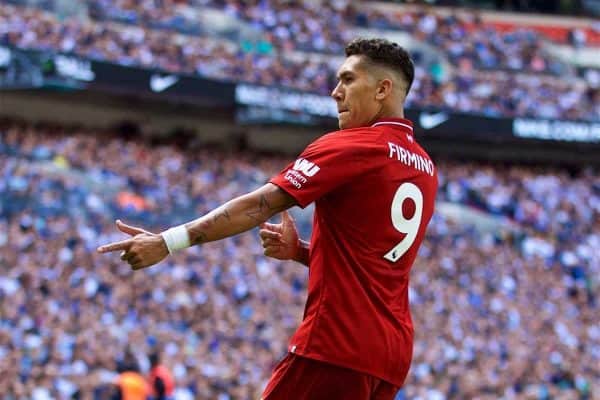 The Liverpool Echo's Ian Doyle eulogised over van Dijk's performance, assessing how the Dutchman "led by example":
This type of game is the type for which Van Dijk was bought, his performance suggesting again that £75million is something of a bargain.

He led by example, always in the right place, always getting something in the way. And when his otherwise excellent partner Joe Gomez was caught by Moura, it was the Dutchman who bailed out his team-mate with a covering challenge.
McNulty reserved special praise for goal-scorer Firmino and praised the Brazilian's recent impact with vital winning goals:
Salah was subdued again but Mane's blistering pace was a constant danger and Firmino's subtle touches and work-rate were a standout.

The Brazilian made a slightly slow start to the season but he has now contributed what proved to be the winning goals in successive away wins at Leicester City and now Spurs.
ESPN's Dave Usher thought Wijnaldum was excellent and justfied Klopp's decision to select him over Jordan Henderson:
Given the nod ahead of Henderson and fully justified his manager's faith. Scored the opener with an excellent header and was a strong presence in midfield throughout. Looks to be a natural in the holding role.
Finally, our own Henry Jackson awarded James Milner Man-of-the-Match:
Liverpool's very own Duracell Bunny started his fifth match in a row and kept up his consistently excellent start to the campaign.

He was full of industry both on and off the ball, and showed tactical intelligence to drift into a right-back role whenever Alexander-Arnold pushed up. Must be a dream to play with – Man of the Match.