Liverpool loanee Harry Wilson scored an incredible free-kick as he helped Derby County to a League Cup victory away to Man United on Tuesday night.
Master met apprentice at Old Trafford as Frank Lampard, in his first foray into management with Derby, took on Jose Mourinho's United in the cup.
Buoyed by an emphatic 3-1 victory over Brentford at the weekend, an unchanged Rams took to the field in Manchester eager to impress.
They went behind within three minutes, however, as Juan Mata opened the scoring for a United side that included Eric Bailly, Nemanja Matic, Anthony Martial and Romelu Lukaku.
This put Derby on the backfoot, and it wasn't until the second half that they got themselves back into the game.
It came down to Wilson to net the equaliser, and the 21-year-old will struggle to score a better goal in his career—sending a remarkable 30-yard free-kick, barely moving, beyond Sergio Romero to make it 1-1.
? A sensational finish from Harry Wilson to level things up!

Man Utd vs Derby is live on Sky Sports Main Event or follow here: https://t.co/F7S9gdjfL0

Follow all the Carabao Cup action here: https://t.co/3e9uA6oyYi https://t.co/gkc9V5A8dj

— Sky Sports Football (@SkyFootball) September 25, 2018
Wilson, who has been with Liverpool since the age of eight, wheeled off in celebration emulating his lookalike, Fernando Torres, holding up the '5 times' to the Old Trafford crowd.
This sparked Derby into life as the game swung in their favour, and things got even better when Sergio Romero was sent off for handball outside the penalty area.
It came as Wilson surged behind the United defence to latch onto a long pass, with Romero charging out of the box in a futile attempt to thwart the Welshman.
Jack Marriott made it 2-1 to Derby on 85 minutes to set up a tense finale, with Lampard sending on ex-Reds defender Andre Wisdom in an effort to hold on.
Unfortunately, a late equaliser from Marouane Fellaini set up a penalty shootout.
But Wilson netted his spot-kick in a dramatic end the game, with another former Liverpool player, Scott Carson, the hero as he denied Phil Jones to book Derby's place in the fourth round.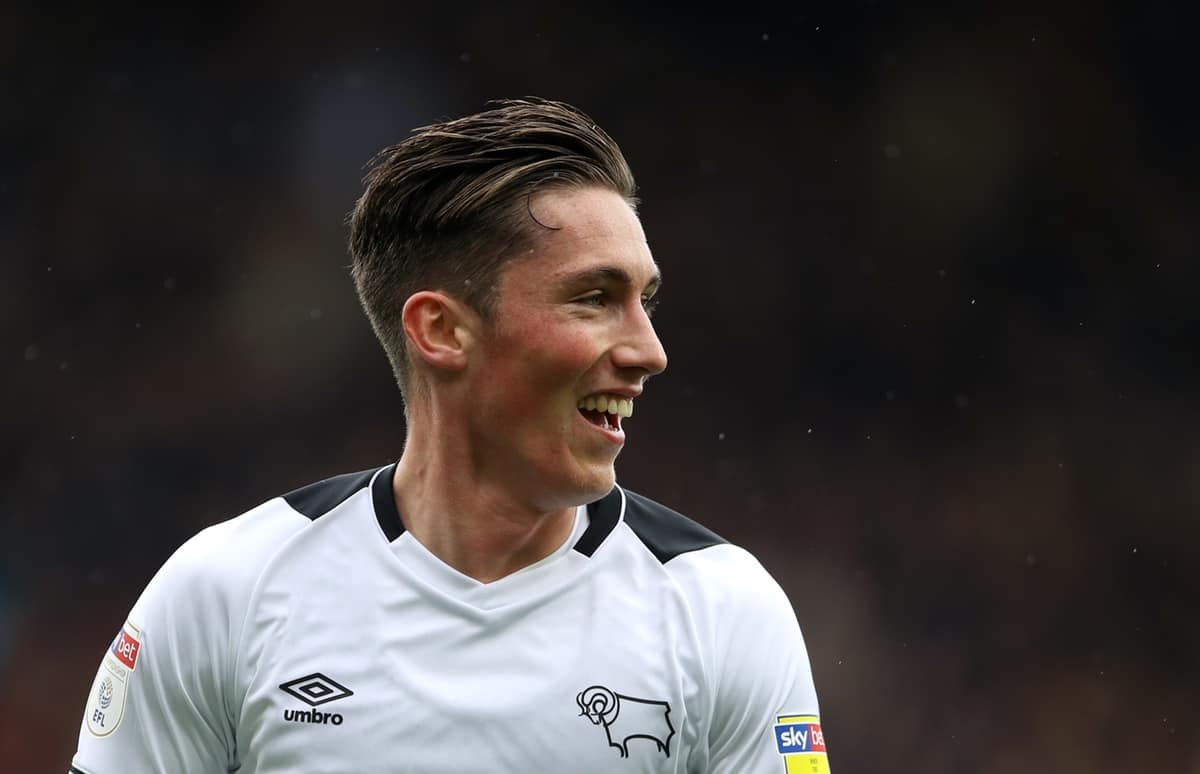 As Derby await their fate on Saturday, Wilson's beautiful free-kick will remain the lasting memory from this clash, particularly as he aims to catch Jurgen Klopp's eye in the long term.
He certainly impressed those watching on, with Liverpool and Derby team-mates, ex-pros, journalists and supporters all hailing the winger on Twitter:
WHAT A GOAL @harrywilson_ !!!! MY BRO ????????

— Rhian Brewster (@RhianBrewster9) September 25, 2018
Oh my! @harrywilson_ that is simply ridiculous ?????? #dcfc #derby #rams

— Stephen Warnock???? (@StephenWarnock3) September 25, 2018
What a hit! @harrywilson_ ???

— Curtis Davies #33 (@TheCurtisDavies) September 25, 2018
"He's got that strike on lock, so when he stepped up we all backed him."

– Derby's Jack Marriott, speaking to Sky Sports.
Brilliant Harry Wilson.

— Tony Barrett (@TonyBarrett) September 25, 2018
Wow.

Harry Wilson ??

Hit son, what a

— Melissa Reddy (@MelissaReddy_) September 25, 2018
Harry Wilson lighting up Old Trafford ??

— James Pearce (@JamesPearceLFC) September 25, 2018
He may not be the biggest or quickest, but there's never been any doubts about Harry Wilson's ability to produce sheer moments of magic. Some players just have that knack – and he's certainly one of them.

— Glenn Price (@GlennPrice94) September 25, 2018
Go 'ead Harry Wilson ??

— The Redmen TV (@TheRedmenTV) September 25, 2018
Harry Wilson has the next Puskas award in the bag.

— James Nalton (@JDNalton) September 25, 2018
Hahahaha Harry Wilson doing the 5 times to the United fans.

Be in our squad next season without doubt, top talent.

— MH (@MarkHughes_) September 25, 2018

https://twitter.com/TheKopMagazine/status/1044683668160229382
Speaking before the game, Wilson spoke of his desire to put United to the sword, like "every Liverpool fan and Liverpool player."
"I'm really looking forward to going there in a first-team game and putting in a good performance," he said.
"I think if we play the way we have in the last couple of games we can go there, put in a good performance and get a positive result.
"Every Liverpool fan and Liverpool player would love to go to Old Trafford and win every time we go there but we know they are a good team and we will have to be on top of our game."
He certainly did that, and now with two goals in two games since returning from injury, Wilson looks to be hitting top form as he takes the next step on loan.