Joe Gomez sat down with FATV to give his impression on life back in the England squad, and the competitive streak behind Trent Alexander-Arnold's rise.
Gomez is expected to make his first competitive start for the Three Lions on Saturday night against Spain, as they kick off their UEFA Nations League campaign.
Though it may be a largely trivial tournament designed to heighten interest during international breaks, it provides the likes of Gomez and Alexander-Arnold much-needed experience.
They are among the youngest in Gareth Southgate's squad this month, but due to their excellent displays for Liverpool there should be no reservations over including them.
For Gomez in particular, the upcoming clashes with Spain and Switzerland are highly anticipated, having been omitted from the squad for the World Cup due to an ankle injury.
Now back in the fold, he spoke to FATV's Craig Mitch about the disappointment of not being on the flight to Russia, and his pride at getting his recall.
"I'm buzzing, it was tough missing out and getting injured when I did it because it's a dream to go to a World Cup," he said.
"It was difficult, but getting called up again helped me put it behind me and just move on. It wasn't meant to be, and I'm happy to be here.
"It means a lot to me and obviously I'm still quite new to the squad so you still get that feeling inside when you see your name."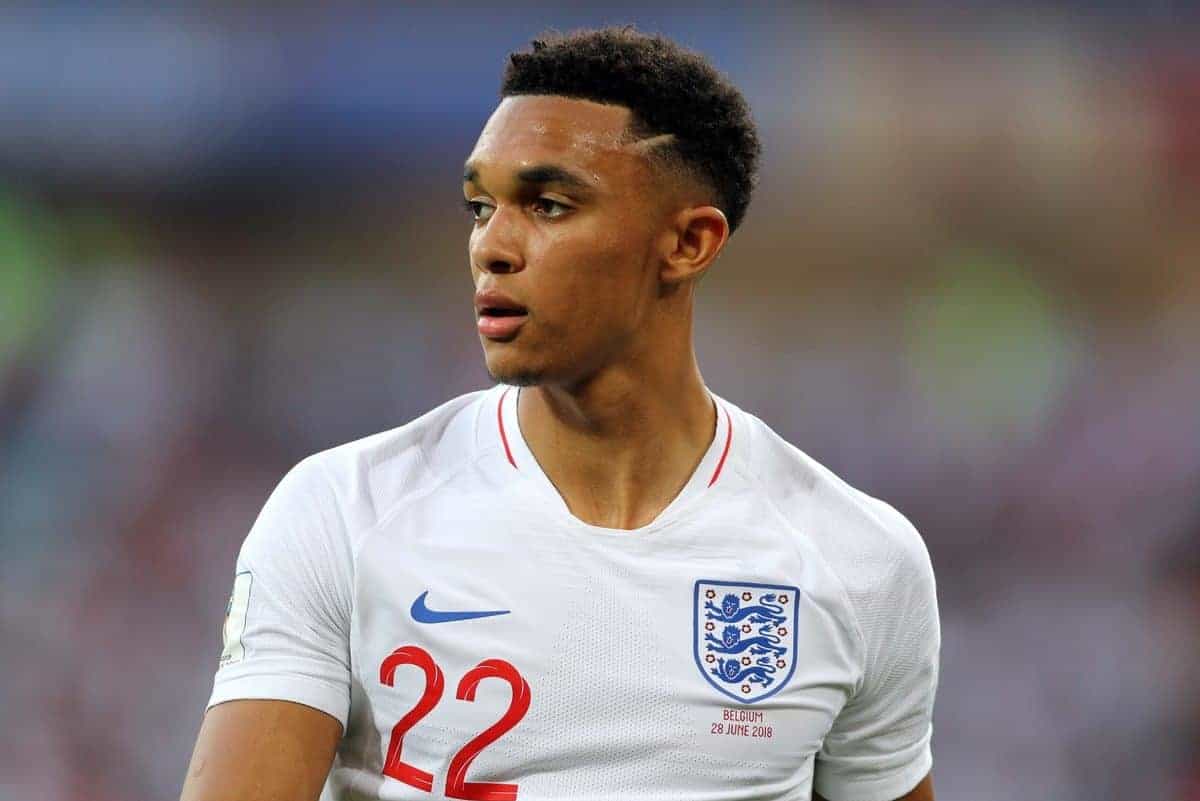 Alexander-Arnold was part of the squad for the World Cup, though he didn't feature regularly due to the outstanding form of Kieran Trippier, and will be fighting for a place this month.
His winning mentality was already highlighted in his friendly argument with Jesse Lingard on the training pitch—which he settled by completing the crossbar challenge first time.
And Gomez hailed his team-mate for club and country, saying "you think he's quiet but he wants to win, all the time."
"Top player, he's obviously got a joke of a delivery and it's great playing alongside him obviously," he explained.
"Last year we were both playing full-back, I think we pushed each other a lot.
"Obviously it was good to get the opportunity in the games we did, but this year as well, playing alongside him.
"I'm playing in the centre and he's right-back, [we have] a good relationship, I know his strengths and how good he is going forward and defensively."
The 21-year-old also discussed the difference between training under Southgate and Jurgen Klopp, and his feelings ahead of returning to Wembley following his dream first start against Brazil in 2017.