Liverpool's fan base extends to all corners of the world and to get the inside story on one of the supporters groups in Hong Kong we spoke to one of the group's committee members, Ian McAlan.
Hong Kong, a dynamic city where the 'East meets in the West' in a blend of cultures, is home to thousands of expatriates, people who live outside their native country. It is a transient community and one which often tightly bands together over a common interest.
For Ian McAlan and the Hong Kong Expatriate Supporters Group it is the sense of belonging which Liverpool Football Club provides year-round. From forming their own football team to working closely with the charity Camp Quality, the Hong Kong Reds congregate for more than just ninety minutes at a time.
Hong Kong's unique mix of cultures also ensures a local branch sits alongside the expatriate one, and although there is often a language barrier the shared passion and love for the club is a form of communication all in its own.
This Is Anfield spoke to Ian, originally from Liverpool, to gain an insight into life supporting the Reds almost 6,000 miles away.
Community Spirit is at the Heart of Everything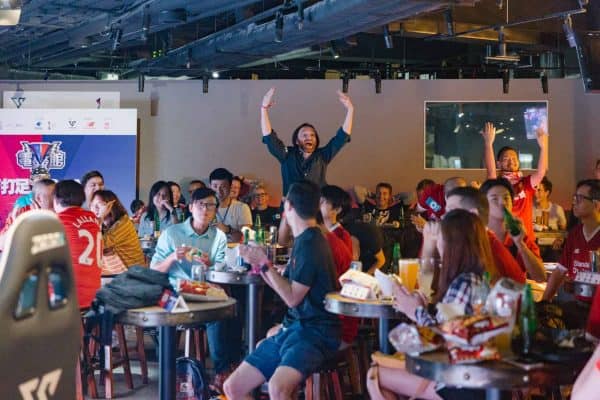 "I was born and bred in Liverpool and then came out to Hong Kong in 1997. I still tried to follow Liverpool as much as I could, but you know it was significantly more difficult obviously, especially back then.
"If ever there was a Liverpool game being shown live, the occasional Sunday game, then it was really something that you would gather around for and congregate with other people. I found myself going regularly to a particular Irish bar, other Reds would be there, and then while watching a game I met a guy who actually started the supporters club in Hong Kong and I signed up as a member.
"That guy subsequently left Hong Kong but through being more and more involved in the supporters club I eventually I got around to taking over part of the running of the club but with other people."
The Hong Kong Reds have now been in existence for over 16 years, but the spirit of the club has always been integral to its operation.
"Our ethos always centres around Bill Shankly's quote about being part of the Liverpool family. You know holding your head up high and being able to say 'We are Liverpool' and that's really what drives us.
"It is being able to enable people to come together if they want to feel a part of that family even though they may be very far away from them, which obviously we are in Hong Kong.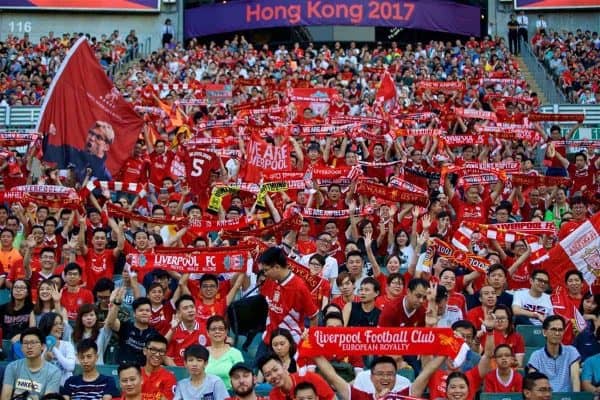 "People come and go and pass through Hong Kong so the membership can be very transient. There are obviously English language speakers, so that takes in the English, Scots, Irish, Welsh, we have got all of those. We've got Americans and Canadians, Aussies, Germans, the French, and the Dutch.
"I guess really anyone who feels that English is a bit easier for them to speak than Cantonese.
"Everything we are about is about getting people together. It's not so you can say 'I'm a card-carrying member of a supporters club', it's being more active than that and coming together. We do events and try to raise money for a local charity, and so it's all about that community and family idea.
"You are sort of going off the idea that people, when living so far away from home, are looking for something in common anyway because the sense of familiarity is quite comforting.
"I'm sure most will feel the same that all clubs have a community type of spirit but there is something just a bit more special about Liverpool. We certainly feel that here and it absolutely drives everything we do."
Tradition and Commitment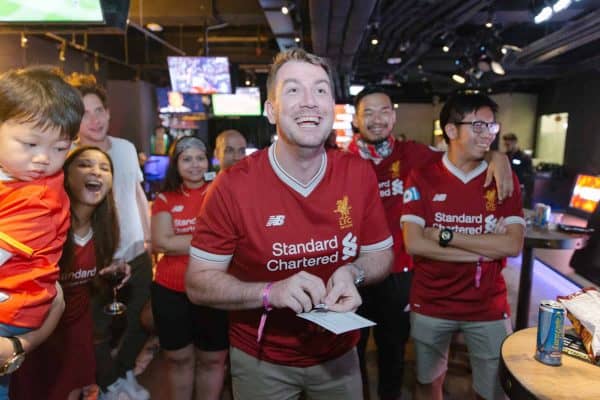 Part of supporting Liverpool from afar is the late nights and early mornings, but the commitment to watching the Reds and making lasting memories together ensures it is all worthwhile for those in Hong Kong.
"We do every weekend game irrespective of whether it's FA Cup, Premier League or the League Cup. Obviously, the time difference changes to either seven hours or eight hours so that could mean a kick off can be 10 or 11pm.
"If it's the late Saturday one that means it's 12:30 or 1:30 in the morning kick off here and obviously if it's a half past midnight kick off on a Sunday going into Monday the attendance tends to be slightly less, but you'll always get your hardcore who turn out.
"It feels like a bit of a mini Kop, we have got a good atmosphere going and plenty of singing and shouting.
"The only ones we don't do initially are the midweek games, so if it's a cup game, a league game or the Champions League games we tend not to get together for those, but if we are progressing further we definitely do – so last season, for example, was fantastic.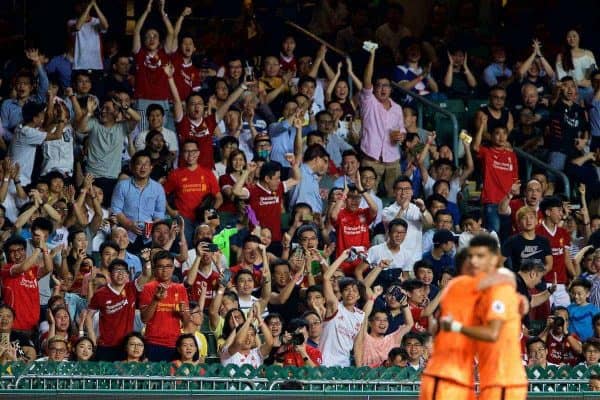 "Even though it's like four o'clock in the morning kick off we were filling out the space and we had to find a bigger bar, unbelievably. Some people were coming in for 4:00am having a couple of Cokes and then at 6am going in to the office."
On an experience which continues to live long in the memory and now serves as a small tradition at their regular meeting point, Ian explained: "We went to a Liverpool supporters club tournament in Malaysia a few years ago and Gary McAllister was there helping to give out prizes, and basically there was a futsal tournament and they had quizzes and also a singing competition.
"Now we were hopeless at the football, we were pretty rubbish on the quiz as well, but we won the singing competition, so we were the best singers in Asia.
"We won with a rendition of 'Poor Scouser Tommy', so we always bust it out at some point during the game and we like to claim it as an award-winning version of the chant. It's part of that craic and banter that makes sort of attending the games special."
A Perfect Blend of Cultures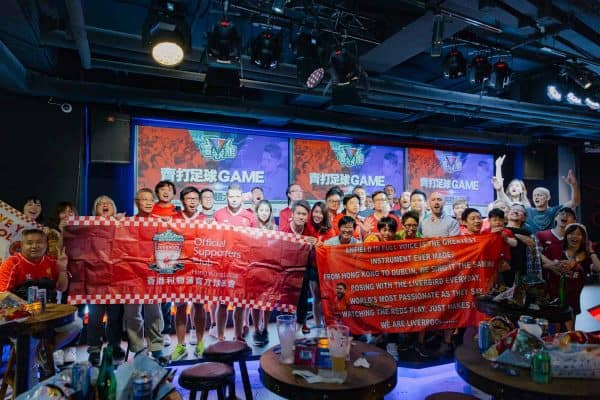 Hong Kong is home to over seven million people, a population which is influenced by a wide variety of cultures from around the globe, and it is home to Liverpool supporter groups for both Cantonese and English-speaking Reds – a relationship which transcends language barriers.
"There is that split of the expatriate community and the local community. English is still spoken quite a lot here so despite being all the way in Asia, our group is specifically English language speaking. I guess that is unique in Hong Kong because there are other supporters' groups but they're all Cantonese speaking and all their activities are conducted in Cantonese.
"We have a very good relationship with them, the stumbling block obviously is our language and a lot of their members speak next to no English and a lot of our members speak next to no Cantonese.
"But we do a lot of stuff with them so for example, recently we all got together on a big roof top in Hong Kong and watched the Champions League final together, and obviously them being the local branch they got significantly bigger numbers.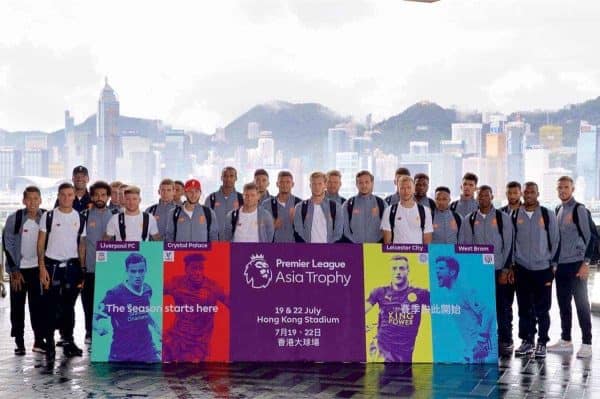 "There were hundreds of us on a rooftop and they actually bought a full-size replica of the Champions League trophy and they had that lined up and people could take photos. And any big game during the season, like your Man City game or Arsenal, if it's a good decent time we'll get together with them.
"So we really do try to make an effort to maintain that because again it's that whole family thing, the commentary language is the most significant separation between us as they prefer to watch it in Cantonese, but we still want to make it that that's the only thing that separates us.
"In terms of ethos and community, we are essentially the same. It's great to have that link, to be able to be somewhat separate but also together in support of Liverpool."
---
Thanks again to Ian and the Hong Kong Expatriate Supporters Group, you can find them on Facebook here.