Liverpool fans and players alike were left disappointed after a poor performance and defeat to Napoli in the Champions League on Wednesday.
The Reds had only suffered one defeat in all competitions this season, against Chelsea with a second-string team on the pitch.
Jurgen Klopp's first-choice lineup had gotten the job done with a win in every game until the weekend, when they drew at Chelsea in the Premier League—but the midweek affair in Naples was a low point.
Liverpool never really got started, barely threatened David Ospina in goal and suffered a late 1-0 loss after Lorenzo Insigne scored in the 90th minute.
Midfielder Gini Wijnaldum admitted the home side deserved the points, and told Liverpoolfc.com that the result was a "reality check."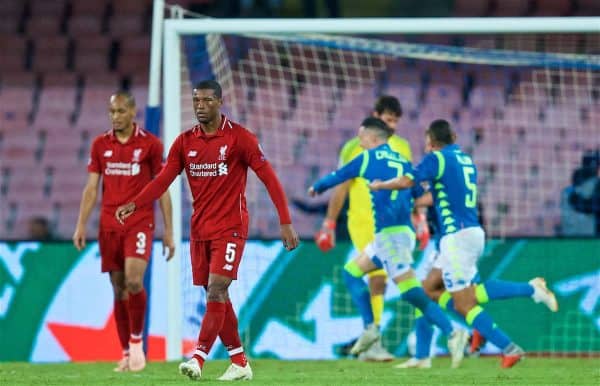 "You're always disappointed when you lose a game. We didn't play well and they deserved to win. They had a good chance before the goal.

"They were calmer than us on the ball, they defended well and stopped us creating chances. It was not a good day for us. They deserved to win.

"It's a good game to learn from. That's what we're going to do – we're going to analyse the game and see what we can do better.

"We know what we can bring, we still have confidence. But this was a reality check on how things must not go. It's a good lesson for us to get better. We have to take it as a lesson and then we have to carry on."
On exactly why the Reds couldn't click into gear, Wijnaldum largely echoed the thoughts of his manager after the game: not enough care taken in possession, not good enough defensive work.

"We wanted to rush things and play football, instead of keeping the ball and waiting for the moments.
"They did well; they were calm and played the ball around and waited for the moments. That's why they were so good.
"We have done it better this season, so we can do it – but we have to do it every game. That's why we're all so disappointed, because we expect more and to bring more. It didn't happen but we still have four games to go."
The Reds now face Serbian side Red Star Belgrade in a double-header in Champions League action, but before then a return to form must be found for the weekend Premier League clash against Manchester City.
Liverpool and City sit level on points atop the table, with Pep Guardiola's free-scoring side ahead on goal difference.
"Keeping the ball and waiting for the moments," as Wijnaldum put it, is never more important than against the champions, and Klopp knows his team must produce a response.