Jurgen Klopp has developed an exciting, powerful Liverpool squad since taking charge three years ago, and the difference between his 'best XI' in 2015 to now underlines this.
The international break is here, leaving us twiddling our thumbs, staring longingly into space and thinking about Liverpool's next game – at Huddersfield a week on Saturday.
The October international break of three years ago was markedly more exciting, with Jurgen Klopp being appointed Liverpool manager.
In order to assess just how far Klopp has improved the squad, we're taking a look at the head-to-head for each position in what was Klopp's 'best XI' (if there is such a thing) in his first season, compared with now.
Goalkeeper: Simon Mignolet vs. Alisson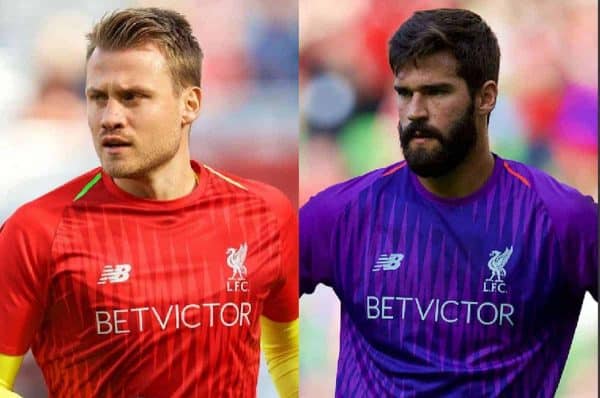 The first of a number of no-brainers.
Simon Mignolet is a good goalkeeper, which qualifies him for a mid-table Premier League team, but he has never been Liverpool quality.
On the other hand, Alisson has strutted into Anfield looking the part from day one and, barring the error against Leicester, he has been immaculate. The Reds have one of the best in the world in their ranks.
Winner: Alisson
Right-back: Nathaniel Clyne vs. Trent Alexander-Arnold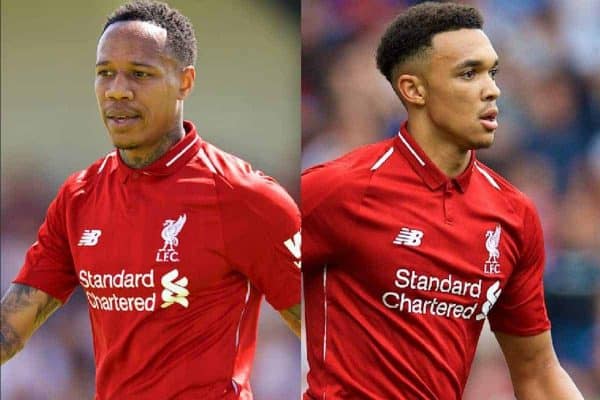 On the whole, Nathaniel Clyne has enjoyed a solid Reds career, one that may now be slightly underrated because of his injury problems.
He possesses nowhere near the natural talent and attacking verve of Trent Alexander-Arnold, however, with only one ever feeling like a 'Klopp player.'
Clyne is strong defensively, but his young team-mate will only improve in that area, as well as outshining him in all other facets of his game.
Winner: Alexander-Arnold
Centre-back: Martin Skrtel vs. Dejan Lovren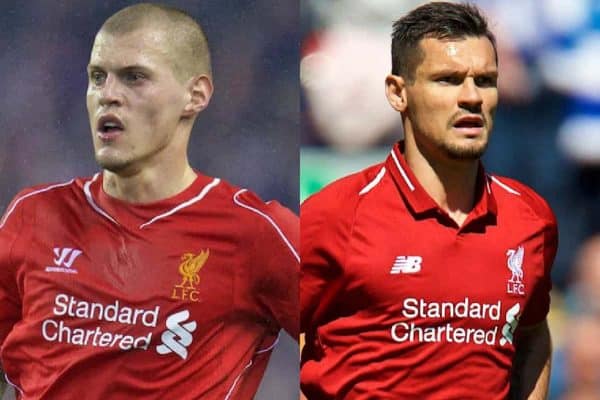 Two of Liverpool's more full-hearted centre-backs of the Premier League era, it's fair to say Martin Skrtel and Dejan Lovren have never been universally popular.
It is Lovren who is the superior of the two, backing it up by reaching both the Champions League and World Cup finals this year.
Both have 'rash' written all over them, but it is also impossible to deny that they are, or were in Skrtel's case, capable of excellent performances.
Joe Gomez isn't selected because he has only just started playing at centre-back under Klopp; it won't be long until he comfortably usurps both, though.
Winner: Lovren
Centre-back: Mamadou Sakho vs. Virgil van Dijk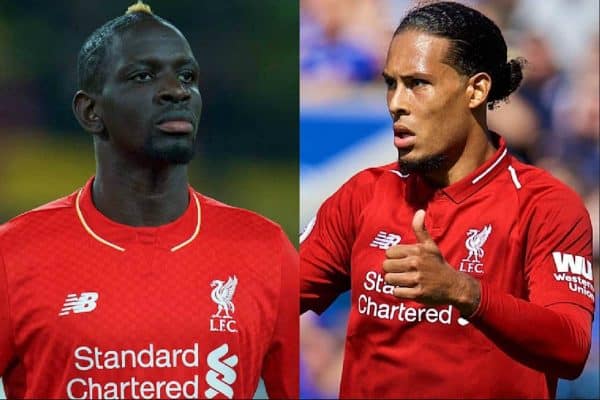 Few Liverpool centre-backs have divided opinion like Mamadou Sakho; depending on your stance, he is seemingly either a circus act or a misunderstood colossus.
In truth, he is somewhere in between, which means he isn't fit to lace Virgil van Dijk's boots.
The Dutchman is one of the best defenders in Europe at the moment and there is a strong argument to say he is the most important player at the club.
Winner: Van Dijk
Left-back: Alberto Moreno vs. Andy Robertson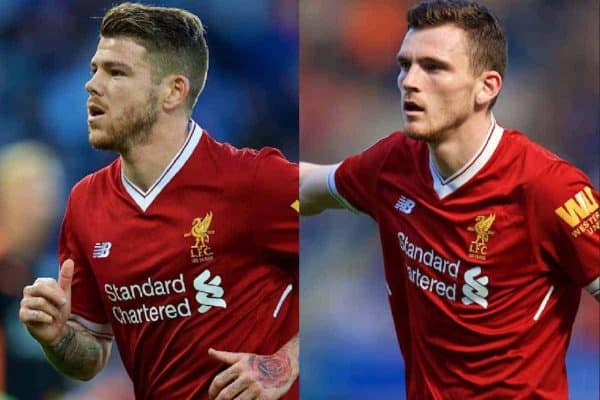 This is another no-contest, although you wouldn't have believed there would be such a chasm between Alberto Moreno and Andy Robertson this time last year.
At that point, the Spaniard was first-choice, with Robertson still getting used to his new surroundings—but things have changed dramatically since.
Liverpool's newest left-back is better defensively, slicker in possession, more consistent and more intelligent than Moreno.
Winner: Robertson
Holding midfield: Lucas Leiva vs. Jordan Henderson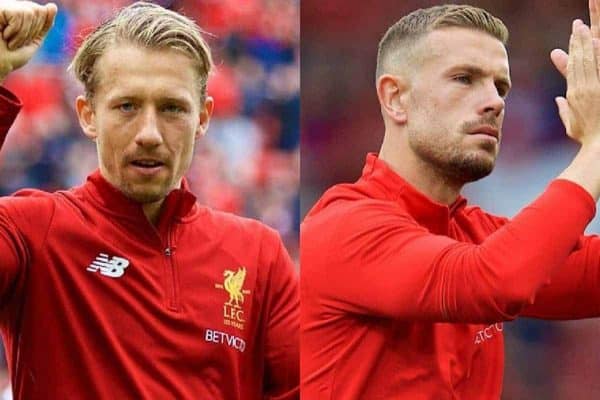 Lucas Leiva is something of a cult hero to many Liverpool supporters, but others struggled to ever warm to him in quite the same manner.
A divisive nature is something that also defines Jordan Henderson: a criminally underrated footballer, but one who is still far from perfect.
The Reds' skipper is a more effective all-round footballer than Lucas, possessing more energy and creativity in that deep-lying No.6 role.
Winner: Henderson
Centre midfield: Emre Can vs. Gini Wijnaldum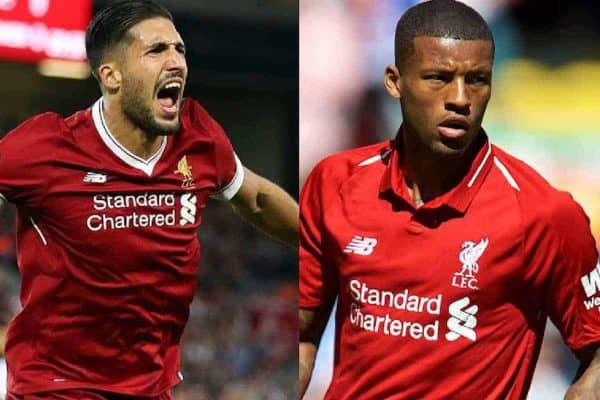 This is the first genuinely tough comparison, even though Emre Can and Gini Wijnaldum are such contrasting players.
One, Can, you can't help but notice at all times, both for good and bad reasons, while the other, Wijnaldum, is clever and understated in everything he does.
Can is an extremely gifted footballer whose best performances were to a higher level than Wijnaldum's, so he just edges it.
Winner: Can
Centre midfield: 'Old' James Milner vs. 'New' James Milner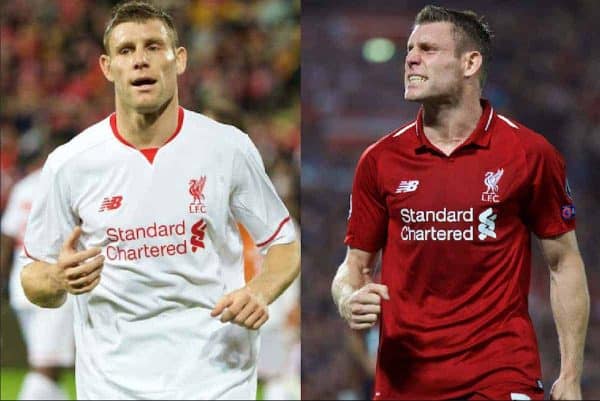 Be honest, who thought James Milner would actually be better three years after he joined Liverpool?
He was 29 at the time of his arrival, and even at that point was seen to be a little past his peak and nothing more than a squad player.
Milner has been magnificent in 2018, however, finding another gear and proving to be one of Liverpool's best players in the early stages of this season.
Winner: 'New' Milner
Forward: Philippe Coutinho vs. Sadio Mane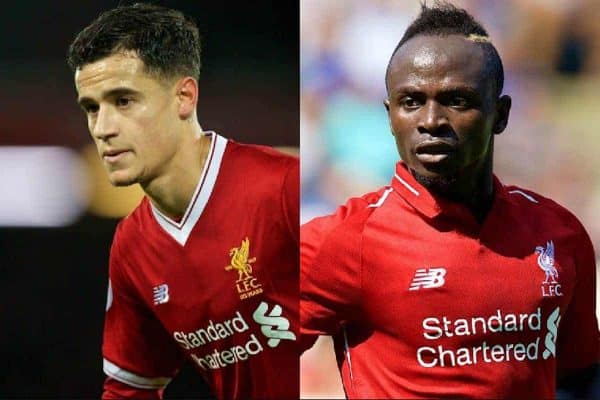 This genuinely is one that could be won on the toss of a coin.
Philippe Coutinho is a magical individual who gave five years of excellent service to the Reds, scoring many sublime goals along the way.
Sadio Mane, meanwhile, has been a revelation since signing from Southampton, scoring 37 goals in 84 appearances and combining blistering pace with clever movement and a selfless work ethic.
Coutinho is the more gifted player, but Mane is more effective in Klopp's system, which means he wins it by an absolute whisker.
Winner: Mane
Forward: Adam Lallana vs. Mohamed Salah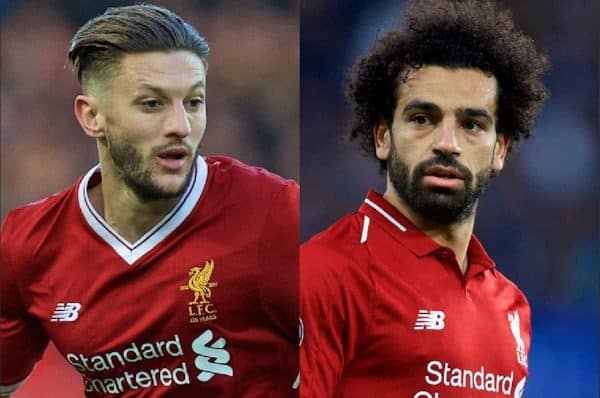 Mohamed Salah wins this hands down.
The Egyptian King has been staggeringly good in the last 12 months, netting 47 times in just 63 matches and producing one of the greatest individual seasons ever by a Liverpool player.
In contrast, Adam Lallana's time with the Reds has left us feeling shortchanged, despite seeing flashes of his class, most notably at the start of 2016/17.
Winner: Salah
Striker: Divock Origi vs. Roberto Firmino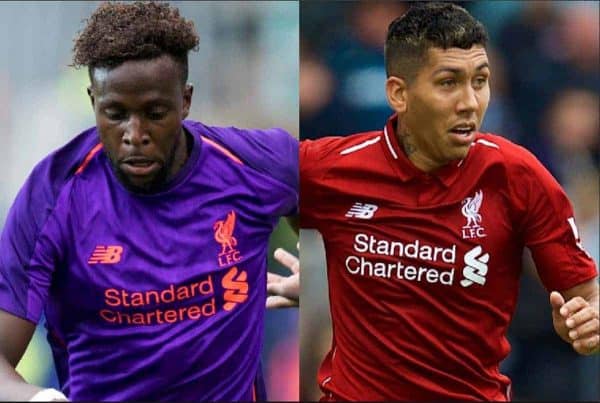 Another landslide!
You couldn't find two more different strikers than Origi and Roberto Firmino if you tried, with the Belgian solely reliant on physicality, pace and little else.
Firmino is one of the most gloriously unique Liverpool players of all time, with subtle genius in his boots, but also the work rate of Dirk Kuyt.
Winner: Firmino
In summary…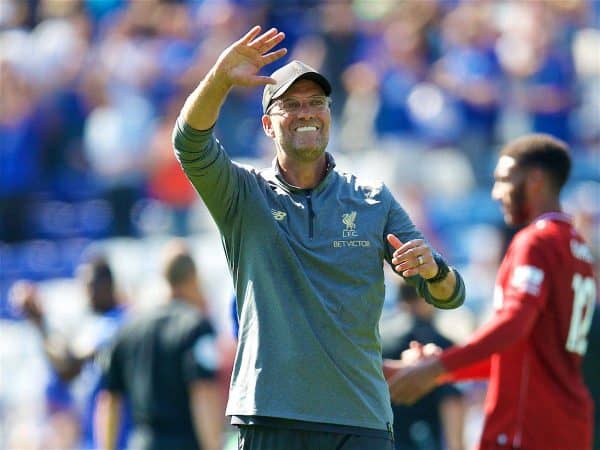 Some may argue that to only have one of Klopp's inherited XI is being too blinkered in favour of the current crop, but it is tough to justify anything different.
Can over Wijnaldum is a difficult call in itself, while you couldn't have too many qualms if Coutinho was selected over Mane.
Lucas may be better than Henderson in the eyes of a few, but the other comparisons are generally very one-sided.
All it does is prove how vast Liverpool's progress has been with Klopp at the helm.