Four games without Liverpool's prodigious attacking three scoring a goal, four games without Liverpool winning a game. There's a problem with a lack of goals from elsewhere.
The defence is sorted, the attack is sorted, but by now, most supporters have acknowledged a lack of goals from Liverpool's midfield as being an issue that needs to be improved.
If they haven't, manager Jurgen Klopp certainly has; so much so that he wanted a completely new midfield three in the summer, signing Fabinho and Naby Keita and all-but signing Nabil Fekir.
That trio were identified to solve the problem of Liverpool's one-dimensional midfield, in terms of goals, assists, dribbling ability and finding a key pass against packed defences.
With Keita and Fabinho having slow starts so far, and Fekir of course not completing the move to Merseyside, it's been the trio of Jordan Henderson, James Milner and Georginio Wijnaldum who have continued in Klopp's engine room for the majority of the opening eight league games.
Keita has been rotated in and out, but between the four of them, they've contributed two league goals in these eight games – one each for Milner and Wijnaldum.
That's equalled Wijnaldum's single goal for last season, and, incredibly, bettered Milner's zero league goals of last season.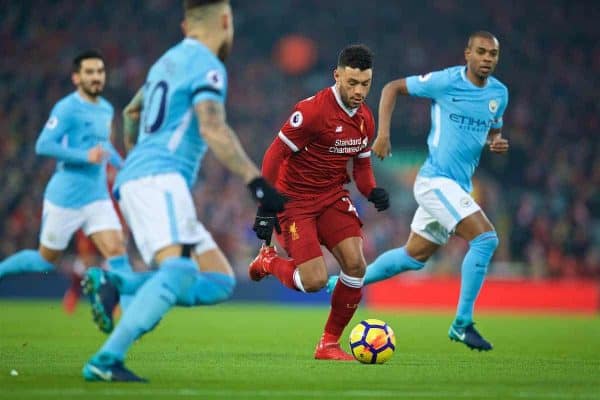 Indeed, last season's top scoring centre-midfielders for Liverpool were Emre Can and Alex Oxlade-Chamberlain – each with just three goals. Neither are available for Klopp this season, with the former leaving and the latter sidelined with a serious knee injury.
And although not all his appearances were in a midfield role, Philippe Coutinho provided seven league goals before his January departure. That means 13 goals from midfield have, effectively, been lost from Liverpool's total of 15 last season.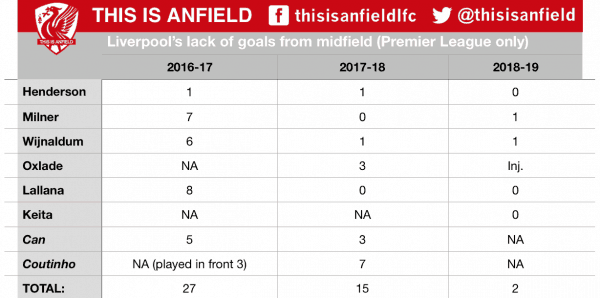 Yes, of the midfielders available to Klopp this season, they only scored twice for Liverpool in the Premier League last season.
Comparing to previous title winners
Even if we include Coutinho's tally, last season Liverpool's midfielders scored 15 goals. Title winners Man City's scored over double that – 32.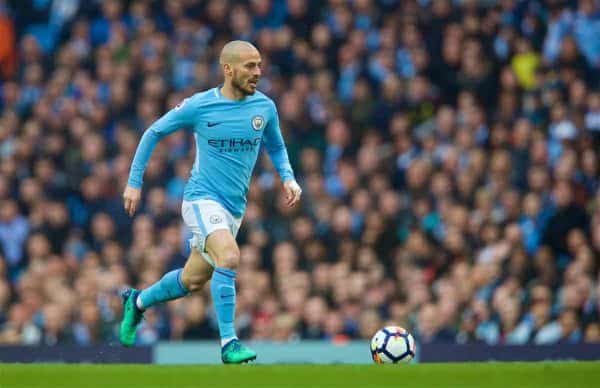 Those were David Silva (9), Kevin de Bruyne (8), Bernando Silva (6), Fernandinho (5) and Ilkay Gundogan (4). Every one of City's midfielders scored more league goals (emphasis on league here as we're only taking Premier League in this piece) than any of Liverpool's.
Even centre-back Nicolas Otamendi (4) outscored any of Liverpool's current centre-midfielders.
Of course, last season Liverpool's attack hit 57 league goals between them, but Klopp probably knew that that wasn't sustainable between just the three of them (City's attack scored 62 between them but that included Gabriel Jesus with 13 – Liverpool's equivalent backup striker, Daniel Sturridge, scored two).
The season before, when Chelsea won the title, again one of their centre-backs scored more than any of Liverpool's centre-midfielders, Gary Cahill (6). Wing-back Marcos Alonso has 13 goals in the last two seasons – more than all Liverpool's full-backs during the same period.
The issue, you could argue, isn't restricted to non-goalscoring midfielders, but also to the whole of the rest of the team not contributing. Most title-winning sides have a goalscoring centre-back who provides half a dozen goals, usually off set-pieces.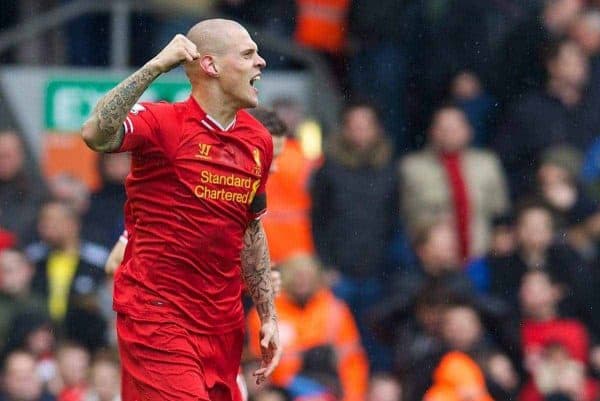 In 2013/14, Martin Skrtel scored seven league goals. That kind of output from Virgil van Dijk, Dejan Lovren, Joe Gomez and Joel Matip, even between them, would be welcome this season and go some way to relieving the pressure on the front three.
Regardless of the lack of goals from elsewhere, it doesn't mean that the lack of goals from midfield isn't an issue, it is!
The signings and solutions
While this is all quite worrying, what's pleasing is that Klopp has definitely identified the issue – again, why else did he want three new midfielders in the summer!
And that's backed up when you looked at Fabinho, Keita and Fekir's goals in the last two seasons.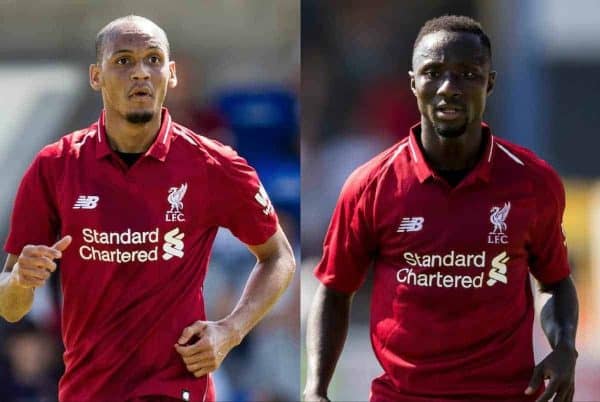 Fabinho, despite being a holding midfielder, scored seven (three of them penalties) in the league last season and nine (seven pens) the season before.
Keita hit five last season, eight the season before. So again, more than any Liverpool midfielder in that time.
Fekir, well he scored 18 in Ligue 1 last season and nine the year before. Numbers no Liverpool midfielder has got close to since Steven Gerrard departed.
Liverpool added another player who could become a solution; Xherdan Shaqiri. It was claimed that he was not a backup signing for Fekir, but he may need to become one to solve the issue herein.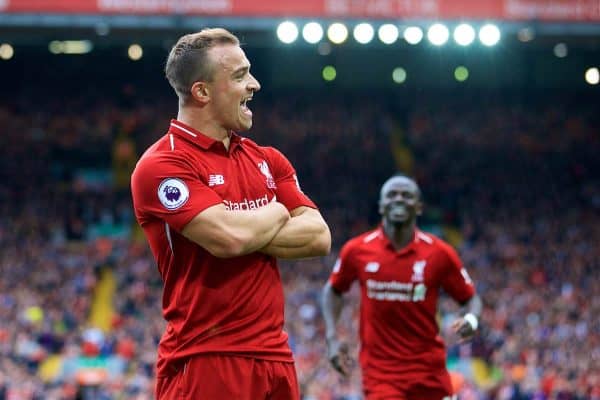 Despite the Swiss international never actually playing in a midfield three before, he could be developed in a similar way Oxlade-Chamberlain was, to be the attacking one of the three.
Shaqiri clearly has an eye for goal, with eight last season for relegated Stoke, but it's whether he can do the work off the ball that Klopp demands – as we saw when he was subbed at half-time despite an impressive 45 minutes as the No.10 against Southampton.
Arguably, that 45 minutes was the most threatening Liverpool have looked this season, with the opponents not simply having the front three to contend with. It left Southampton chasing shadows in the manner we're more accustomed to.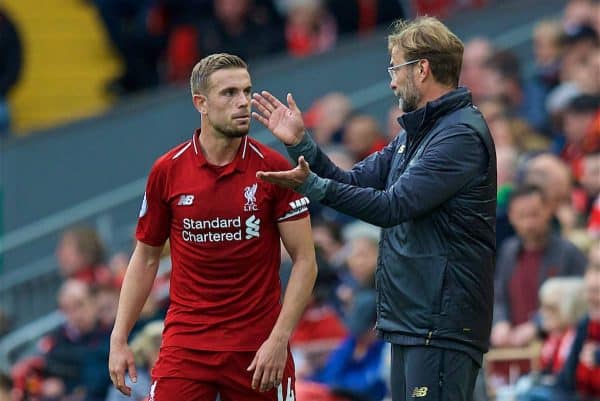 The problem with the current midfielders isn't just their lack of goals, but also their lack of assists, and indeed even their lack of attacking impetus – with just 22 touches inside the opponents' penalty box between Liverpool's midfielders in the last SIX games.
When your midfielders are touching the ball, on average, less than four times between them in the opponents' penalty area, it becomes far easier for opponents to focus on the other threat – the front three – and nullify them.
One player we've not mentioned much here is Adam Lallana, who scored eight goals in 2016/17 after being converted into a centre-midfield role. He's probably not the solution going forward, but he does at least make third-man runs and get into the penalty box.
Fekir, it seems, was the solution, but it didn't happen and now Klopp must use this current international break to come up with a system that gets his midfield supporting the attack more, therefore forcing opponents to have more to worry about when defending.
Whether that is changing to 4231 to play Shaqiri in the No.10 role, bringing in Fabinho, or carving Keita into the 'Oxlade role', a solution is needed.
Quite simply, if Liverpool are to challenge for the title this season, or ever to win it, they are going to need a lot more from their midfield. Klopp knows it, Klopp wants it. Hopefully he gets it.