Pep Guardiola explained how Man City looked to slow down the game at Anfield, as he believes Liverpool could be "the best team in the world" on the break.
Sunday's clash was set up as the biggest game of the season so far, with two title rivals duelling for three points before the international break.
The Reds came out of the blocks quickly, but were eventually subdued as a fraught 0-0 draw played out, with Riyad Mahrez's late penalty miss compounding a lack of chances.
This, as Guardiola explained after the game, was part of City's game plan, with the visitors looking to stymie Liverpool's swift counter-attacking play after losing twice at Anfield last season.
"If you play so quick, they are much better than us," he told reporters.
"We want to create, but they wait for when you make a mistake in this kind of situation.
"We like to make the process, the buildup, to create the spaces. It's not easy.
"But if it's an open game at Anfield, an open game against Liverpool, you don't even have one chance, not even one percent. They play for that.
"We controlled it with Riyad, the guy who could give the extra pass; Bernardo in the middle, to give you an extra pass.
"It's important to get that base, because if it's up and down quickly they are much, much better—they are maybe the best team in the world running these transitions, offensive-defensively.
"There is not a team better in the world than them, because it's built for that, it's created for that.
"It's what Jurgen feels, and what the players take, for that sense. In that situation they are much better than us."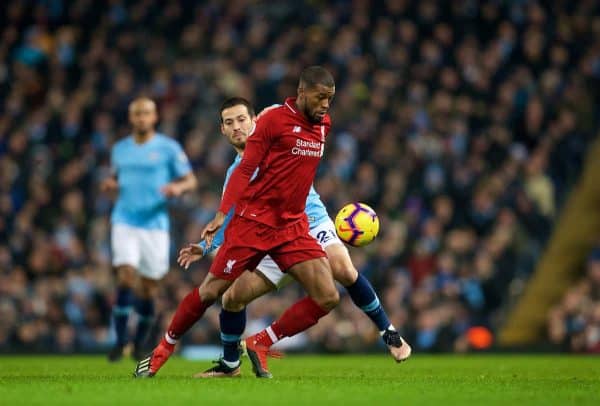 This shows the greatest respect to Liverpool, with Guardiola effectively altering his approach not so as to threaten the hosts, but to suffocate them.
In doing so, the Spaniard ensured a difficult game for both sides, but one that City were able to at least secure a result in, with Mohamed Salah and Sadio Mane starved of service.
The Reds were certainly fortunate to come away with a point, with Mahrez sending his penalty way over Alisson's bar.
Guardiola's game plan should provide Klopp with food for thought, as though few sides possess the quality or strength in depth that City do, they can clearly frustrate them with numbers.
It also highlights a lack of creativity in Liverpool's midfield, with none of Georginio Wijnaldum, Jordan Henderson or Naby Keita able to support the front three.
The game ended with possession shared almost equally at 49.4-50.6, and as Guardiola attested, with the home side unable to get "up and down quickly," they failed to make their mark.